These are "Chief" 2XNGDC GFC AFC DC Hope's Chief of Cross Creek Puppies
Red Sage of Seven Crowns
Eastern Futurity Gun Dog - April 2022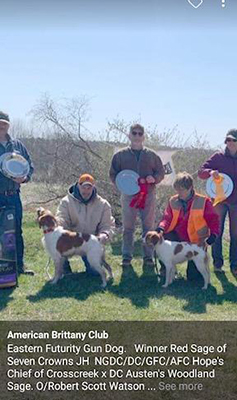 Kaylee
Hello Barbara, Just letting you know Chief is now the sire of a new champion, daughter Kaylee. Thanks, Marshall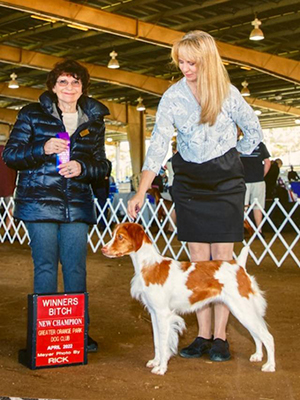 Kaylee
Hello Barbara, I just wanted to let you know that 2 weekends ago Chief's daughter, Kaylee, won 2 majors (5 and a 4). 5 points more to go for championship. Thanks again to you and Chief for making this possible. Best regards, Marshall
Arrow
Arrow is a Chief son. Finished Champion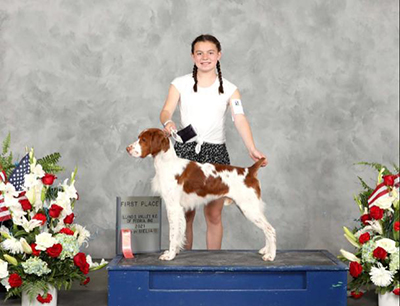 Chief son finishes Championship. CH Crosscreek Serendipity's Beau & Eros
Hello Barbara & Wayne!
Couldn't wait to tell you Arrow finished CH on Jan 25th @ Grayslake Cool Cluster. Waiting for AKC certif but it shows on their website.
He finished by going Owner Handler Best of Breed. This time we got to stay for Group. He did great & was very focused. What fun!
Arrow is finally filling out & acting more mature. He's looking more like Grandpa than he does Chief. We've been working really hard with him & it's noticeable.
Looking forward to see what Arrow does next. He's always up for anything, loves getting out & does it all with gusto!
Thanks again,
Elaine & Paul Kuipers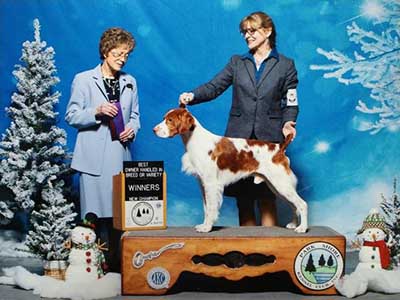 Arrow's Weekend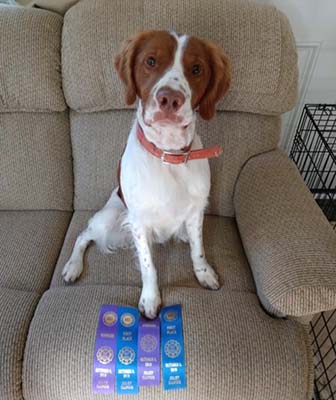 Chief x Beretta puppy akc junior handler of the year in all breeds.
Meet Justice and Grace Carr. Clayton, their father, is coaching them on training and handling of their young Brittanys and obviously doing a super job. These two young folks have had a very successful year to show for all their learning and hard work. They both put Junior Hunt titles on their dogs, and competed in both horseback and walking field trials as can be seen from the many placement ribbons they each received. Justice and Grace were recognized at the Southern Kansas Brittany Club spring picnic meeting for achieving standings of number 1 and number 2 AKC Field Trial Junior Handler respectively across all breeds for 2019 season. Congratulations to these two potential future super stars. Clayton has included a brief story and interview with Justice and Grace that is included here.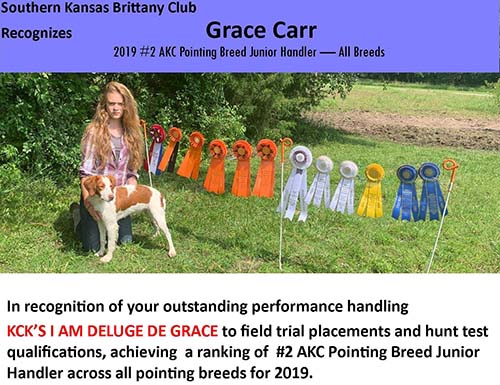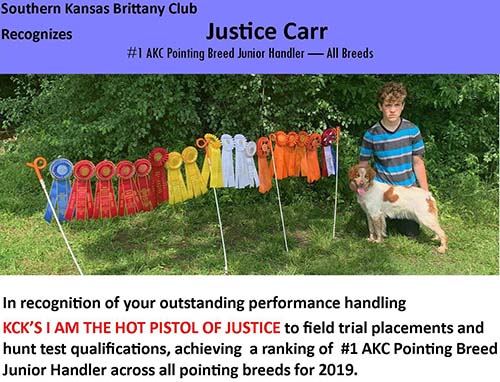 Arrow
"Arrow" wins a 4 point Speciality major at LaSalle Brittany Club in Grayslake, IL.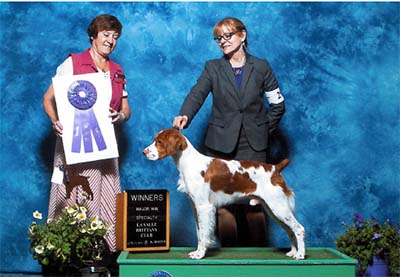 Chase Puppy is sired by 2XNGDC "Chief"
Sophie is a Ch. Story x NGDC Chief baby.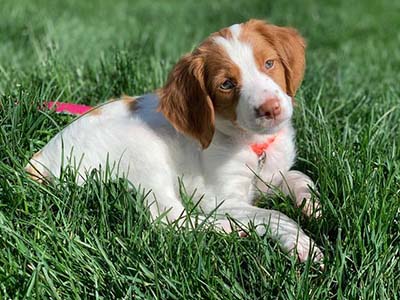 Man is a finished show champion sired by 2XNGDC "Chief"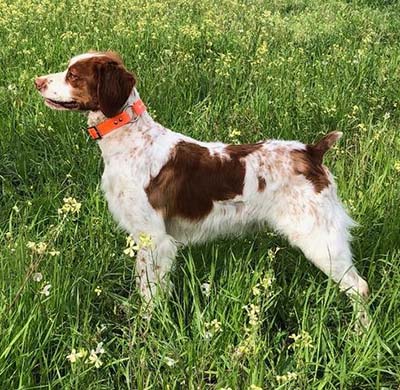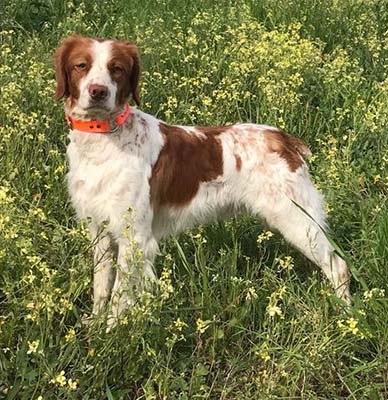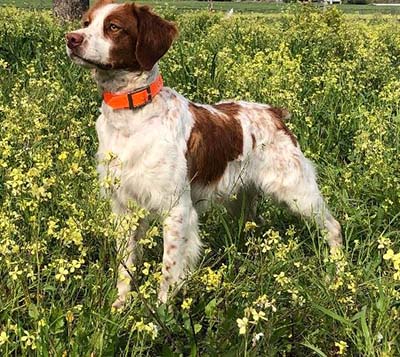 Arrow gets 2nd major
Hello, It's been dry in the shows until today when Arrow took a 3pt major in Indiana, no specials so he also took Best of Breed and Best Owner Handler. I was with Teresa so we had to leave for home and I wasn't able to compete in the Sporting Group or Owner Handler Group so I hope he gets a chance another time. 3 day show in 105 temps. Good to be home! Here's a casual shot, but we also did a professional picture. Red ribbon is Best owner handler ribbon. Elaine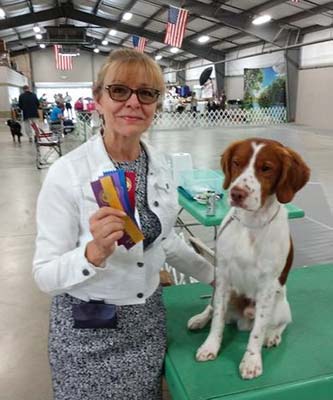 Justice Carr
Barbara, We just got news that Justice Carr just won the open puppy and took ru amt puppy at a shorthair trail in Oklahoma. Last weekend she took second and third puppy at a different shorthair trail and a second in open derby. She is turning out to be a really nice female. I hope you are having a good season. Steven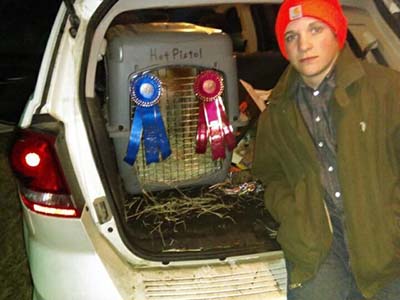 This is a Chief puppy from Carter brittanys.
1st place Derby South GA German Shorthair Club 6 starters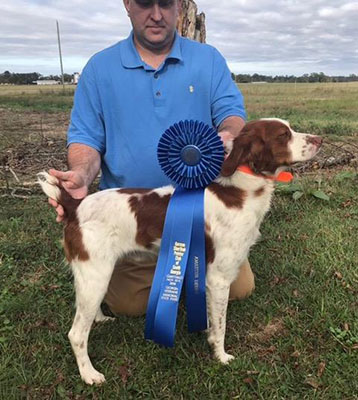 Chief Beretta puppy
This puppy is now 6 months old and off and running. The young man in these pictures has a Chief x Baretta puppy. He took her to a hunt test last weekend and went 2 for 2 on passes for two legs of her junior hunter! Then the young man ran her 4 times this today with a 2nd place in the open puppy with 16 starters. A second place in the open derby with 10 starter and a fourth in the amateur derby with 10 starters. Not half bad for a 6 month puppy and a 12 year old boy! He runs one more time tomorrow in the open puppy for the weekend as well as Tommy's puppy! We will keep you updated as great things continue with this litter. Steven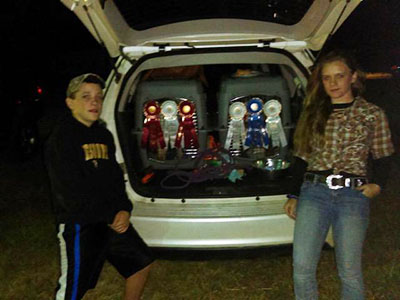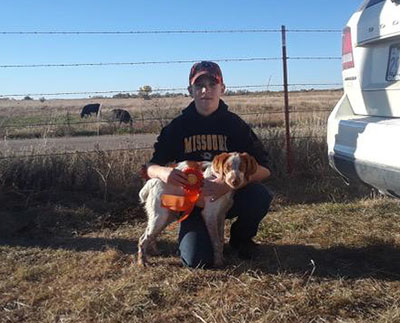 GCH CH Crosscreek Bama Jama's Adalida Sweet Dixie Flower. She is owned by Barb and Bob Deike.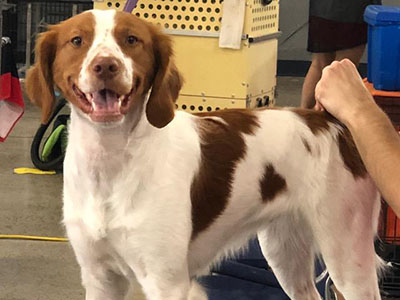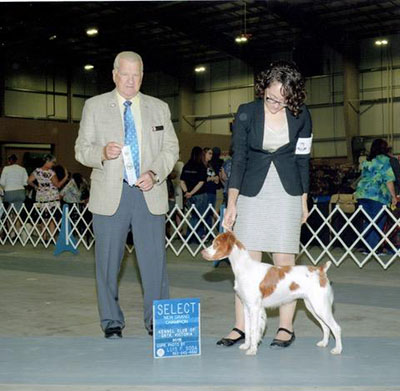 This is out of Chief and a Carter female. He has puppy field trial placements, junior hunt title, canine good citizen title and trick dog title.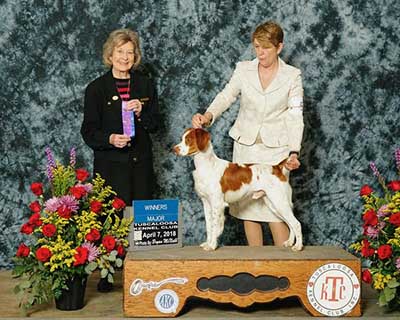 Arrow's 1st bday
It was Arrow's first bday on April 4th and I was thinking of you guys. Hope all is well with you and all the dogs.
Arrow continues to pick on Star a lot. Uno is stepping up to help Star and tell Arrow when we've all had enough. Yay! He's handled in horseback stakes only since he ran off the last 3 times. He apparently loves water and swimming.
Anyway, here is a pic of Arrow and a post-bday surprise certificate we rec'd today. Arrow has placements in Hunt test, show, and field trials which apparently qualified him for this cert.
Enjoy the pics and talk again soon.
Keep in touch.
Elaine K