OWNERS
Arrow in Mi - Chief's son.
Hello,
Hope all is well with you guys. How's Chief doing?
Arrow had 1st place til the last brace, rats!! He did a great job and earned 2nd place in Open puppy at MI-Sag all breed trial.
Didn't enter much since they were either cancelled due to bad weather or not enough entries.
Next weekend in Bloomington IL Sat & Sun for dog show specialty & sweeps. Arrow is still pretty skinny, can't get wt on him.
Will show him at LaSalle in a few wks, Maybe Wheaton in between those.
Thinking about sending Arrow out this summer for training before fall Derby season.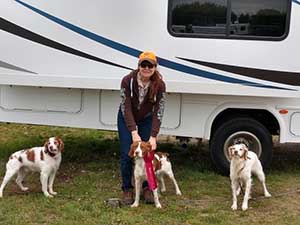 Bindi is a great hunter!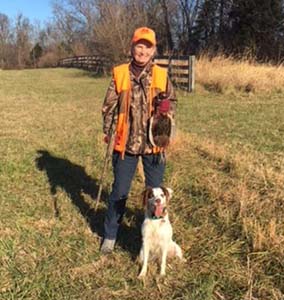 Annie
Hi Barbara, Annie is growing like a weed and now weighs 13 lbs. She loves walking through the pastures and running in the creek. Every day more ticking appears, and I think she's quite beautiful! I received her registration and pedigree. Thank you for taking care of that. Lynda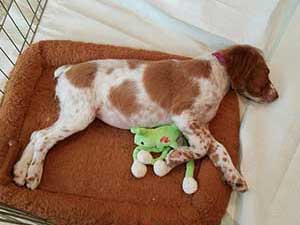 Kimber and Kendall
Here are my boys :) Kimber and Kendall are best friends.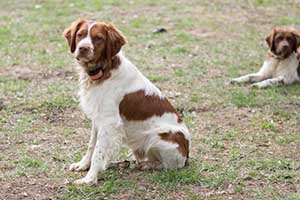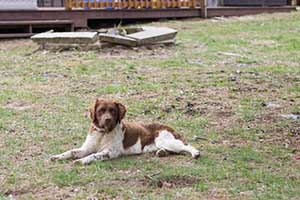 Arrow's 1st bday
It was Arrow's first bday on April 4th and I was thinking of you guys. Hope all is well with you and all the dogs.
Arrow continues to pick on Star a lot. Uno is stepping up to help Star and tell Arrow when we've all had enough. Yay! He's handled in horseback stakes only since he ran off the last 3 times. He apparently loves water and swimming.
Anyway, here is a pic of Arrow and a post-bday surprise certificate we rec'd today. Arrow has placements in Hunt test, show, and field trials which apparently qualified him for this cert.
Enjoy the pics and talk again soon.
Keep in touch.
Elaine K

Buddy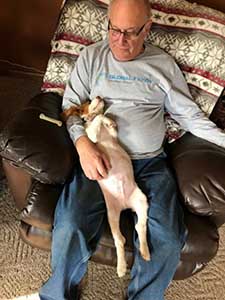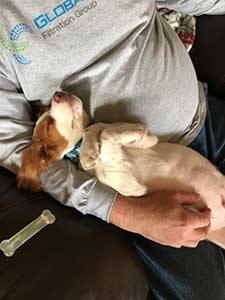 Cross Creek Silky Sexy Sadie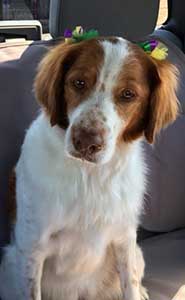 Crosscreek Lucia New Beginnings
Yes, she is doing great. Her and French are true buds and he acts like a puppy again. Thank you so much for that little darling. Know that she is loved and well taken care of. Here's a picture of her and French sound asleep after playing. Her name will be Crosscreek Lucia New Beginnings.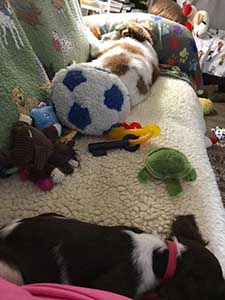 Sable and Bailey
Wanted to send you this updated picture of Sable and Bailey. We adopted Sable from you in December 2011 and Bailey in March 2016. They both recently were able to go on a fun road trip to Gulf Shores, AL, and as you can see, they enjoyed every minute of it! They are both doing great and are treasured members of our family! -Kevin, Renee, Kayla, and Steven Kramer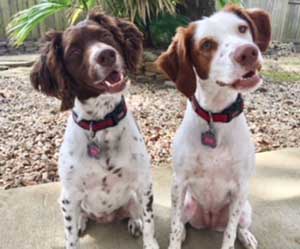 Livi - Luna's Girl 2
Hi Barbara! We are having such a good time with Luna's Girl 2! She is adjusting very well and is so sweet! The name we have chosen is - Crosscreek Pamlico Living Large "Livi" Regards, Bob and Gayle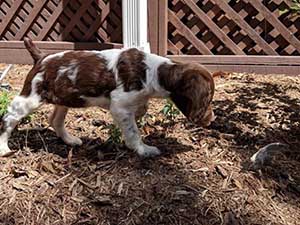 Buddy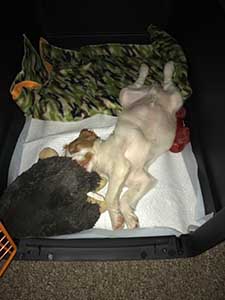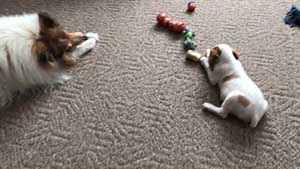 Callie Rose
Good afternoon, Dr. Pepin! Just wanted to give you a quick update on Callie Rose (Now 15 weeks old). We brought her with us for a long weekend at the family beach house last weekend, and she had a blast! She climbed rocks, dug for sand crabs, and even went on a boat ride. She's growing into such a beautiful, smart dog and is gaining more self confidence every day. She has great instincts, loves to fetch, and copies everything our 13 year old female does...we get a kick out of watching them "hunt" and explore together. I'm also convinced she knows to pose for the camera! Here are some photos of her from the weekend! Thanks, Elise and Tristan Nelson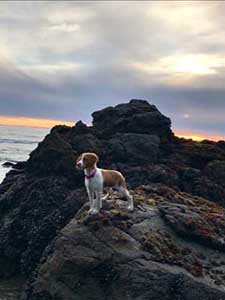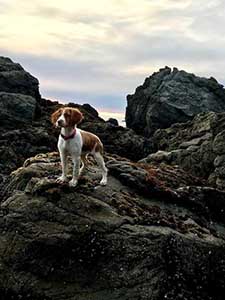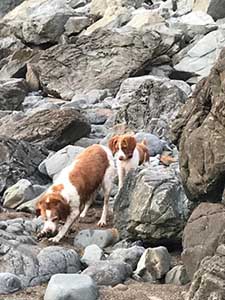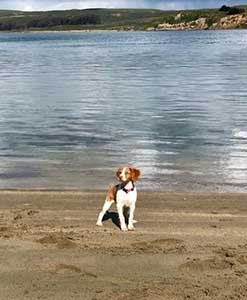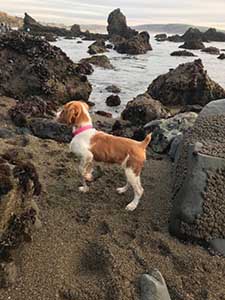 Cross Creek Ruby Red
Hello Dr. Such a beautiful dog. I enjoy her every day. Thanks.

Helga
Here is a picture of one of the girls that I kept. Helga, was sensational yesterday. No formal training, all natural instinct. She pointed, flushed, retrieved and even honored. Wow. What a great hunter. I took her brother Luke out. He was a little tentative at first but was okay later in the hunt. He came along and sniffed. It was a great day. These are wonderful dogs! We currently have three. We will wind up with two of the pups. We are boarding the third. All reports of the others are wonderful as well. I hope all is well down there. I'll send a picture of the boys too if I can get them to sit still long enough. All my best. Mike Ruffolo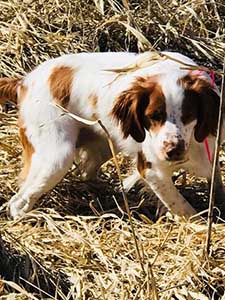 Ch. Story x NGDC Chief puppy

Tiger Lily (call name Lily)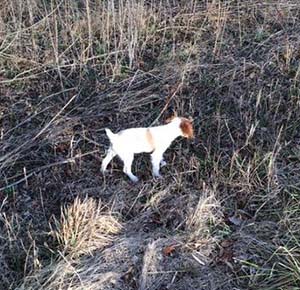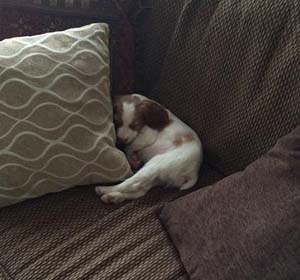 Abby
More photos of Abby, Arrow and Miss Kitty...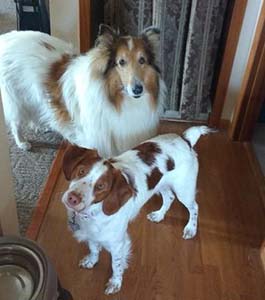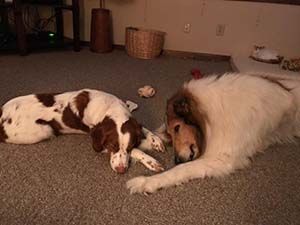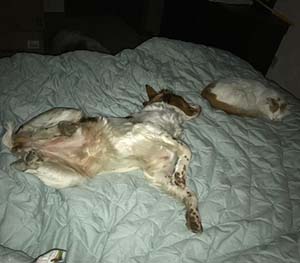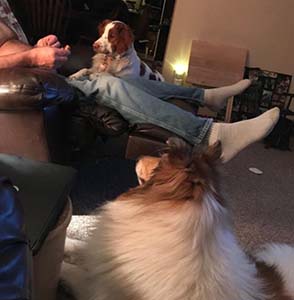 Ch. Sanbar Crosscreek Silk Stocking - Silky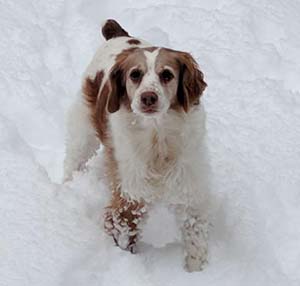 Bayleigh
Some pictures of Bayleigh's first day home. She is very playful and energetic!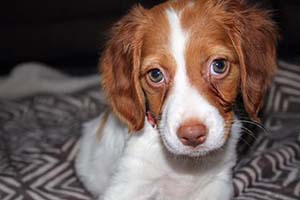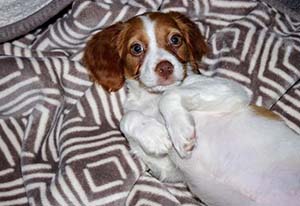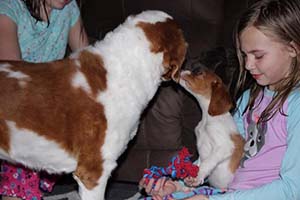 Cooper
Thanks again. Cooper is doing so well and SUCH a handsome young man! I've attached a couple of recent pictures of him. I recommend you to everyone! Thanks again for giving us such a great puppy!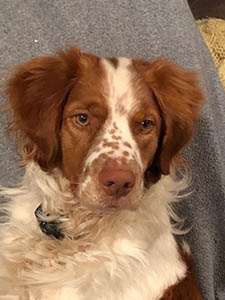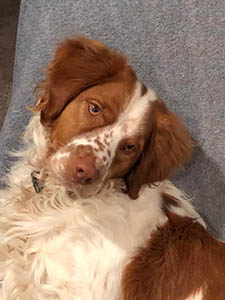 Charlie (Crosscreek Chummy Charlie)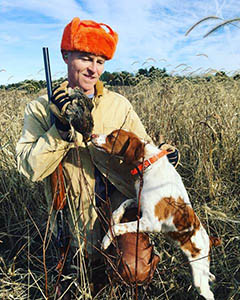 CrossCreek Jax's of Hearts is a Gypsy x Ricky boy
Just wanted to make sure you got the email with name. Jax is doing great! He is a hyper little puppy! He loves being outside! But he also loves his cuddles. Shelby has him so spoiled rotten. He is potty trained using bells at the door. And he sits, stays, and loves to fetch! He is also pointing and finding the bird decoys so well! So happy we have our little Jax! He is weighing in at a whopping 18lbs.

Crosscreek BritneyJean
Hi Barbara.... she is doing great and loving playing with her big sister. Her official name is Crosscreek BritneyJean. Attached is a picture of her with big sis. Cheers Todd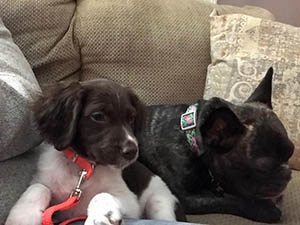 Cross Creek Ruby
She is going great. Pointing already. Following Beau every footstep he makes. Caught her winding something the other day. Can't believe the natural instincts of your dogs. Thank you Barbara.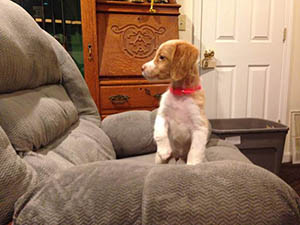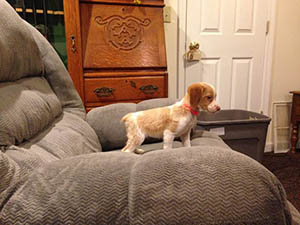 Daisy
Hello Dr Pepin! This is Daisy, at a little over three years old, enjoying an evening quail hunt and swim in the mellow winter mountains of California! We love her so much and thank you for such an amazing little companion. She is the best!! Jeff & Shaina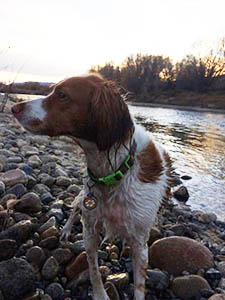 Cash
Barb Just wanted to let you know cash had a great first week. Almost sleeping through the night in his kennel. Eating well. Gained a little over a pound. Clean bill of health from the vet. Made friends with her sister Rowdy! John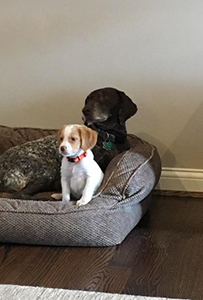 Saparova's puppy
This is a Ch. Hope's Capture the Moment "Windy" x DC Sanbar Crosscreek Repete Call puppy enjoying her new family.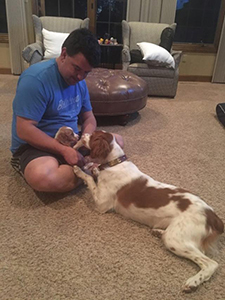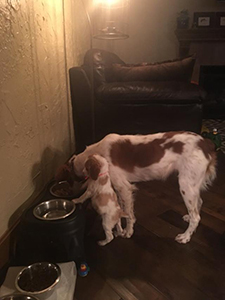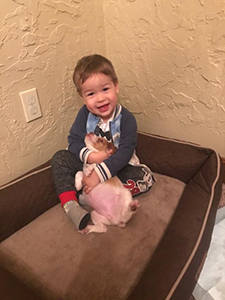 Remington's Ranger
Hi Barbara, Wanted to let you know our girl is settling in very well. She is doing amazing with using the bathroom when we take her out and has had very little wining (even at night!). We are completely in love. A few pictures for you. Lindsay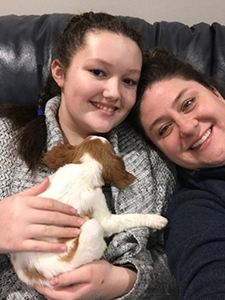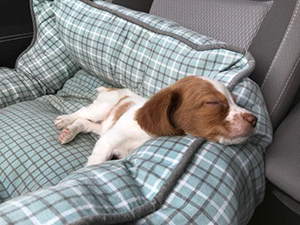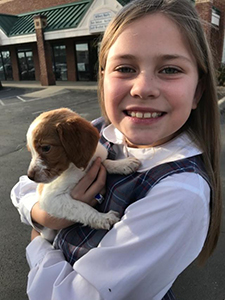 Ruby
Hello Barbara, This is Ruby on her first hunt in Kansas. Very satisfied. Alva Baker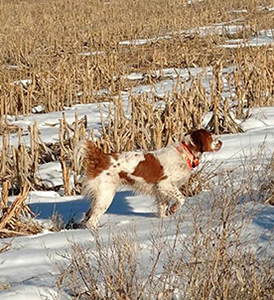 Dixie (Annie x Pete)
Just wanted to drop you a quick line and let you know Dixie (Annie x Pete) is doing GREAT. I've worked with her a lot and she has picked things up quicker than any dog I've seen She's going to be 1 year old in about a week and is hunting like a much older seasoned dog. One quick story I had her at a preserve Monday it was cold snowing and blowing and the pheasants were running BAD She worked those running birds with as much patience as any dog I've ever seen Without a doubt hunting way beyond her age Thanks Ed Morgan
Hank and Fly
Hi Barbara and Wayne! We got both our Brittany pups from you. Hank in 2005 and Fly in 2009. They are both doing great. Hank is 12 and very fit (aside from being deaf) and Fly is 9 and an excellent hunter! I have attached some photos of Hank from 2007 getting his Jr Hunter and of our son Jake with both dogs after the peasant hunt at Atterbury just in November 2017. Jake has adopted a dog and needs some reasonably priced vet care for him. Someone who works in his apartment complex in New Albany said they bring their dog to you and that brought back lots of fun memories of getting Hank and Fly. I have copied him on this email and his cell # is 317-294-6124. I have also given him the contact info that I have for you but wanted to introduce you first in case you are able to provide vet care for him. We are so grateful for the dogs and the joy they have brought to our family over the last 12 years. We hope you are well also!!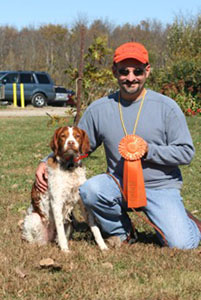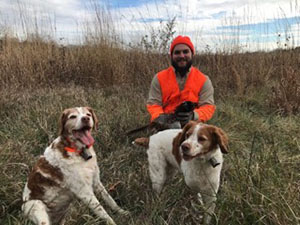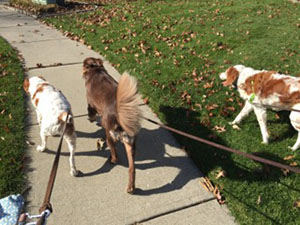 Gypsy/Ricky girl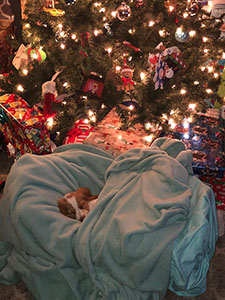 Frodo and Bena
Hey Dr Pepin! Just wanted to send you an update. We love our babies! Went on another hunt today and they are just amazing! Brittany Atwood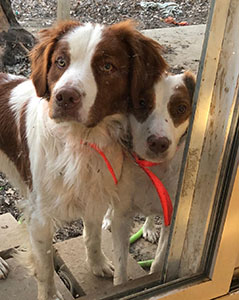 Theia (Libby x Dylan Girl #2)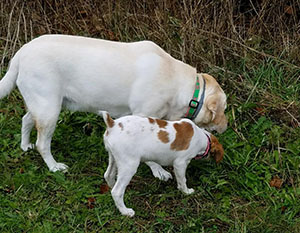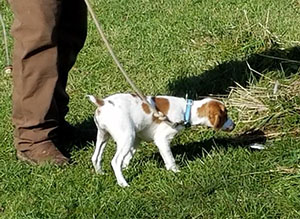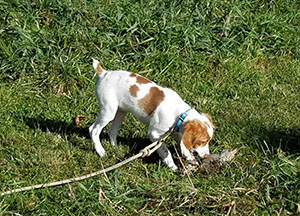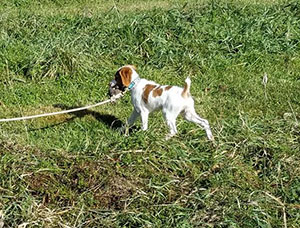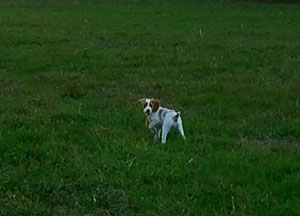 Andy's 1st Birthday
Good afternoon Dr. Pepin - we thought you might enjoy seeing Andy's pictures on his first birthday. They are attached. We love him dearly!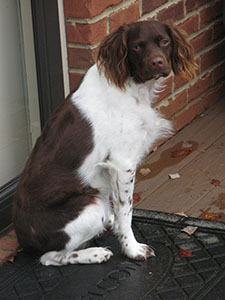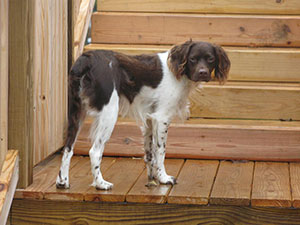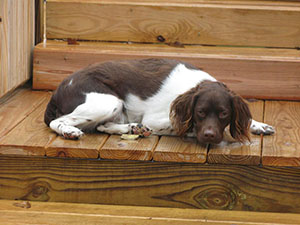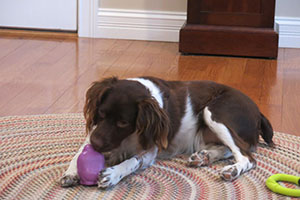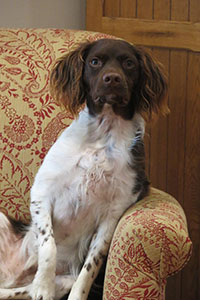 Jodi
This is Diane Averbeck, I purchased "Jodi" from you three years ago. She is a tremendous service dog, our trainers have mentioned time and again that she has the perfect temperament for her job. It has been suggested that I bring in a younger dog to learn from her, due to her being older. I'm not ready for Jodi to retire, I can't imagine leaving her at home we are so connected. But in reality, when Jodi becomes unable to assist me, I will need another service dog. Diane Averbeck
Cross Creek's Shades of Cooper - 10 months
Hi Barbara, I've attached a new picture of Cross Creek's Shades of Cooper at 10 months. He is filling out so nicely and such a handsome young man! Love this little guy!!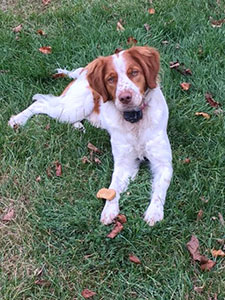 Cooper
Hi Barbara, Cooper's first grouse hunt was very successful! He's a natural. This was his first trip overnight up to our cabin and he behaved so well! Rode well and slept well, too. Such a great addition to our family.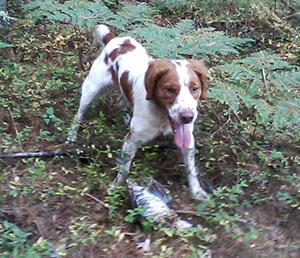 Isabel
I cannot believe she is almost 2 years old. She has been a blessing to us during my husbands illness. She is definitely a hunter and digger. We are thankful you raise wonderful dogs. Irene dake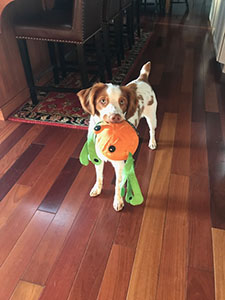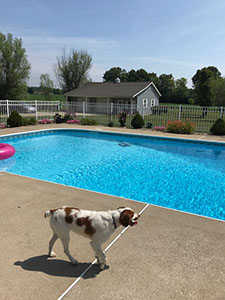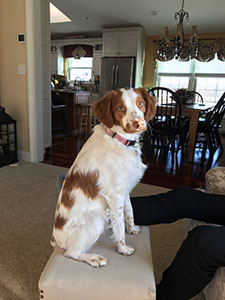 Petie
Dear Barbra & Wayne, I took Petie out for a walk this afternoon down an over grown fence line on the back of our property. He found two wild Quail sitting in the fence line and pointed them. So he can use his nose! And Starla is spoiling him rotten. He is getting along well with the Chocolate Yorkie my wife has and they have a big time together. Patrick Stevens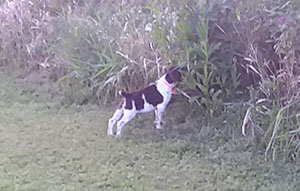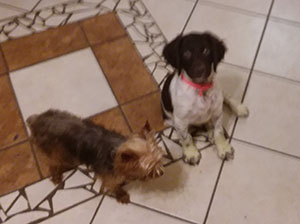 Hi from Jeff Klages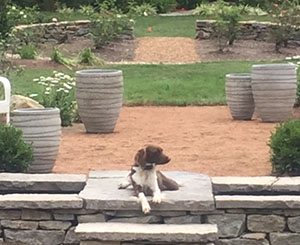 Annie's Flyer
Cross Creek Annie's Flyer just over 6 months at 19 lbs. She's a ball of fire.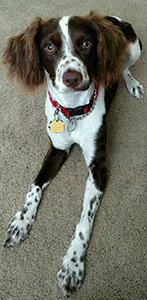 Chestnut
Hi Barbara, Chestnut is nearly 9 months old. He's a big boy at 37lb, beautiful, quite intelligent with a gentle soul, affectionate, loves people and dogs. He exhibits his hunting nature daily by catching anything that flies. His never ending energy and stubbornness gets him into trouble at times. We are so happy to have him in our family. Regards, Genie Berberian :)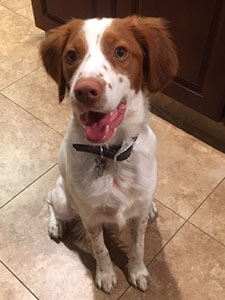 Star - Chief Baby
Barbara, Here is your little girl out of Chief and Carter Brittanys! She is amazing!!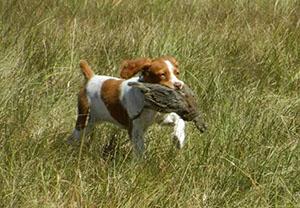 Cache
Hello Dr. Pepin - Once again Cross Creek Knobstone Cache finished the Knobstone Trail here in Southern Indiana. Cache is 5 years old and this is the fifth finish of the 54 mile long KT. We're on track with my goal to do the trail together every year.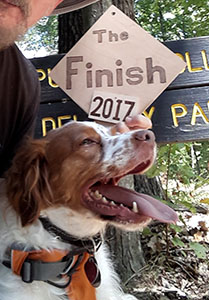 Winnie
Hi Barbara, I have gotten so many compliments on how beautiful sweet Winchester is. Winnie is 12 weeks old today...weighing around 9 lbs. Here's some photos of her that I took this morning.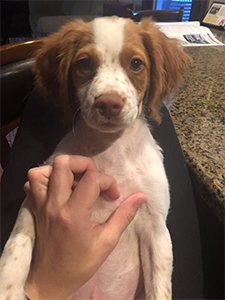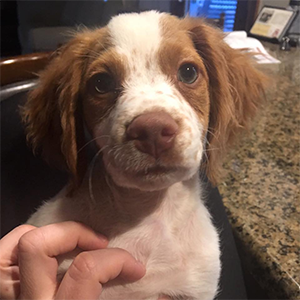 Here's a few photos of Winnie from the last week. August.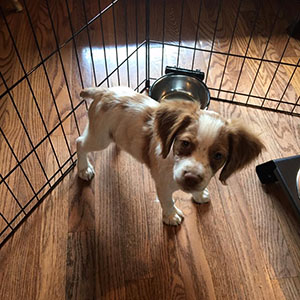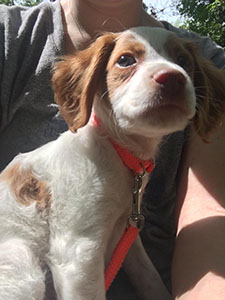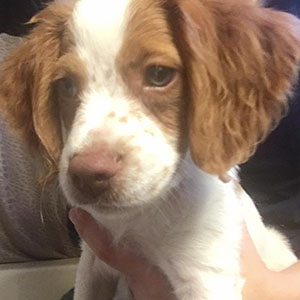 We went for a truck ride the other day and she crawled up my chest and onto my shoulders, curled up and fell asleep behind my neck. I attached a photo because it was pretty cute.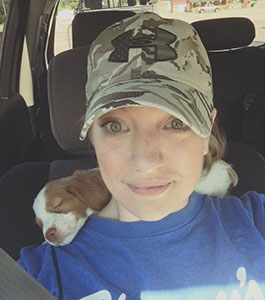 Puppy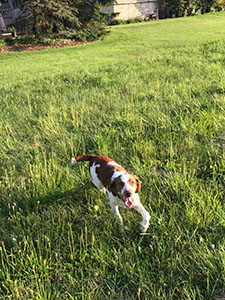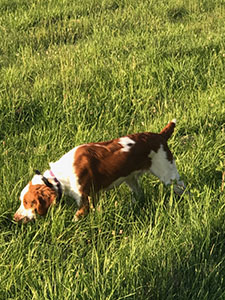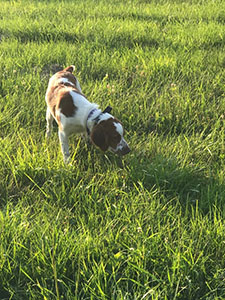 Sadie
Barbara, Enclosed a pic of Silky Girl 3 (10/09) after a hard day of squirrel chasing relaxing in the yard. She will be 8 in October and has been a pure joy. Mike Roe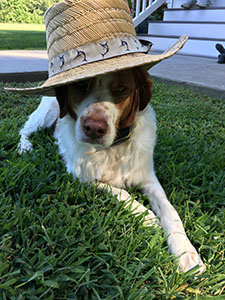 "Scout" -- Luna & Pete puppy
Hi Barbara, I just wanted to let you know that Scout is doing great! We're adjusting to life together and couldn't be happier. I'm amazed, as are my friends, just how easily he has adjusted. He slept through the night last night, just his second night here.
I appreciate all the goodies you sent. Scout loves his toy AND I love his new collar and lease. It was on him the minute we arrived home. Thanks too for arranging with Sharon to transport him. It was especially helpful to watch her give him his meds.
He's a beautiful, highly intelligent and very well adjust puppy! I'm thrilled to have discovered your website this spring. If you have an email list with updates on your competitions I hope you'll add me to it.
Next up is hunting down some pumpkin puppy teething chews! Oh those little teeth!!
All the best, Meri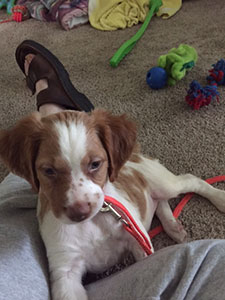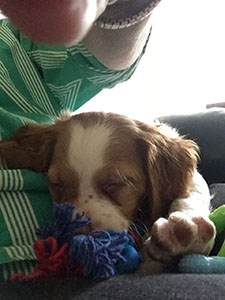 Bailey
Hi Barbara, I wanted to send you an update on Bailey.. he is such an amazing dog. He wakes up only once in the middle of the night and early in the morning. He loves to play and is so loving. He is really doing well: Best, Maria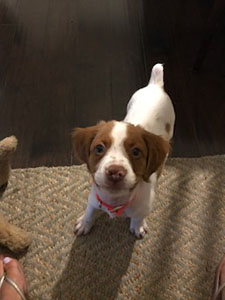 King Midas
Hi Dr. Pepin, Midas will be 6 years old in just a few days. He is such a great dog. He loves children, swimming, and tennis balls! Great family pup!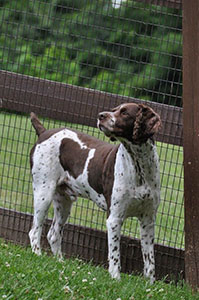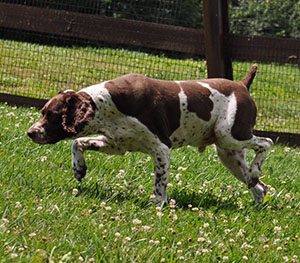 Cooper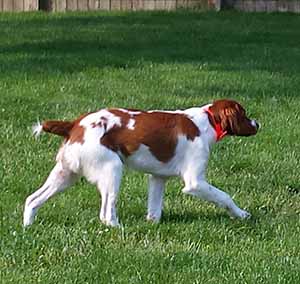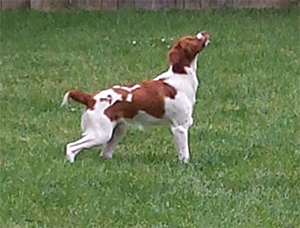 Gypsy Breeze & Brandy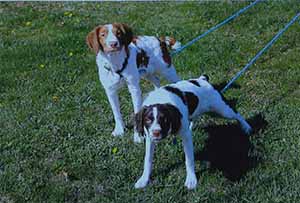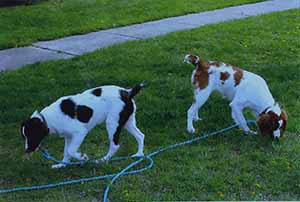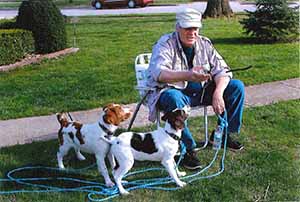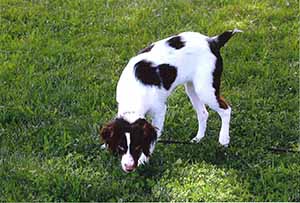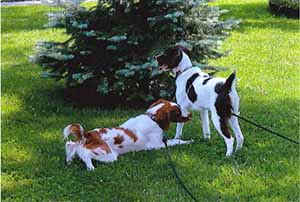 Crosscreek Shades of Cooper Pics
Hi Barbara, Here are some pictures of Cooper taken tonight. I can't believe he'll be six months tomorrow! Although it seems like he changes a little bit every day. He has brought such joy to our lives💕 he was surely meant to be ours.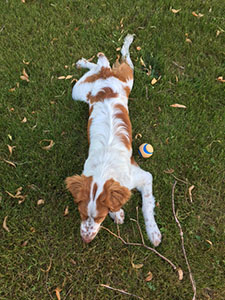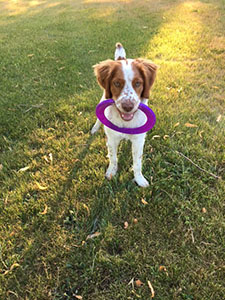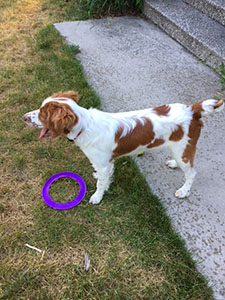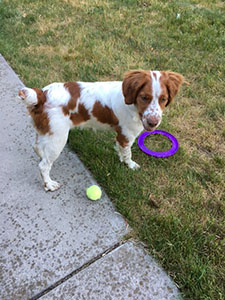 Helga, Murphy, and Luke
So here we are at 4 months and 20 days. We just came from weigh in for Heartgard. Helga the one in the left is 33.0 lbs, Murphy in the middle is 32.9 lbs and Luke the horse in the right is a monster boy at 37.1 lbs. he is as long and almost as tall as Madison. They are all wonderful. Having issues with housebreaking but we are getting there. Just wanted to give you the update. Enjoy the pics. Mike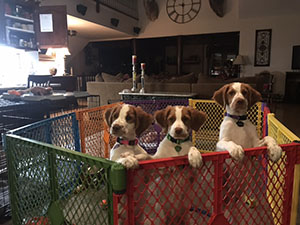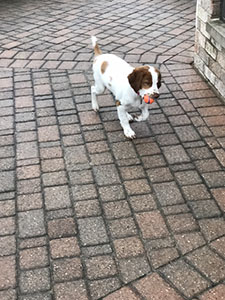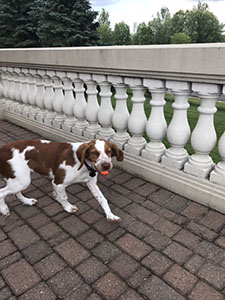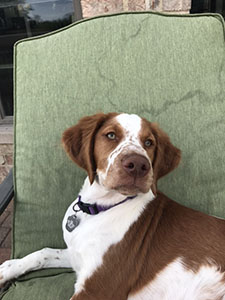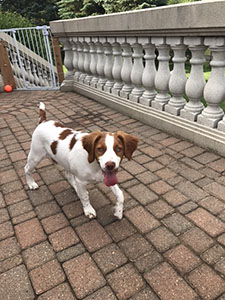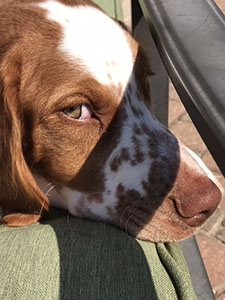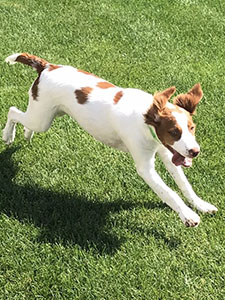 Maggie
Loving her life!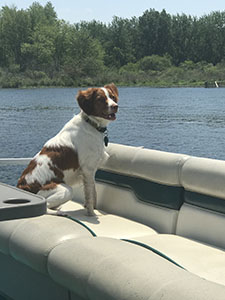 Cross Creek Annie's Flyer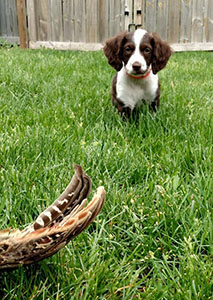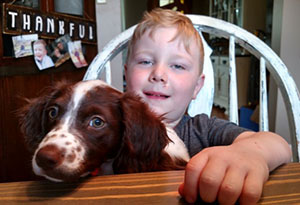 Tess
Dr. Pepin, We just wanted to send a recent picture of Tess on her 10th Birthday. She has been wonderful as always. Also wanted to congratulate you on Chief's recent wins and to tell you we were rooting for Harley on tv at Westminster. How exciting!
Take care, Trina & Nick Jack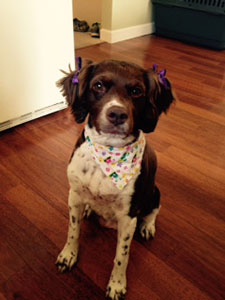 Patch
Hi Dr. Pepin! Hard to believe I'm one year old already. Just got a trim so I thought I send you a snapshot. My human companions say I'm a good boy who sometimes makes bad choices but I try. This fall I'm going to bird dog training camp.
Bye for now, Patch Schulhoff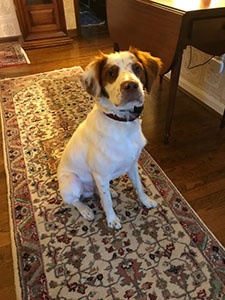 Scout
Hey Barbara, I can't believe it has already been a year for this little nugget! Though the road has been arduous and long, I am so very happy to have Scout as part of my family. She has been a wonderful addition to my life at a boarding school and my students find joy in her ridiculousness amidst stressful academics all year long. She is starting to grow into her own personality and she and I are getting into quite the groove. I just wanted to thank you for all of your guidance along the way and for producing such a tremendous pup. I look forward to many more adventures with her and to watch her grow into a fantastic dog in the months and years to come. Thank you for all that you do and here are some pics on her first birthday!
Cheers, Ashley & Scout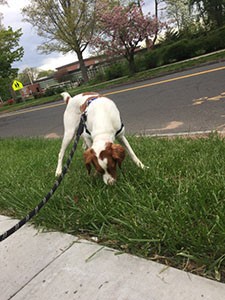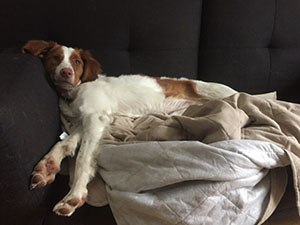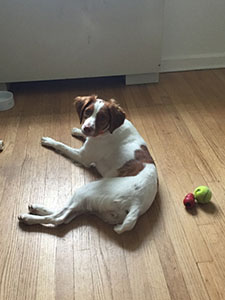 Gunner
Hi Barb. Here is Gunner at four and a half months. He loves to be outside tracking a scent and watching Birds.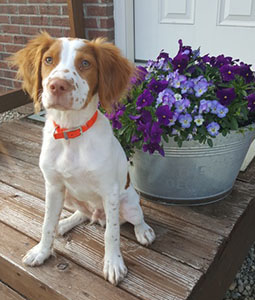 Cooper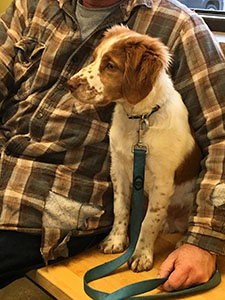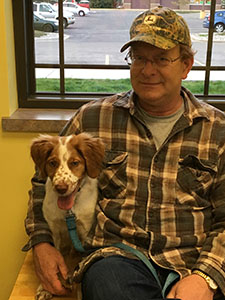 Taffy
Hi! I just wanted to share these pictures with you from the Southern New England Brittany Club Specialty. Taffy - CH Cross Creeks Sparkling Taffy (Andy X Sparkle) was Select bitch from the veteran class! I co own her with Sandy and Roy Smith. So happy with how she showed for being over 10 years old!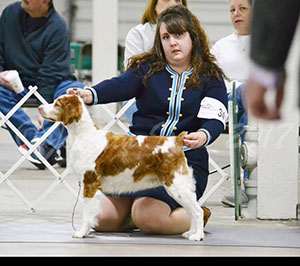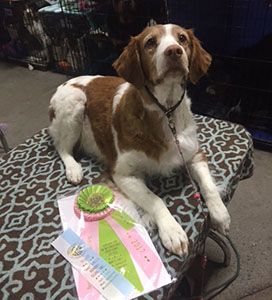 Raider
Here is Raider and his "brother" Simba living in harmony!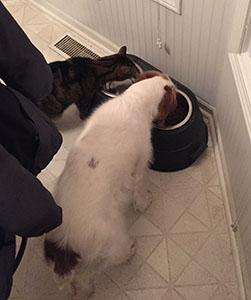 Cooper
Hi Barbara, Here's a couple of pictures of Crosscreek Shades of Cooper on his daily walk. We have 600 acres that connects to our property that we get to enjoy with him.
He is just in his element! He is independent and minds well :) He has bonded beautifully with us and we love him so!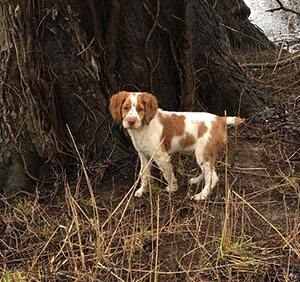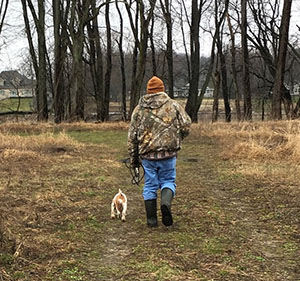 Lilly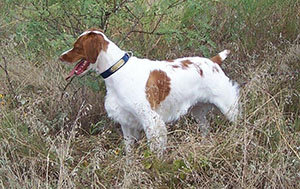 Gunner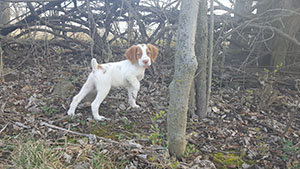 Cooper
Crosscreek's Shades of Cooper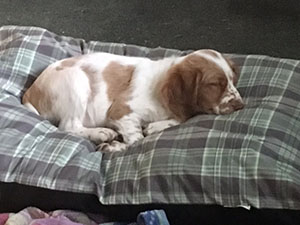 Piper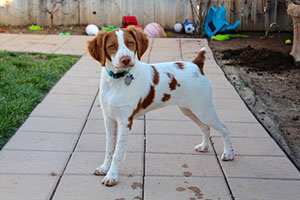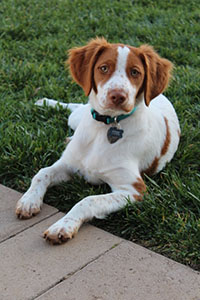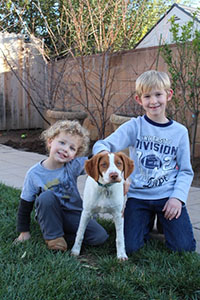 Chestnut
He's just beautiful, great natured, loving, playful puppy! And learning fast!!!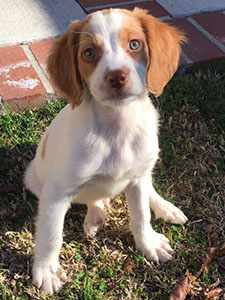 Byerley Pup
Her first day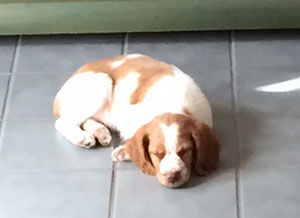 Gunner - Hope Crosscreek Lady In Red "Millie" x Ch. Castle's I Can Dance "Emmmett" boy
Hi Barb. We finally have a name for our boy, he is called Gunner. Here are a couple pictures. Thank you again!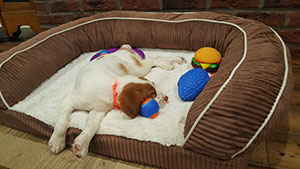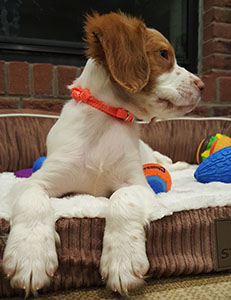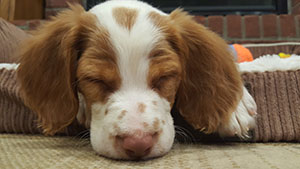 Cooper and Remi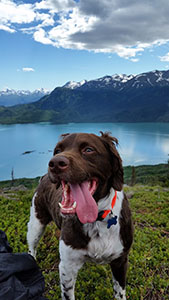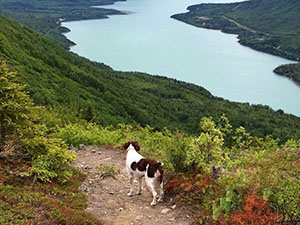 Ch. Story x DC Hershey puppy - Lady Bird
Just wanted to let you know that the puppy is doing great! One of the best behaved puppies I have ever dealed with! She is so sweet and gets along great with my son, they are truly becoming buddies! Next weekend we are going to introduce her to some live quail, excited to see how she reacts. Thank you, Taylor Haliburton-Taylor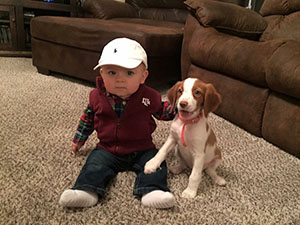 Boone
Dr Pepin, Just wanted to share a photo. Boone is doing great. I've had him hunting 2-3 days a week for the past month. He's been running 15-20 miles each time. I think the exercise is really helping him. He's doing much better.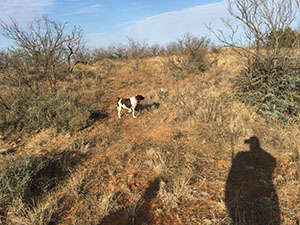 Ranes Puppy
We love our baby so much she is such a joy. She is very intelligent and learns quickly. We are very pleased with her. Linda Ranes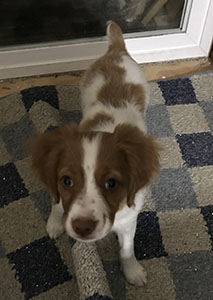 Luna x DC Pete puppy
Gunner Boy
Good Evening, I hope you all are well. We decided on Weatherby Gunner at Cross Creek. Here is a current picture of Murphy, Gunner and Coco. Sincerely, Jessica Goddard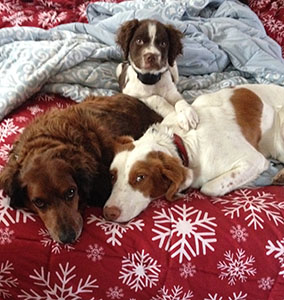 Nala - Stella x DC Pete Puppy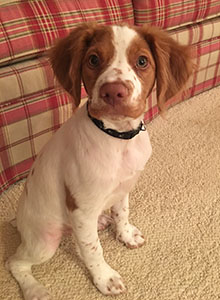 Scout
She is wonderful! She seems to be very content with her new environment. We have been keeping her in our kitchen which is open but secured with a couple of doggie gates. She is eating well and getting plenty of indoor and outdoor exercise (in our backyard). She has plenty of chew toys. Our cat has been curious but is keeping his distance for now. We love her! As for her name, we have been calling her "Scout". Is there a particular naming theme for her litter? Sincerely, Laurie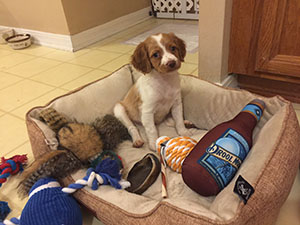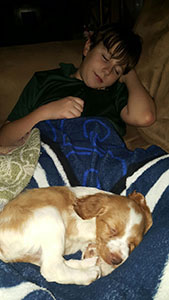 Puppy
She is adorable! Such a sweet personality! We are very happy with her and she is super gentle with our son! Could not be happier.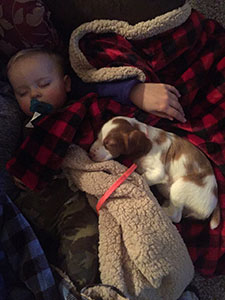 Spice - Ricky's daughter
Hi! I thought you may like to see these photos of my girl Spice ( CH Sandridge Sugar and Spice JH ) she is out of your boy Ricky and Sandy Smiths Lilly (GCH Crosscreek Winter Lilly)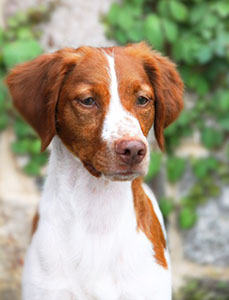 I started working on her grand championship this summer and she got most of her wins but these last few months she's been busy with hunting which she enjoys a lot more than the dog show stuff! She's such a great dog.
Cooper
We made it home. We are going to call him Cooper. I will get back to you with the name for his registration papers.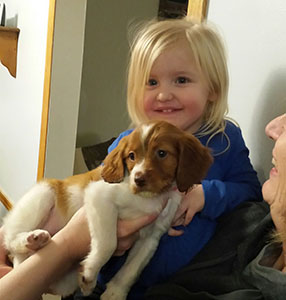 Brittany Puppy
He is doing great. Super confident and almost housebroken from the day we got him! Eating well and growing fast. No illnesses. Watery eyes at times. Just wants to chew, chew, chew. I think he must be a puppy. Martin Farm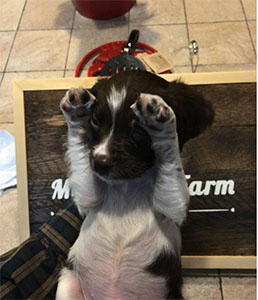 Gypsy x Hershey girl in Alaska
Hey Barbara Just wanted you to know that "Aggy" is doing so well so far she's quite the feisty thing. We are so happy!! Thank you again so much. Also here's some pics of her in new her life.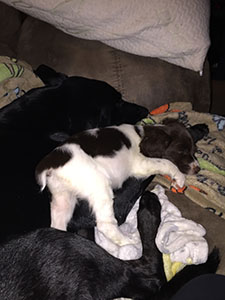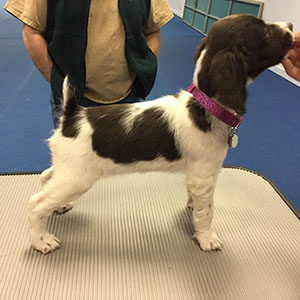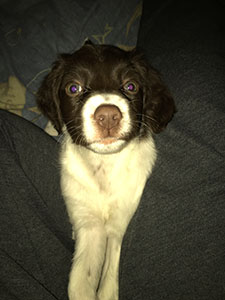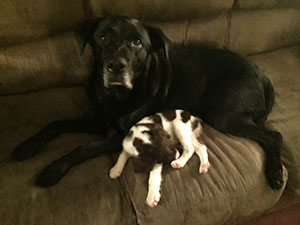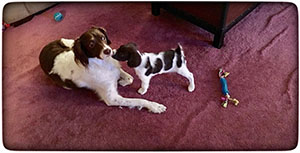 Luna x DC Pete puppy
Hi Barbara, We made it home. Puppy made it to ESNC safe and sound. Slept most of the way. Very bold and confident in his new home! Thanks for everything. See you in January! Tim Martin
Ch. Story x DC Hershey puppy Christmas 2016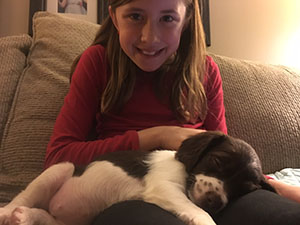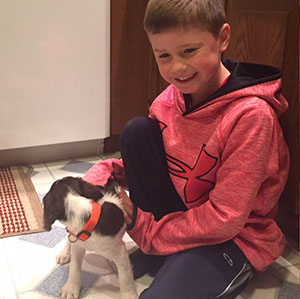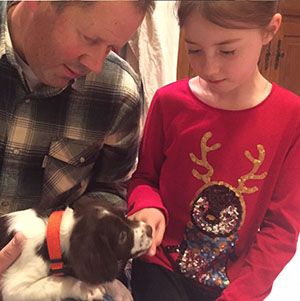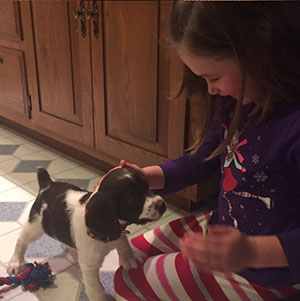 Mozey
My oldest son kept saying is this a dream! It was a perfect morning... thanks!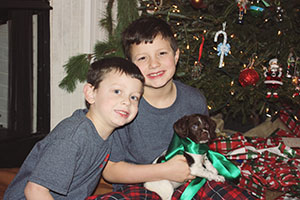 Merry Christmas to all!!!
I am SO exhausted from this day!!! Wow!!! I think I really like Christmas - I got so many treats and toys. Thinking about my sister Libby! Hope she has had a good day too!!
Love, Maggie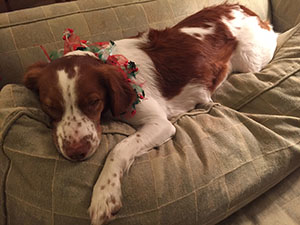 Reading - Luna x DC Pete baby being entertained
Our little girl reading a story to Bellah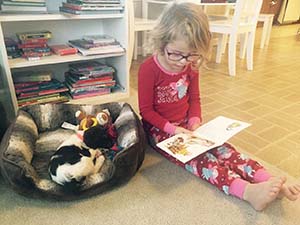 Cache
Hello Dr. Pepin, Cache continues to be an excellent hiking companion. I thought I'd share some more pictures of him on the Knobstone Trail. But first, I have to tell you I regret the name 'Cache'. It is a meaningful hiking term to me, but those who read it think he's 'cash-A' and refer to 'her'. I've been writing his name 'Cash', But he is still my Cross Creek Knobstone Cache!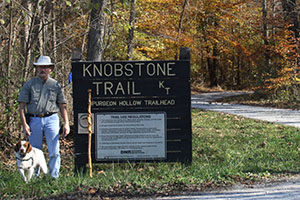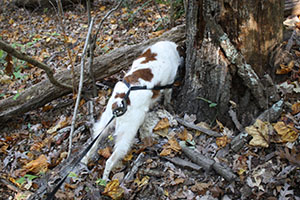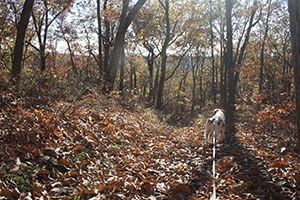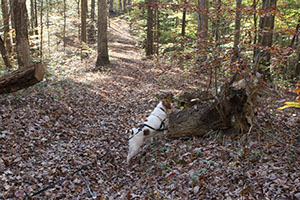 Fletcher
Barbara, Fletcher celebrated his second birthday with a day and a half Illinois wild pheasant hunt. He and his hunting partner Trip (English Setter) had many points and helped us bag 9 birds for the trip. Thanks for the great dog! Brent Brinkley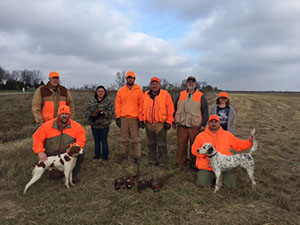 Colt
Hey Dr. Pepin, We wanted to send you some updated pictures of Colt today on his 1st birthday! We have truly loved having him as part of our family! Thank you for helping us pick our sweet boy to join the family!! Thanks, Derek, Allie, and Kate Marcoccia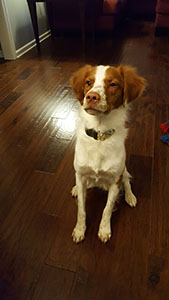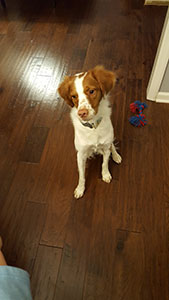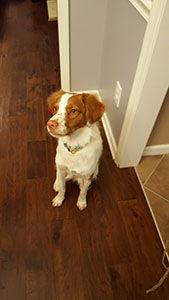 Blaze
Hi Dr. Pepin: We thought you might like to see how Blazes markings are coming in. He is quite a handsome fellow! He is about 90% potty trained. Once in a while he will slip up but it is usually right by the door and most likely because Curt and I didn't get there fast enough. Today we were working on retrieving and releasing the toys he has brought back. He was a bit reluctant at first but it didn't take him long to get the hang of it. The Cheerios were great encouragement. He was 12 lbs 8 oz at his last vet check. All up to date on the shots. Dr K says he is perfect. Curt & Denise Brazel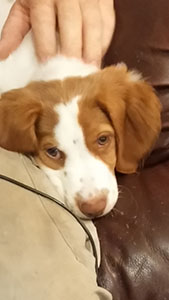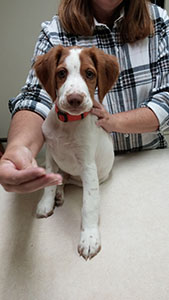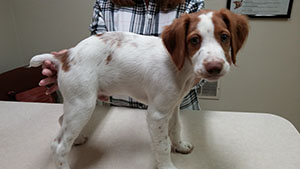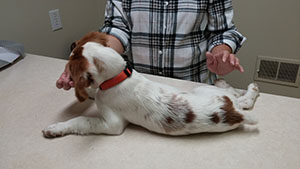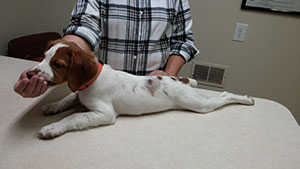 Gracie
Update: say hello again to our little "Gracie". We are 1.5 weeks into our new life with her. Potty training has been a little bit of work but, last night was a milestone. It was the first night with no pee or poop to clean up. Doubt it will continue, but we feel like it's ahead of schedule! Thanks again for our little girl! We will make it though the next tough couple of months of "puppy-life". :-) We will keep you in the loop from time to time if that's ok with you. Until then...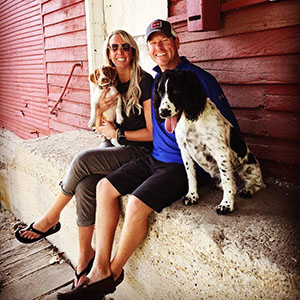 Yank and Duke
Two of your dogs, Yank (7 years) and Duke (5), are still going strong in the Traverse City, MI area. Grouse and woodcock through October and pheasants and quail through the winter makes for happy dogs. I saw on your website pics from four years ago--great memories. If you ever need more pics, we can provide (to a fault!). We plan to get one more from you in the near future. Here they are after a busy week. Fred and Zoe Fields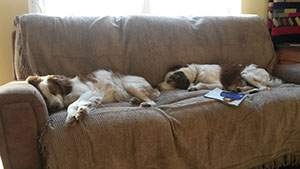 Remy
Remy is doing great. He's a Lyndy/Chayce pup. Just finished his CGC, working on Therapy Dog, and even trying out Fast CAT. He has matured into a smart and gentle companion. We are so happy with him. Even the cats have decided he is okay! Have a great autumn! Yours, Carolyn Phillips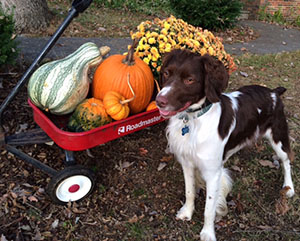 Tucker
I thought you might like to see a picture of our Tucker. He's a Holly x Ricky boy. He's wonderful!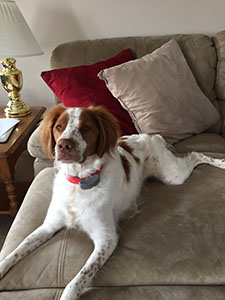 Sweet Little Peanut
Our sweet little peanut is home and happy! She slept almost the whole way home. We love her!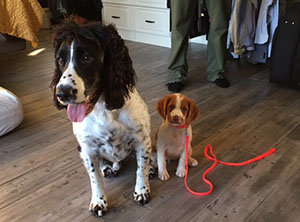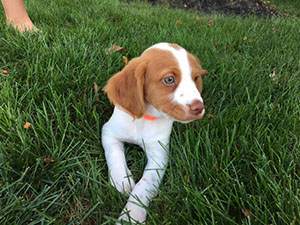 Jack 1 year
Ms. Barbara, I thought I would have been better about sending updates but time has a way of getting away from us. Jack is an amazing dog. We are thoroughly enjoying him. He is a good looking boy and he has great instincts in the field. Any lack is due to his owner. God bless you. Sincerely yours, Bennie Tomberlin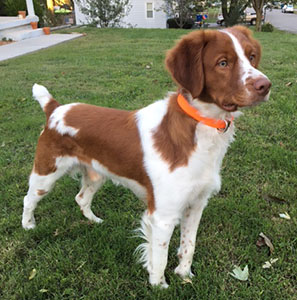 Cooper (Left) Rudy (Right) 14 mo. In Las Vegas, NV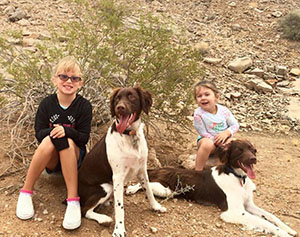 Layla
Just wanted to send you some pictures of Layla girl. This dog has my heart completely. She is a dogs dog and is never happier than when she can hang out with some of her friends. Thanks for breeding such an amazing dog.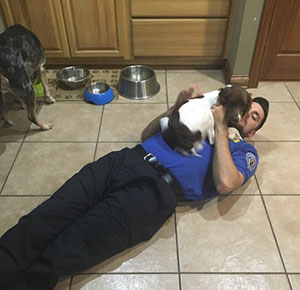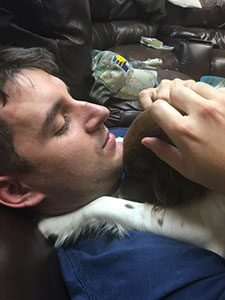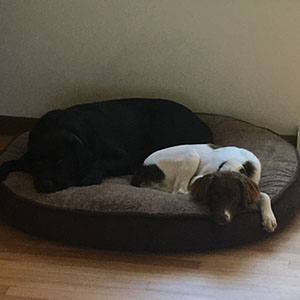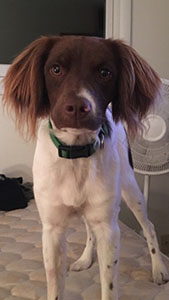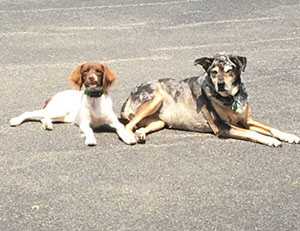 Daisy
A tired me is a good me!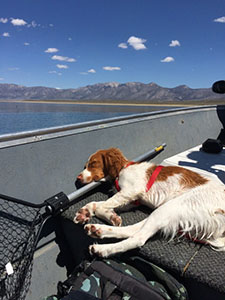 Trigger (Therapy Dog)
Hi Barbara, I know you haven't heard from us in a while, but Trigger continues to thrive here in SC - except for this summer heat. Dogs & humans both could do without it. We were featured in our local paper last weekend and wanted to make sure you had a link to it. I know you had wanted some pictures of him with the people he visits and there are lots with this article - along with him and some of his other therapy dog buddies. Trigger has decided if you just give him a good back scratching, his life is complete :) http://www.aikenstandard.com/20160812/160819845/furry-visitors-make-appearances-at-aiken-retirement-homes We continue to be blessed to have him in our lives. Thanks, Lynn Ealey and Trigger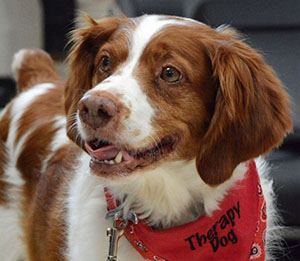 Trigger's AKC Therapy Dog Excellent certificate came today. We have been a team with Alliance of Therapy Dogs (therapydogs.com) since April 2013 and as of this month, have completed 270 visits. We are so very proud of him. Here's the link again to the newspaper article about Trigger and his therapy dog buddies in our local area. http://www.aikenstandard.com/20160812/160819845/furry-visitors-make-appearances-at-aiken-retirement-homes Lynn & Charlie Ealey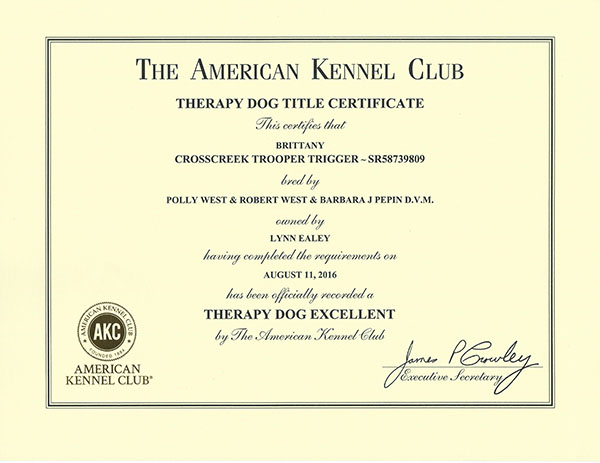 Ellie
Barbara, I just wanted to update you on our little Ellie (Crosscreek Ellie Rose). She's almost 7 months old now, and my husband and I are so in love with her. We get SO many compliments on her everywhere we go, and she's a well behaved and smart little lady. She's also quite the little runner, and runs at least three miles a day with us. Thank you so much, we can't imagine life without her! Erin Kennedy