OWNERS
Mercury - Rocky x Emmett boy
Hi Barbara, Mercury is doing great! He quickly learned here, sit, down & even shake hands. He learned shake hands just by watching me have Stella (our other Britt) do it a few times. Today we started on "leave it" and he is already showing good understanding. Enclosed is a picture I took of Mercury this morning. Thanks, Kathy Beard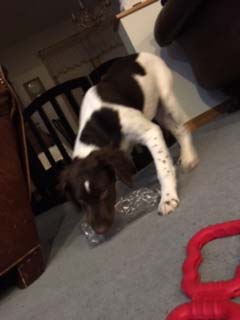 Remi - This is a Luna x Ch. Sanbar's Writing On the Wall puppy.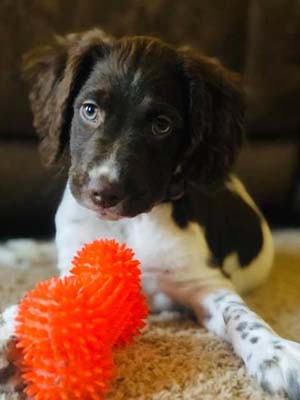 Sadie
Hi Barbara, Sadie and her litter mates turn a year old today. Here is a collage starting on the day I picked her up through last week. She is a great pup. Her hunting instincts are truly awesome. She has the desire to keep moving to the front and is quite an athlete. I could not ask for a better companion. Thanks, Dave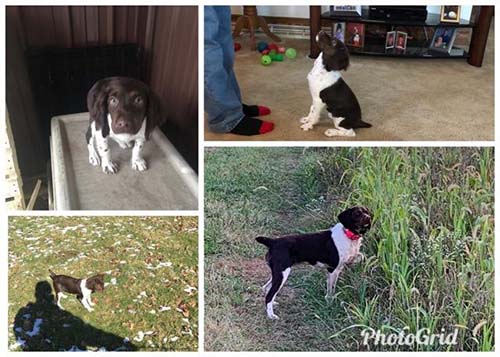 Luna x Ch. Boone Baby Girl
I just have to say we love her already. We have stopped for the night but here are pics of our drive so far. Best puppy ever.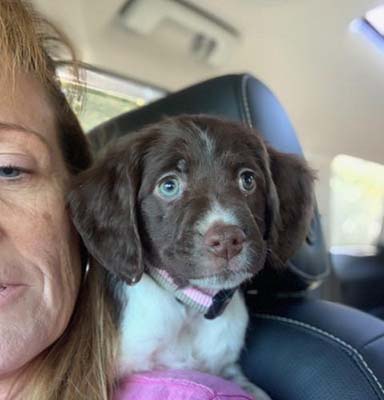 Arrow's Weekend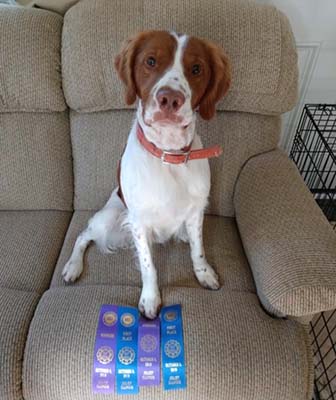 Cross Creek Silky Sexy Sadie
Hi Barbara, Hard to believe that our Sadie girl is 10 today. She has been nothing but pure enjoyment‼️ Hope and pray that we have her 10 more years. Thanks for all your help over the years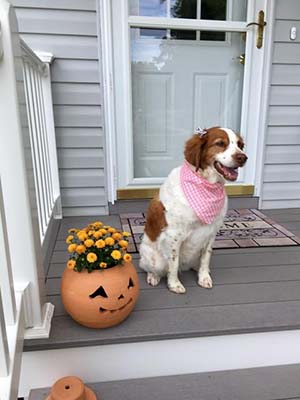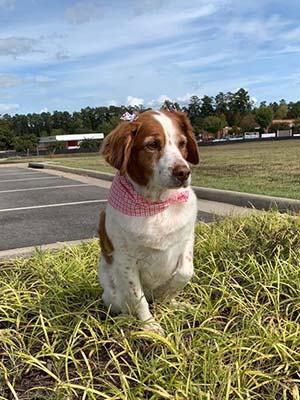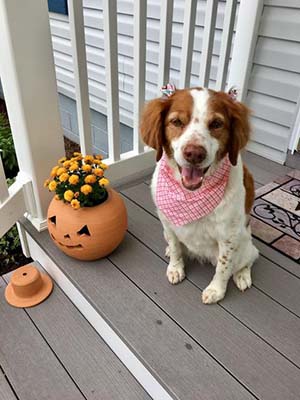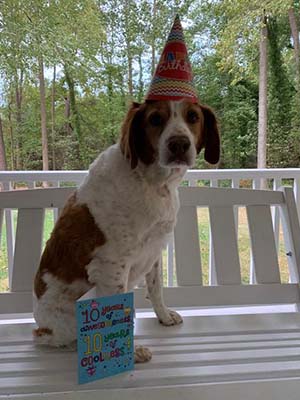 Cross Creek's Brooklyn Mae by Grace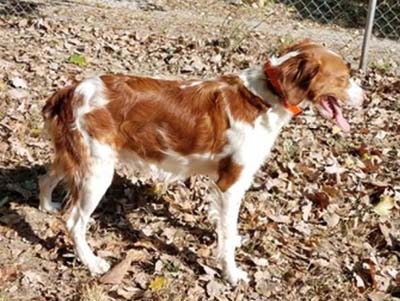 Crosscreek Millie the Southside Menace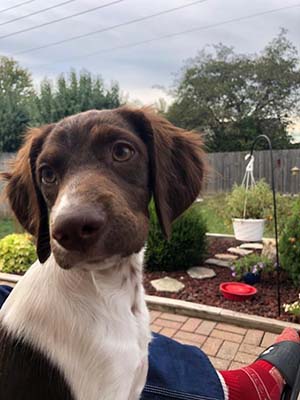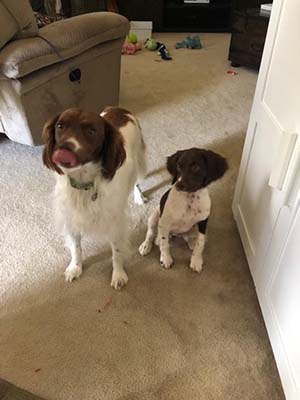 Libby x Ch. Dylan puppy with his new family.
We are getting to know one another. Jack Tyree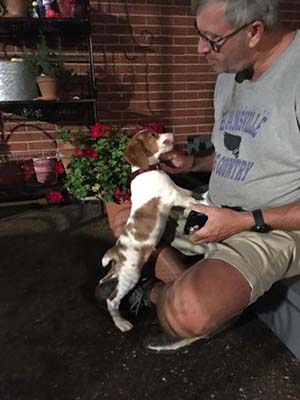 Chief x Beretta puppy akc junior handler of the year in all breeds.
Meet Justice and Grace Carr. Clayton, their father, is coaching them on training and handling of their young Brittanys and obviously doing a super job. These two young folks have had a very successful year to show for all their learning and hard work. They both put Junior Hunt titles on their dogs, and competed in both horseback and walking field trials as can be seen from the many placement ribbons they each received. Justice and Grace were recognized at the Southern Kansas Brittany Club spring picnic meeting for achieving standings of number 1 and number 2 AKC Field Trial Junior Handler respectively across all breeds for 2019 season. Congratulations to these two potential future super stars. Clayton has included a brief story and interview with Justice and Grace that is included here.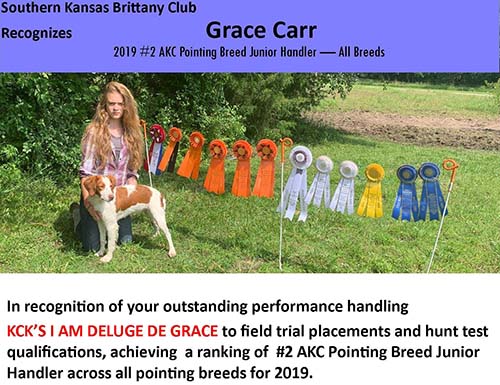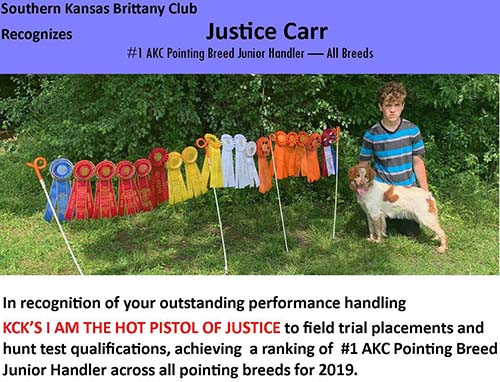 Arrow
"Arrow" wins a 4 point Speciality major at LaSalle Brittany Club in Grayslake, IL.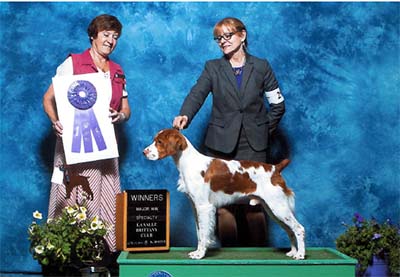 "Mae" x Ch. "Dylan" puppy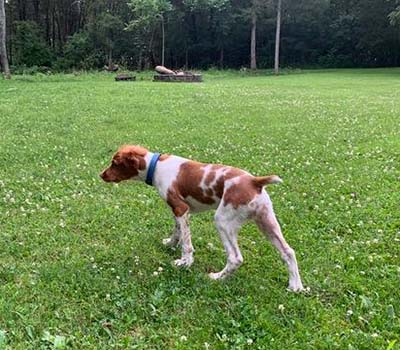 Annie
Hi Dr. Pepin, Haven't sent a picture of Annie in a while. She is beautiful and smart, and we have been working with a trainer in Jasper, IN all summer. Today she passed her CGC test and gets to add some new letters to her name: Cross Creek Stay Awhile Sweet Annie CGC We hope to begin competing in Rally this fall. Best Wishes, Lynda Robey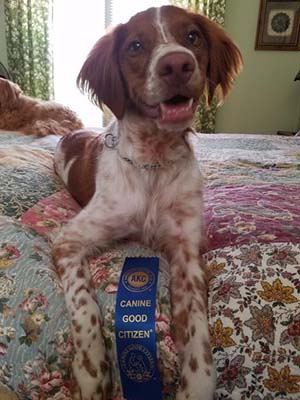 Maya Moore
She's doing great! Wanted to share a couple of pictures, you can share in your site. I'll share more when I get good ones, thanks again!!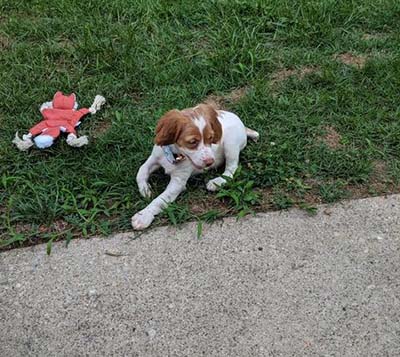 Chase Puppy is sired by 2XNGDC "Chief"
Man is a finished show champion sired by 2XNGDC "Chief"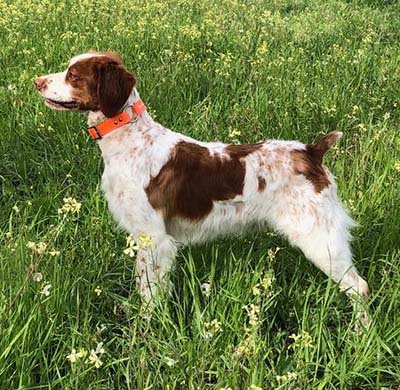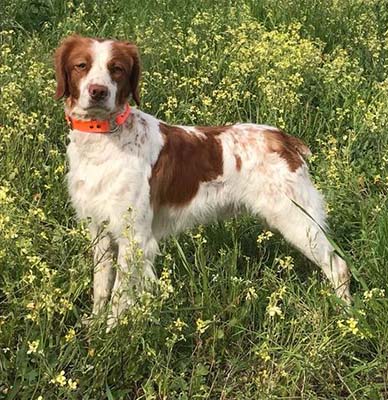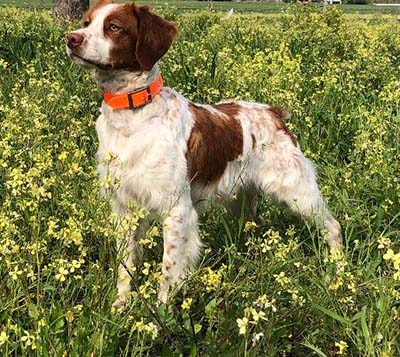 Pius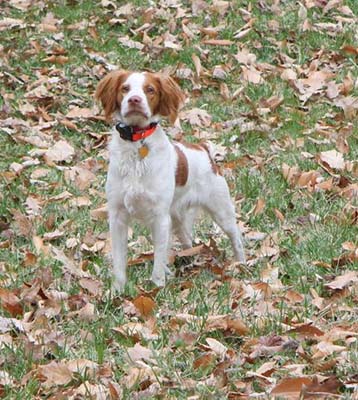 Pius (the Antonius roman emperor not the pope)
Dear Barbara, Pius is coming on to 10 months. He is a handsome delightful Brit who remains friendly with every encounter. He is strong with a healthy amount of energy. He is probably about 35 lbs and I suspect not quite done growing. His shots et al. are current and his vet thought he was "perfect". I agree. Best regards, Philip Bernini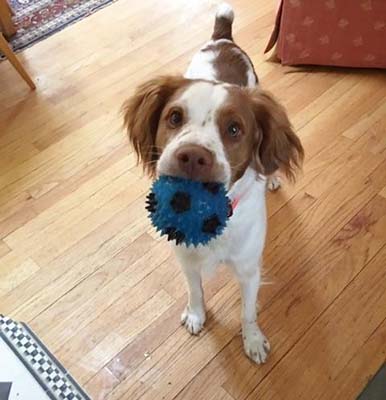 Sadie Belle Lawless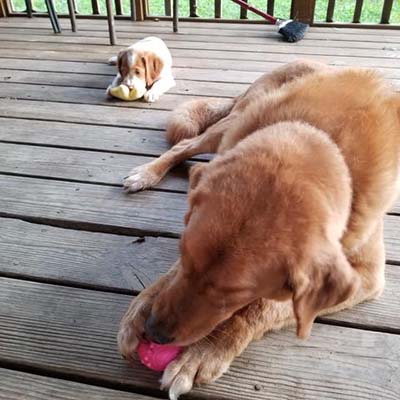 Arrow gets 2nd major
Hello, It's been dry in the shows until today when Arrow took a 3pt major in Indiana, no specials so he also took Best of Breed and Best Owner Handler. I was with Teresa so we had to leave for home and I wasn't able to compete in the Sporting Group or Owner Handler Group so I hope he gets a chance another time. 3 day show in 105 temps. Good to be home! Here's a casual shot, but we also did a professional picture. Red ribbon is Best owner handler ribbon. Elaine

Penny
Good Morning! I just wanted to touch base with you about Penny. She is doing well and fitting into our family great. She and Lucy are becoming friends now that Lucy has figured out that the puppy is staying! I have attached a picture of them napping together. Have a great summer! Colleen Schubert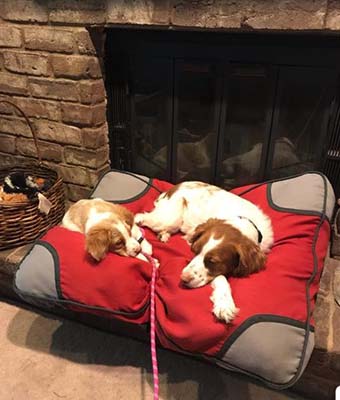 Ch. "Belle" x Ch. "Emmett" girl enjoying her first day "home".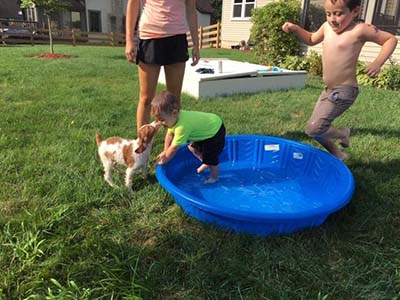 Eden
Hi Barbara, I wanted to say thank you for Eden. She is everything we could have hoped for. She is bright, curious and energetic. She is getting along great with Dakota, although I'm not sure Dakota knows what to do with her till she gets a little bigger. The biggest surprise she has mastered going up the four steps on our back deck. Here are a couple of pictures and I'll keep you posted as she gets older. Thank you so much again, Joe and Lisa Kruse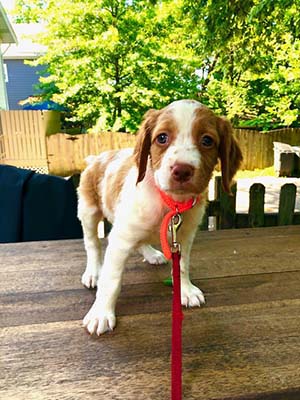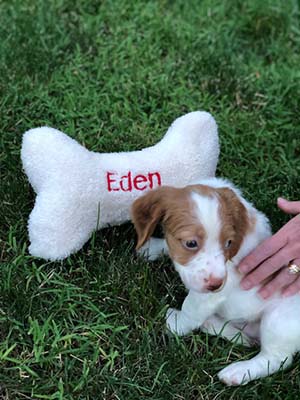 Cooper
Here is Cooper scoping out seagulls on vacation at McDonald's :) He just can't take a day off! He is such a dear, dear dog. He's comfortable and confident wherever he goes. He's our travel buddy.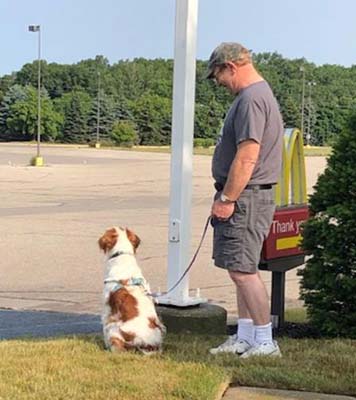 This is a Ch. Belle x Ch. Castle's I Can Dance puppy with their older Brit. What a cute pair!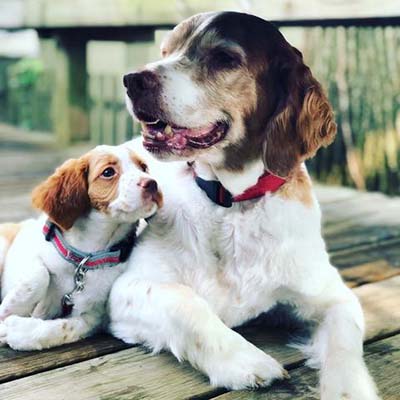 Tucker - Dolly x Ch Dylan puppy sharing food with his new friend.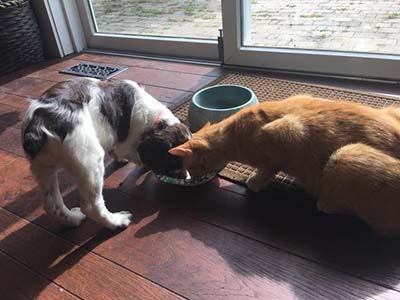 French and Lucia
My little girl is almost a year and a half old. She is such a sweetheart and loves her big brother. Thank you so much for both of them- they have made my family complete.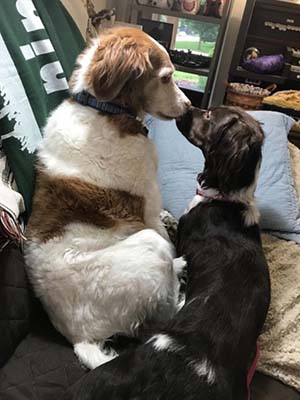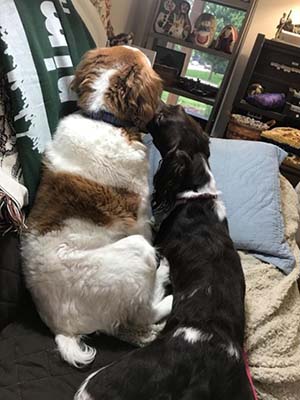 Tuck
Hi Barbara: Just checking in with some photos of Tuck. He's doing well & is a bundle of energy. He's learning to sit & trying very hard to go to the bathroom outside. Work in progress! He loves to chew.....on anything! He's a puppy & we love him! Hope all is well with you!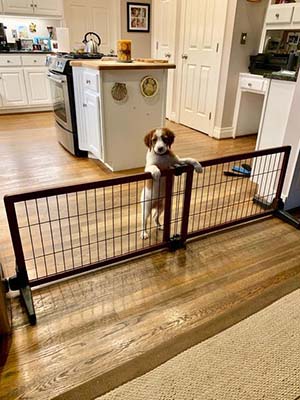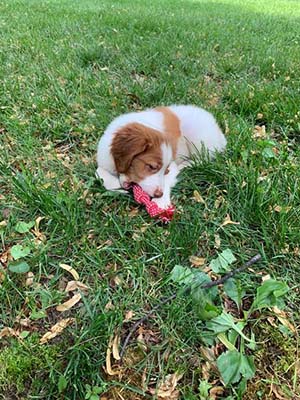 Keiran
Dr. Pepin: I can't believe Keiran is now 4 years old. We continue to have fun at agility class and also started Rally obedience classes. He is still such a puppy at heart! Lori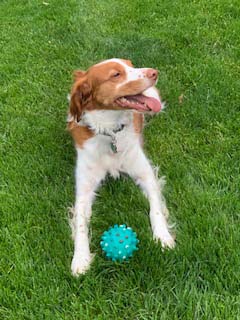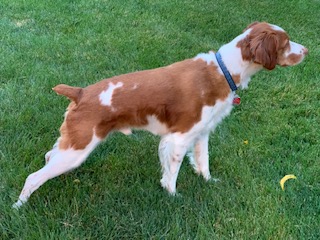 Sadie
Sadie will be 10 this year. This is the look I get when I ask her to take a walk.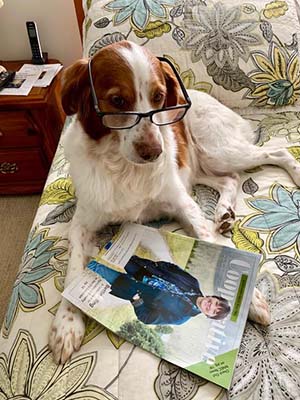 Abby
This is a Trouble x Ch Boone puppy in Alaska.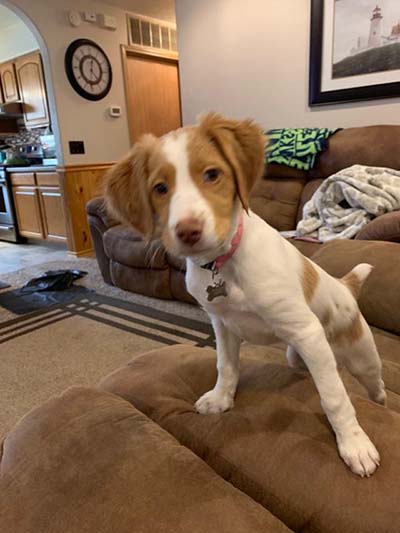 Sophie is a Ch. Story x NGDC Chief baby.
Good afternoon Barbara, Thanks again for sharing one of this litter with us. Our family is enjoying every minute. "Sophie" is doing very well.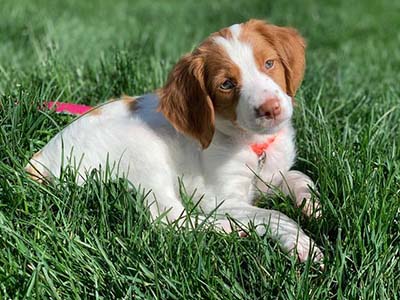 Max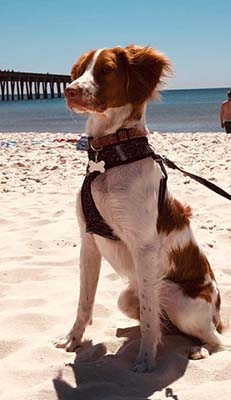 Maddie - Gemma/Boone Girl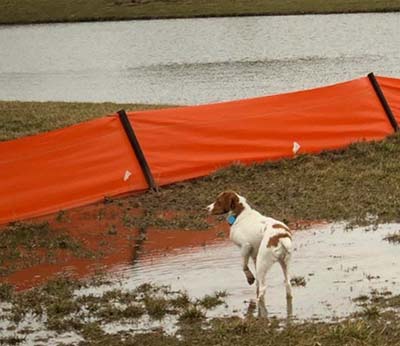 Cooper
Here are a couple of recent pics of Cooper. We often comment on the fact that he has many precious, confident qualities, along with being very handsome❤ We are so thankful he is ours. Hope all is well with you!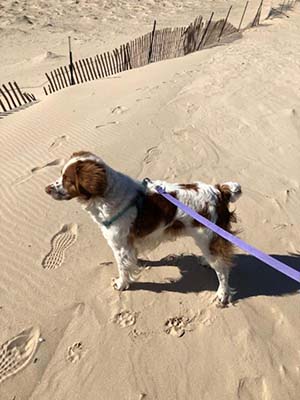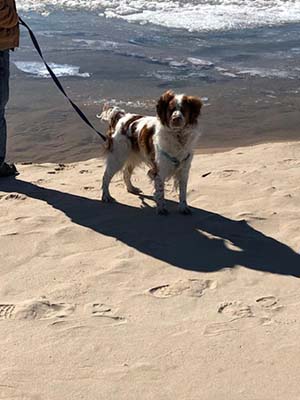 Sadie - Lyndy x Dylan puppy
Hi Barbara, Wanted to give you an update on how things are going with Sadie. She is everything I had hoped she would be. We have been working on basic commands, and house manners. In the field, she has been introduced to birds, and guns with great success. She is showing a lot of drive, and is having a ton of fun hunting. The picture is of her on point during our training session this morning. All The Best, Dave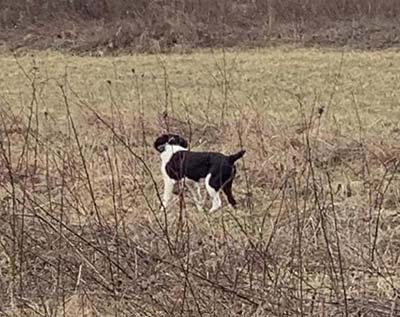 Working dog Trigger.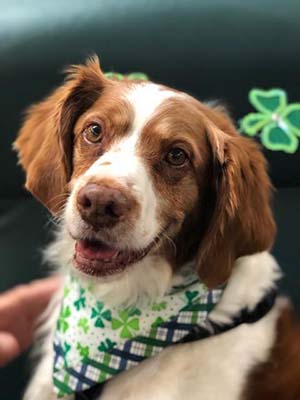 Justice Carr
Barbara, We just got news that Justice Carr just won the open puppy and took ru amt puppy at a shorthair trail in Oklahoma. Last weekend she took second and third puppy at a different shorthair trail and a second in open derby. She is turning out to be a really nice female. I hope you are having a good season. Steven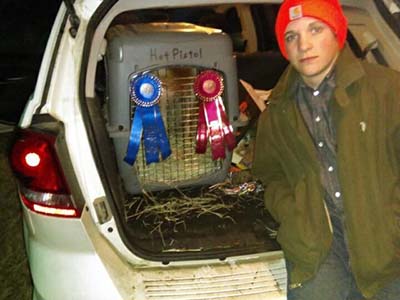 Millie
Hello Dr. Pepin, I wanted to let you know that our Millie has truly mended our hearts and definitely keeps us on our toes! She is the love of our entire family; my girls come over just to see her! She is SO sweet, and we have fun finding more freckles showing up each week! Steve has been working with her with simple commands out in the field and she is doing wonderful. She hasn't been swimming yet but that will soon come. She is beautiful in every way. Her "feathers" are just starting to come out – she is SO beautiful! Hope all is well with you! Linda L. Wulf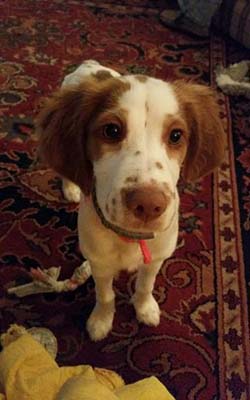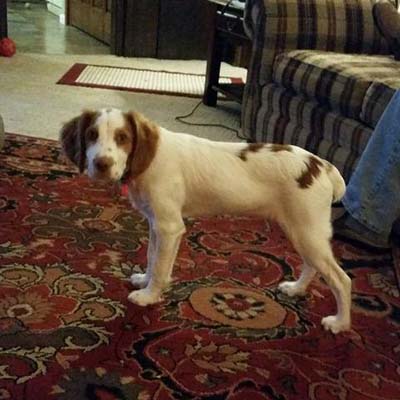 Marlin
Hi Barbara, Marlin is doing wonderful, she will be 7 months old on Saturday (2/9/19) and she is weighed 20.6 lbs yesterday. She is much more vocal than Winchester and is sweet, but also very sassy. I think they enjoy having a sister around most of the time :) I hope you received the Christmas card that I mailed to you. I received Marlin's AKC registration in the mail the other day. Thank you, Jennifer Dittelberger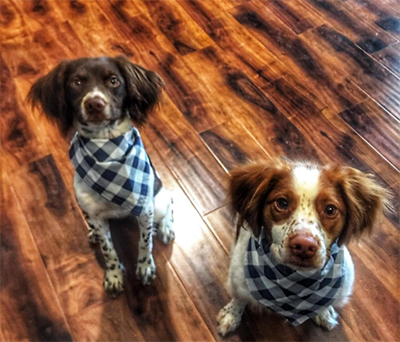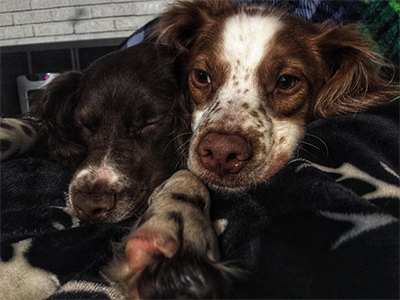 Tip does it again
Tip got another 2nd place. She has three placements before she is 8 months old. Tip completed two hunt test legs also.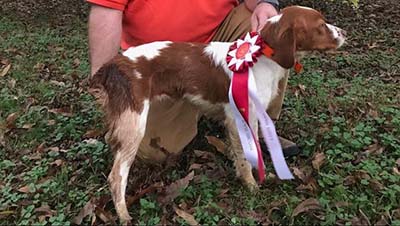 Cash in the field
Barb Hope you all had a great thanksgiving. Had the dogs out today and got a great picture of Cash backing my GSP I thought I'd share. He's doing great. Pointed a grouse in Michigan a few weeks ago and has become a great member of the family. John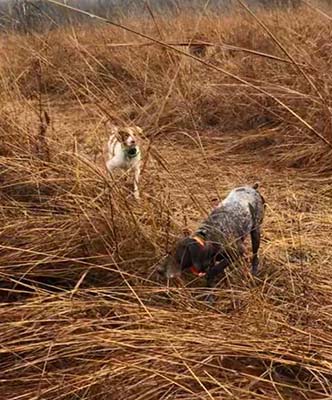 Hudson
Hi Barbara, We got Hudson from you just over a year ago (Ricky x Gypsy) and he is now 16 months! He has been awesome... he learns things so fast and is so well socialized with us and others (dogs included). He also loves the dog parks in Indy which we now frequently visit with him. Here Are a few photos from the past couple months. Thanks again!! Tyler and Katelin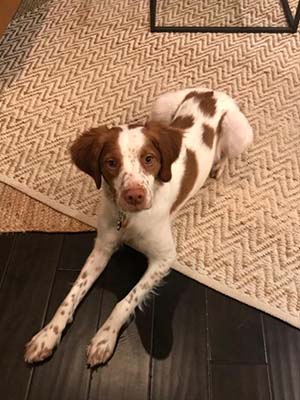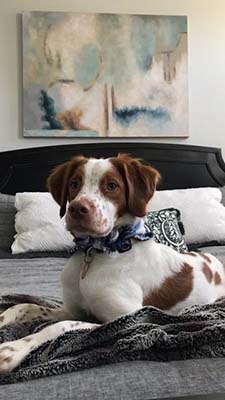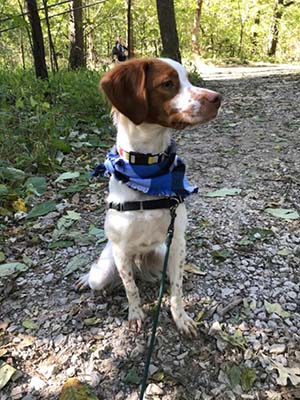 Penny
Hi Barbara, Just received your message. Here is her name: Cross creek Dole's Penelope Lane Let me know if you have any questions. Hope you are staying warm. Deb Dole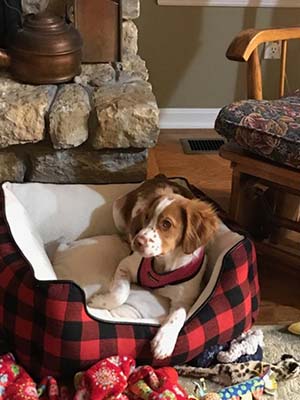 Tip won again
She has all her puppy points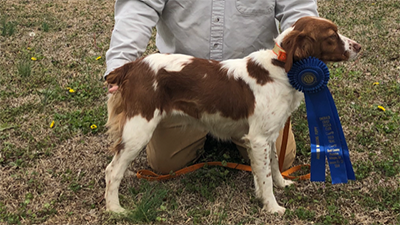 Emma
Emma is adjusting very well! Smart too! She did get sick on the way home 5x but much better now. Going on puppy pad and outside pretty good. She is a love and a joy to add to our family!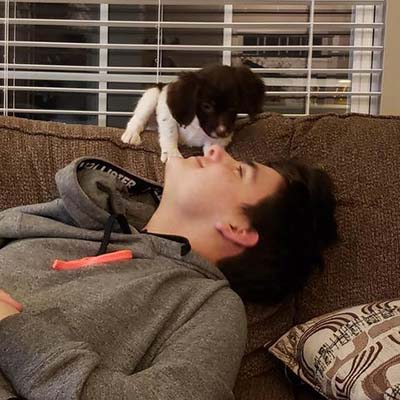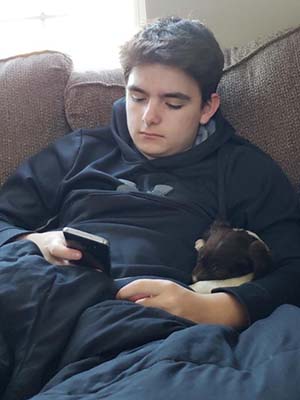 Lucia and French
My little Lucia just turned a year old. She is such a sweet, loving little girl and brings such joy to us. Attached is a picture of her and French at Christmas. Thanks for both my pups. Cynthia Underwood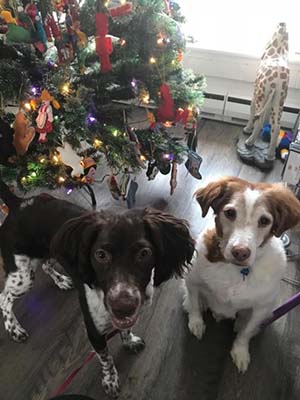 Gus
Hi Dr Peppin, Just wanted to send you a picture of Gus on his 1yr birthday. He's been a great addition to our family. Thank you, The Robertson family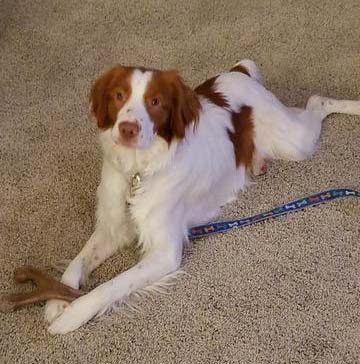 Money Penny
We are calling our girl MoneyPenny. We took her to the vet last week for her shots and she has a broken bottom tooth and a yeast infection in her ears. That seems to be clearing up now. She is enjoying playing with our son and his friends and is getting better at telling us when she need to go out. She enjoys her bed, water bottles, and her frog toy.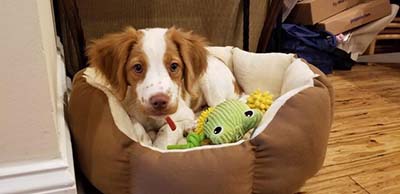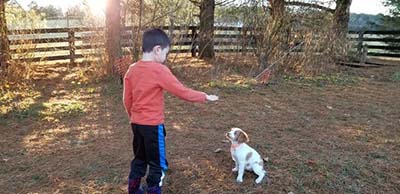 Gus
Barbara, I just wanted to contact you in reference to a male (Gus) my family got from your kennel last December. He has become a huge part of our family and as a bonus, a hunting machine! This pic is of my son, Gus and me and was taken on his first trip pheasant hunting in Kansas a couple weeks ago. Pheasants were slim but quail were everywhere. Gus was outstanding! He has tons of drive, a great nose and listens very well. Still has a little puppy in him that will work out with time , but all and all he did much better than I could have even hoped for. I just thought you might like to know how one of your dogs is doing. Paul Weinzapfel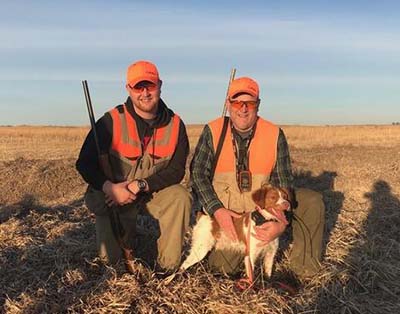 Gunner
Hi Barb. Gunner just turned 2 last month and is such a great dog. Full of energy, loves to run free outside and Chase birds in the fields. He has the best personality too. We are considering another in the next few years. Here is our Crosscreek Fishin' in the Dark (Gunner).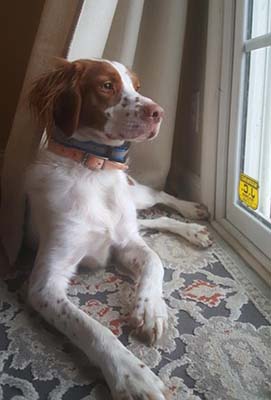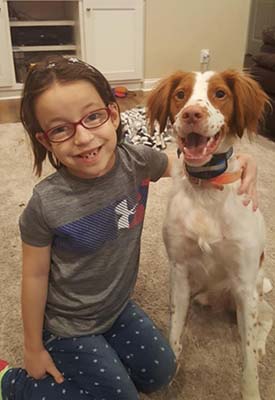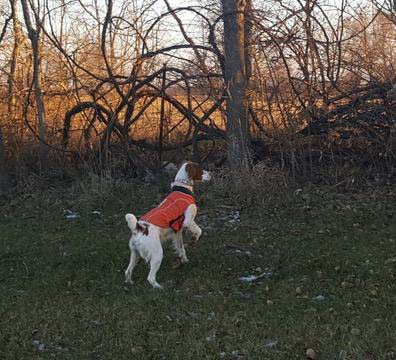 Annie's 1st Christmas
Hi Barbara, Wanted to wish you Happy Holidays and share of pic of Annie and her fur siblings. She really loves wearing jingle bells! Merry Christmas! Lynda Robey and Annie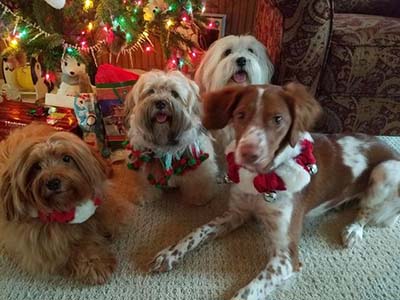 Kimber - Crosscreek Sanbar Redi To Make My Day x DC Sanbar Crosscreek Repete Call.
Hi Barbara! Just wanted to let you know we have been training Kimber to hunt. He's doing awesome. He's a great pet and a lot of fun to hunt with. The boys love him and I'm sure they will be doing a lot of hunting with him someday. I was so sad to let Benelli go. Still think of him often and wish he was still here but he was so destructive. I've never seen a dog like that. So glad Kimber isn't that way. But anyway, wanted to share this photo! Merry Christmas! Brittany Petty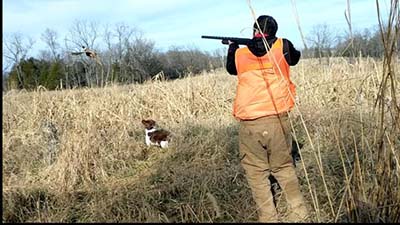 Dude Pup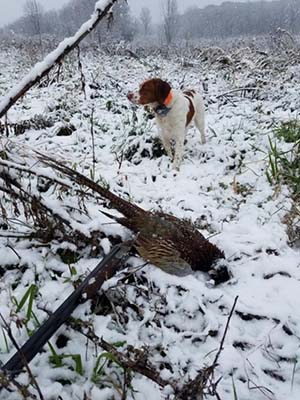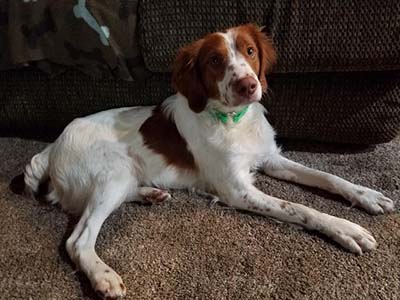 Molly - is a Ch. Sanbar Crosscreek True Colors "Dani" bred to Ch. Castle's I Can Dance puppy at 8 weeks…sweet.
Barbara, Per the photo below, it seems that Molly's having a terribly difficult time trying to relax in our high-stress environment. Seriously, less than one day tells us that she's sweet as can be, smart as a whip and very healthy– great girl. Thank you again for everything and we'll let you know is we have any questions as we go along. Regards, Bill and Margaret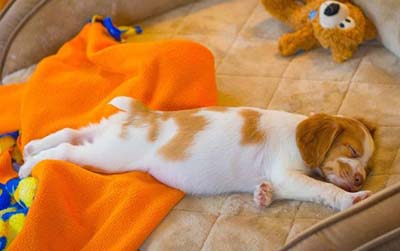 Trouble x Boone puppy in new home.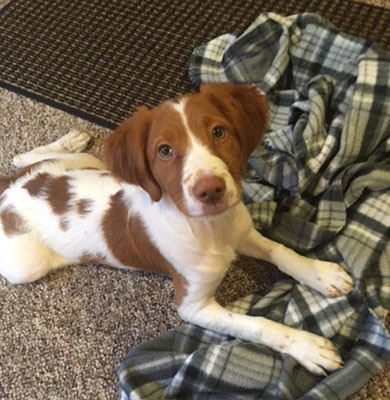 This is a Chief puppy from Carter brittanys.
1st place Derby South GA German Shorthair Club 6 starters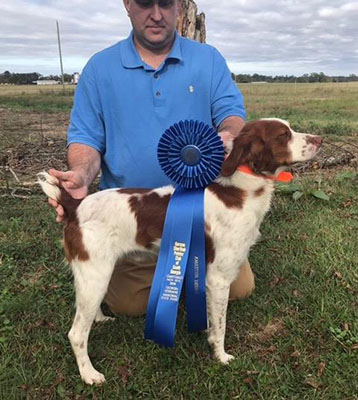 Briar
Barbara, This is a picture of Briar taken today after grooming. He will be two years old next month. He is a good dog and will be going to Iowa pheasant hunting soon. Doug and Karen Dalby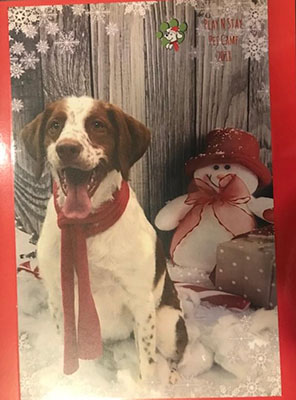 Cross Creek Shades of Cooper
Hi Barbara, Here's a new picture of Cooper. He is such a beautiful little guy inside and out❤ He brings us such joy!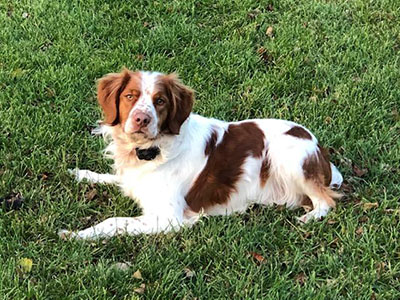 Chief Beretta puppy
This puppy is now 6 months old and off and running. The young man in these pictures has a Chief x Baretta puppy. He took her to a hunt test last weekend and went 2 for 2 on passes for two legs of her junior hunter! Then the young man ran her 4 times this today with a 2nd place in the open puppy with 16 starters. A second place in the open derby with 10 starter and a fourth in the amateur derby with 10 starters. Not half bad for a 6 month puppy and a 12 year old boy! He runs one more time tomorrow in the open puppy for the weekend as well as Tommy's puppy!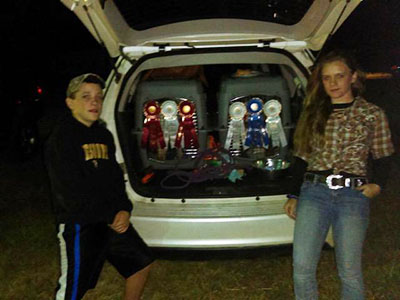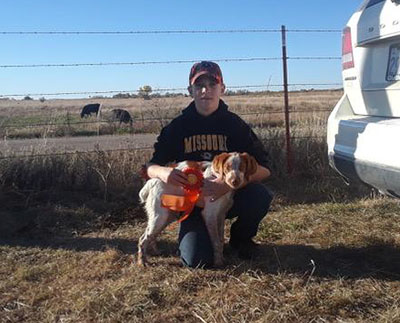 Trouble x Boone puppy "Ace"
Chase has named his puppy, Ace. They are bonding well.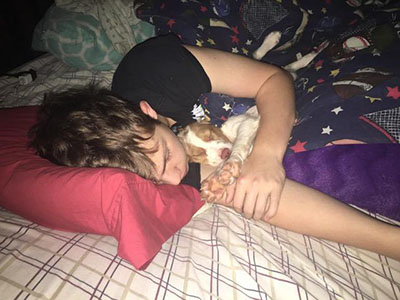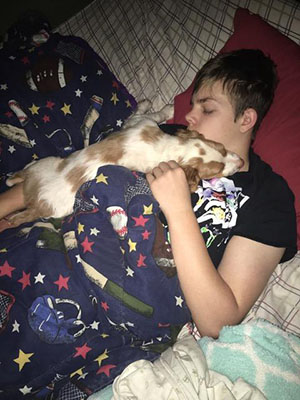 Annie
Hi Barbara, Annie graduated from her first obedience class tonight with an excellent performance of the basic skills she has learned. She is the funniest dog I have ever owned, and training her is a delight! She is just a happy girl and she always makes me smile. She LOVES everyone she meets and is very generous with her kisses! Annie is 30.5 lbs. now and is pure muscle and fast as lightning when she runs. She's a very beautiful girl. Lynda Robey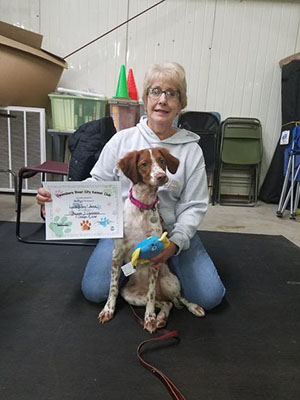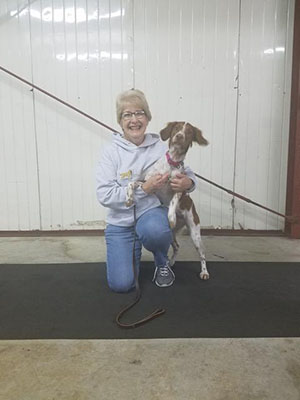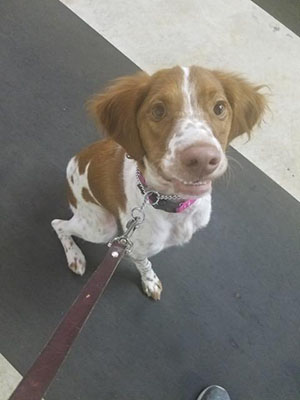 Cross Creek Silky Sexy Sadie

Lucy is a Millie x Boone baby.
Good morning! I thought I would pass along a couple pictures from Lucy's first day home with us. After a slightly tough car ride (she got sick and threw up about 15 minutes in), we have had a tremendous first day and night with little Lucy. She is settling in with the family well, calms down fairly quickly when crated at night, and seems to be making a home for herself here already. She is just the sweetest little thing! Thank you! The Cassins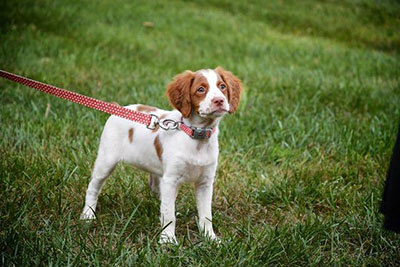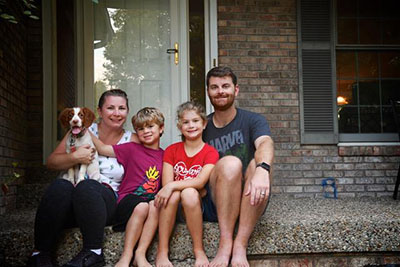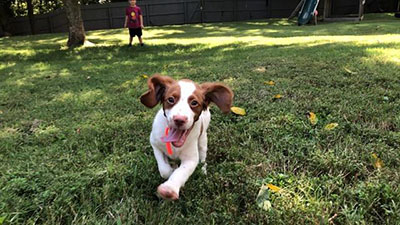 Dude
This is a Ch. Sanbar Crosscrek Tell Me A Story "Story" x NGDC GFC DC Hope's Chief of Crosscreek puppy from the 12/17 litter.
Second trip. Dude is figuring out wild birds had this one pointed and held learning to hunt. Steve Hite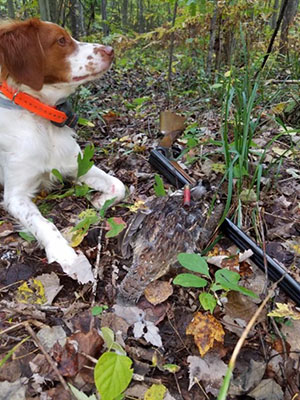 Bud
Hi, I just wanted to thank you again for our best friend Bud. We got him from you about 7 years ago and he is simply the most loving and healthy dog we could ever ask for. I knew nothing about brittany's when I got him other than I just thought they were beautiful. But after having him in our lives these years as we've moved from Seattle to Hawaii to Oregon and now New Mexico I can say he has never been sick or had a sad day in his life. We simply love him and he's a big part of our family. I have met several brittany's over the years and none of them compare in temperament or beauty. Thanks, and God bless. Zach
Brit
Hi Barb; if I remember correctly tomorrow is Brit's second birthday. I really can't describe properly what a part of my life she has become, how much companionship and fun she brings; and how she has become my best friend. And what an affectionate and eager to please dog. I am so fortunate and want to thank you again for a wonderful puppy who has grown into a marvelous young dog. Thank you.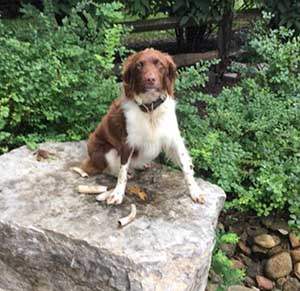 Hudson
Hi Barbara, Hope all is well! We sent someone your way today for a new Brittany after they saw Hudson at the market in Indianapolis. Just wanted to share another picture of him as we haven't in awhile. Tyler & Katelin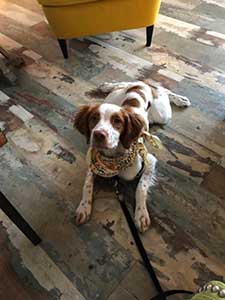 Chief's Pup 5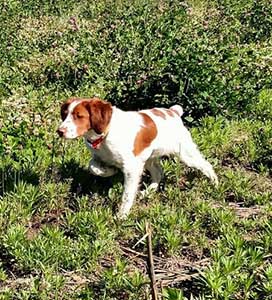 Bayley
Here is Bayley(girl 5) at her 15 week checkup. She weighed 11lbs. 6oz.! She is very spoiled. Very Spunky.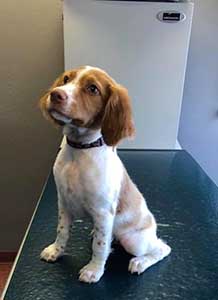 Man does it again
Another 4 pt major. Best of Winner. 13 dogs and bitches. Needs a couple points.
Keiran update
Dr. Pepin: I cant' believe Keiran is three years old. We continue to enjoy agility. His favorite obstacle is the tunnel and he can do the teeter at full height. We completed our first scent work class which he is a natural. Will continue to do more agility and scent work classes since we are having fun doing both. Lori
Boy 5 from Tell me a story and Chief.
This is boy 5 from Tell me a story and Chief. This is his first quail this weekend. He is socialised very well, comes to whistle and name. He knows no and leave it. He is very inquisitive, hunts well, and ventures boldly. I think this is going to be a great dog. Thank you. Steve Hite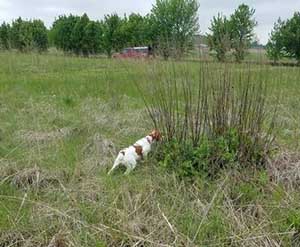 Crosscreek's Shades of Cooper
Hi Barbara, I wanted to send the attached recent pictures of Crosscreek's Shades of Cooper. He's almost a year and a half now. I think they reflect how happy he is J He is such a loving, loyal, gentle spirited little man and we couldn't love him more! Hope all is well! Deb Rotman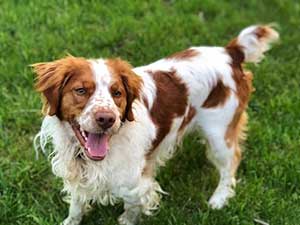 Arrow in Mi - Chief's son.
Hello,
Hope all is well with you guys. How's Chief doing?
Arrow had 1st place til the last brace, rats!! He did a great job and earned 2nd place in Open puppy at MI-Sag all breed trial.
Didn't enter much since they were either cancelled due to bad weather or not enough entries.
Next weekend in Bloomington IL Sat & Sun for dog show specialty & sweeps. Arrow is still pretty skinny, can't get wt on him.
Will show him at LaSalle in a few wks, Maybe Wheaton in between those.
Thinking about sending Arrow out this summer for training before fall Derby season.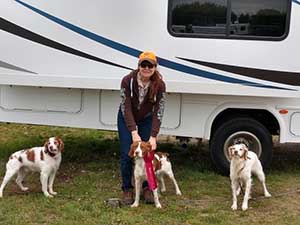 Bindi is a great hunter!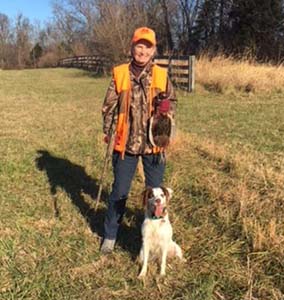 Annie
Hi Barbara, Annie is growing like a weed and now weighs 13 lbs. She loves walking through the pastures and running in the creek. Every day more ticking appears, and I think she's quite beautiful! I received her registration and pedigree. Thank you for taking care of that. Lynda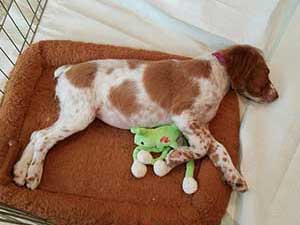 Kimber and Kendall
Here are my boys :) Kimber and Kendall are best friends.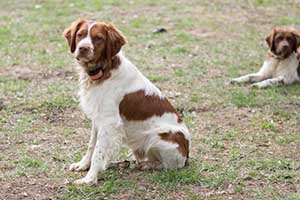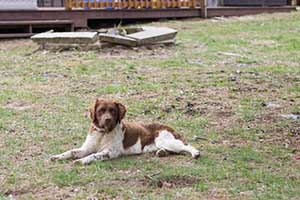 Arrow's 1st bday
It was Arrow's first bday on April 4th and I was thinking of you guys. Hope all is well with you and all the dogs.
Arrow continues to pick on Star a lot. Uno is stepping up to help Star and tell Arrow when we've all had enough. Yay! He's handled in horseback stakes only since he ran off the last 3 times. He apparently loves water and swimming.
Anyway, here is a pic of Arrow and a post-bday surprise certificate we rec'd today. Arrow has placements in Hunt test, show, and field trials which apparently qualified him for this cert.
Enjoy the pics and talk again soon.
Keep in touch.
Elaine K

Buddy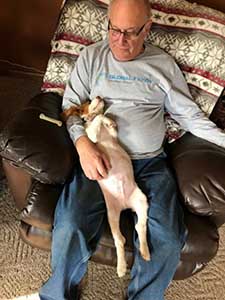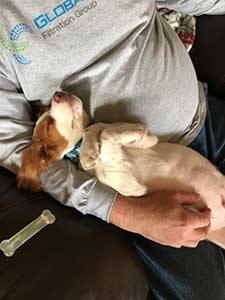 Cross Creek Silky Sexy Sadie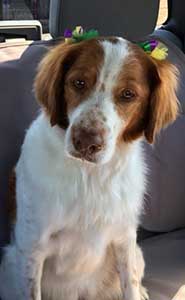 Crosscreek Lucia New Beginnings
Yes, she is doing great. Her and French are true buds and he acts like a puppy again. Thank you so much for that little darling. Know that she is loved and well taken care of. Here's a picture of her and French sound asleep after playing. Her name will be Crosscreek Lucia New Beginnings.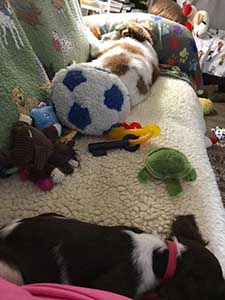 Sable and Bailey
Wanted to send you this updated picture of Sable and Bailey. We adopted Sable from you in December 2011 and Bailey in March 2016. They both recently were able to go on a fun road trip to Gulf Shores, AL, and as you can see, they enjoyed every minute of it! They are both doing great and are treasured members of our family! -Kevin, Renee, Kayla, and Steven Kramer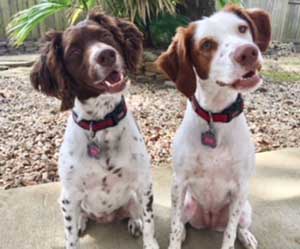 Livi - Luna's Girl 2
Hi Barbara! We are having such a good time with Luna's Girl 2! She is adjusting very well and is so sweet! The name we have chosen is - Crosscreek Pamlico Living Large "Livi" Regards, Bob and Gayle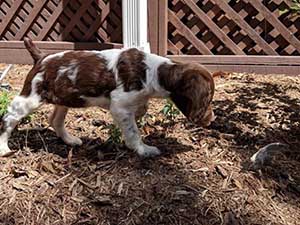 Buddy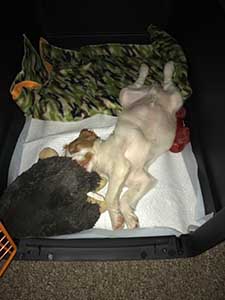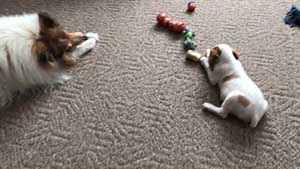 Callie Rose
Good afternoon, Dr. Pepin! Just wanted to give you a quick update on Callie Rose (Now 15 weeks old). We brought her with us for a long weekend at the family beach house last weekend, and she had a blast! She climbed rocks, dug for sand crabs, and even went on a boat ride. She's growing into such a beautiful, smart dog and is gaining more self confidence every day. She has great instincts, loves to fetch, and copies everything our 13 year old female does...we get a kick out of watching them "hunt" and explore together. I'm also convinced she knows to pose for the camera! Here are some photos of her from the weekend! Thanks, Elise and Tristan Nelson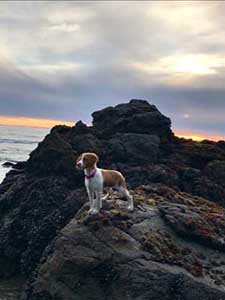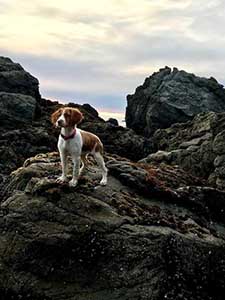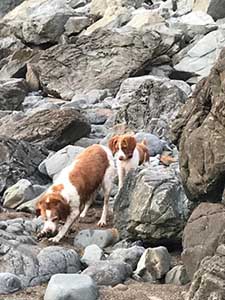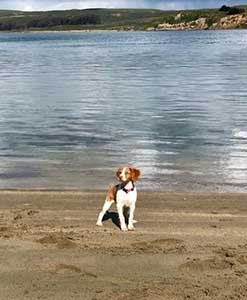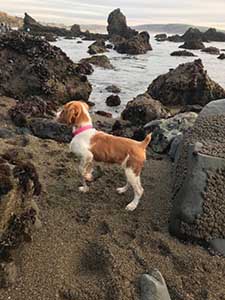 Cross Creek Ruby Red
Hello Dr. Such a beautiful dog. I enjoy her every day. Thanks.

Helga
Here is a picture of one of the girls that I kept. Helga, was sensational yesterday. No formal training, all natural instinct. She pointed, flushed, retrieved and even honored. Wow. What a great hunter. I took her brother Luke out. He was a little tentative at first but was okay later in the hunt. He came along and sniffed. It was a great day. These are wonderful dogs! We currently have three. We will wind up with two of the pups. We are boarding the third. All reports of the others are wonderful as well. I hope all is well down there. I'll send a picture of the boys too if I can get them to sit still long enough. All my best. Mike Ruffolo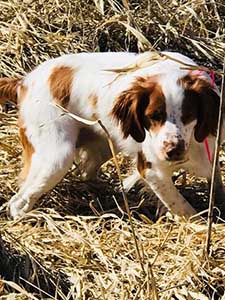 Ch. Story x NGDC Chief puppy

Tiger Lily (call name Lily)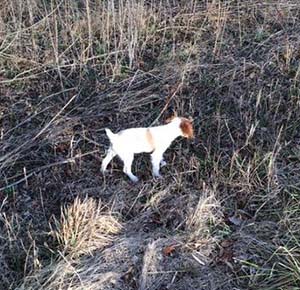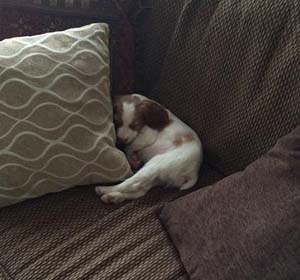 Abby
More photos of Abby, Arrow and Miss Kitty...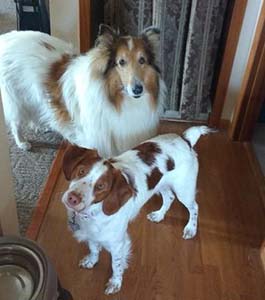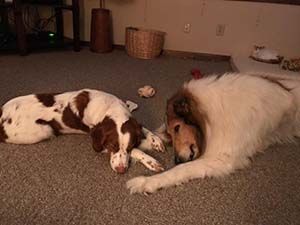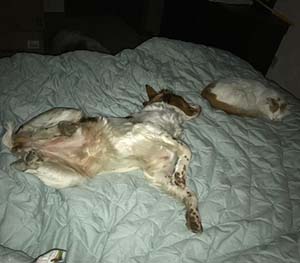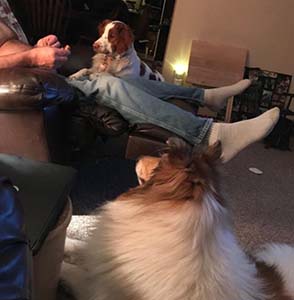 Ch. Sanbar Crosscreek Silk Stocking - Silky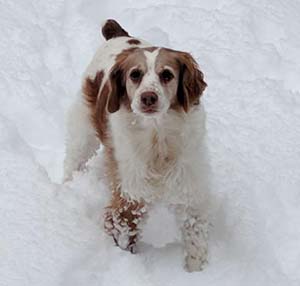 Bayleigh
Some pictures of Bayleigh's first day home. She is very playful and energetic!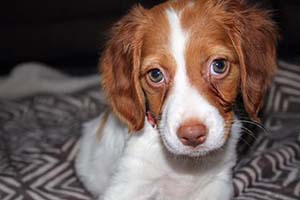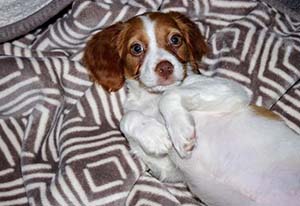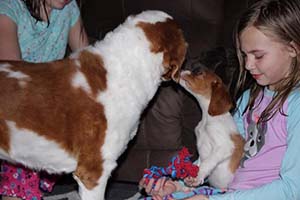 Cooper
Thanks again. Cooper is doing so well and SUCH a handsome young man! I've attached a couple of recent pictures of him. I recommend you to everyone! Thanks again for giving us such a great puppy!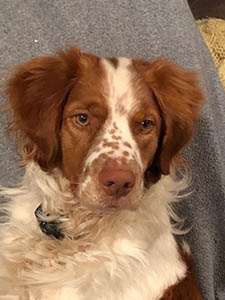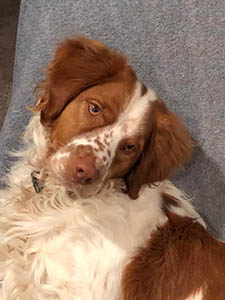 Charlie (Crosscreek Chummy Charlie)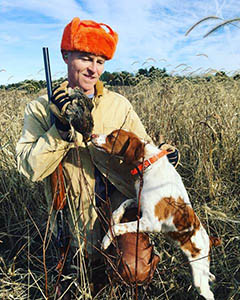 CrossCreek Jax's of Hearts is a Gypsy x Ricky boy
Just wanted to make sure you got the email with name. Jax is doing great! He is a hyper little puppy! He loves being outside! But he also loves his cuddles. Shelby has him so spoiled rotten. He is potty trained using bells at the door. And he sits, stays, and loves to fetch! He is also pointing and finding the bird decoys so well! So happy we have our little Jax! He is weighing in at a whopping 18lbs.

Crosscreek BritneyJean
Hi Barbara.... she is doing great and loving playing with her big sister. Her official name is Crosscreek BritneyJean. Attached is a picture of her with big sis. Cheers Todd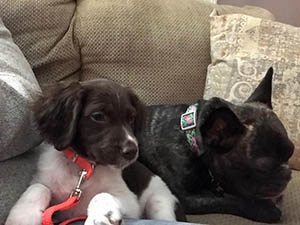 Cross Creek Ruby
She is going great. Pointing already. Following Beau every footstep he makes. Caught her winding something the other day. Can't believe the natural instincts of your dogs. Thank you Barbara.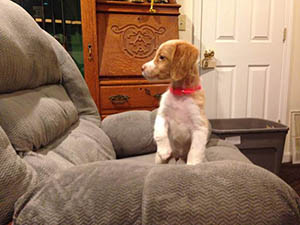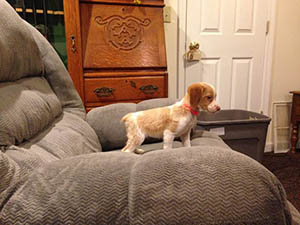 Daisy
Hello Dr Pepin! This is Daisy, at a little over three years old, enjoying an evening quail hunt and swim in the mellow winter mountains of California! We love her so much and thank you for such an amazing little companion. She is the best!! Jeff & Shaina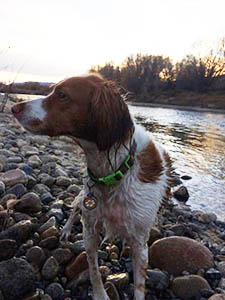 Cash
Barb Just wanted to let you know cash had a great first week. Almost sleeping through the night in his kennel. Eating well. Gained a little over a pound. Clean bill of health from the vet. Made friends with her sister Rowdy! John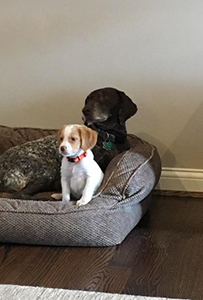 Saparova's puppy
This is a Ch. Hope's Capture the Moment "Windy" x DC Sanbar Crosscreek Repete Call puppy enjoying her new family.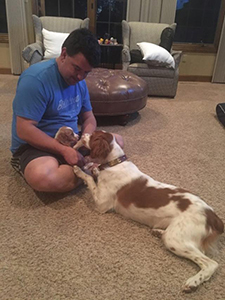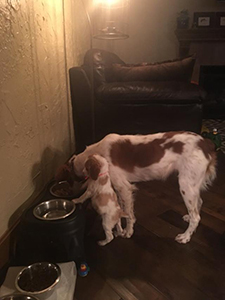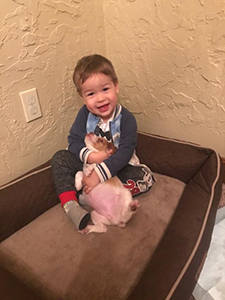 Remington's Ranger
Hi Barbara, Wanted to let you know our girl is settling in very well. She is doing amazing with using the bathroom when we take her out and has had very little wining (even at night!). We are completely in love. A few pictures for you. Lindsay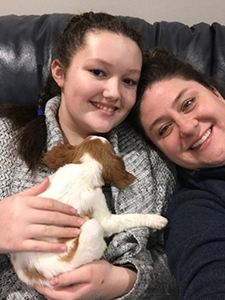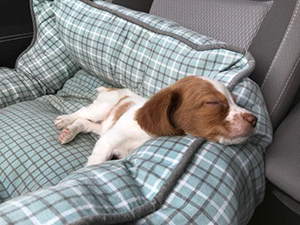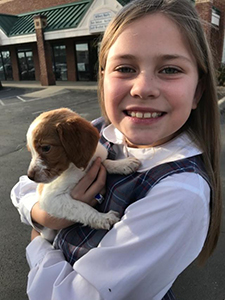 Ruby
Hello Barbara, This is Ruby on her first hunt in Kansas. Very satisfied. Alva Baker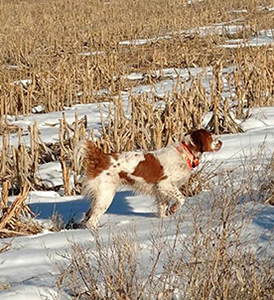 Dixie (Annie x Pete)
Just wanted to drop you a quick line and let you know Dixie (Annie x Pete) is doing GREAT. I've worked with her a lot and she has picked things up quicker than any dog I've seen She's going to be 1 year old in about a week and is hunting like a much older seasoned dog. One quick story I had her at a preserve Monday it was cold snowing and blowing and the pheasants were running BAD She worked those running birds with as much patience as any dog I've ever seen Without a doubt hunting way beyond her age Thanks Ed Morgan
Hank and Fly
Hi Barbara and Wayne! We got both our Brittany pups from you. Hank in 2005 and Fly in 2009. They are both doing great. Hank is 12 and very fit (aside from being deaf) and Fly is 9 and an excellent hunter! I have attached some photos of Hank from 2007 getting his Jr Hunter and of our son Jake with both dogs after the peasant hunt at Atterbury just in November 2017. Jake has adopted a dog and needs some reasonably priced vet care for him. Someone who works in his apartment complex in New Albany said they bring their dog to you and that brought back lots of fun memories of getting Hank and Fly. I have copied him on this email and his cell # is 317-294-6124. I have also given him the contact info that I have for you but wanted to introduce you first in case you are able to provide vet care for him. We are so grateful for the dogs and the joy they have brought to our family over the last 12 years. We hope you are well also!!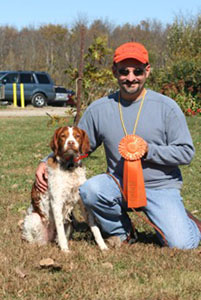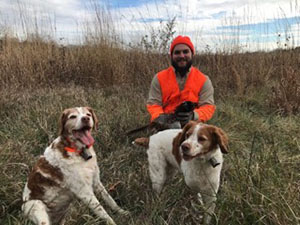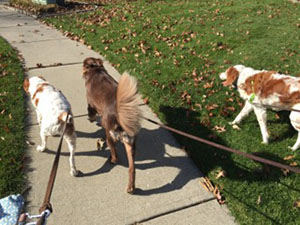 Gypsy/Ricky girl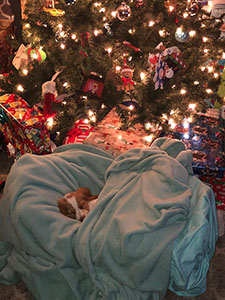 Frodo and Bena
Hey Dr Pepin! Just wanted to send you an update. We love our babies! Went on another hunt today and they are just amazing! Brittany Atwood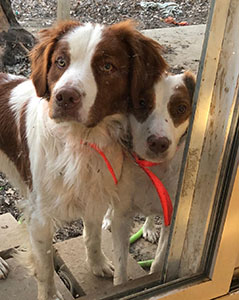 Theia (Libby x Dylan Girl #2)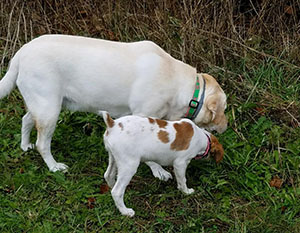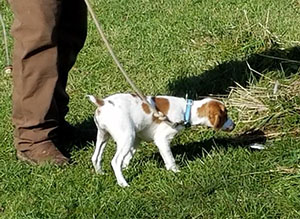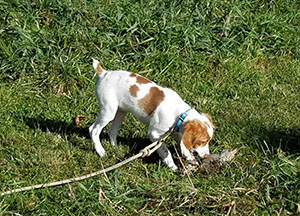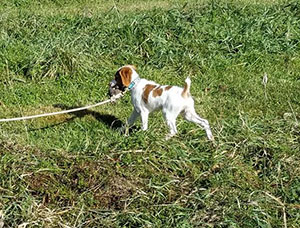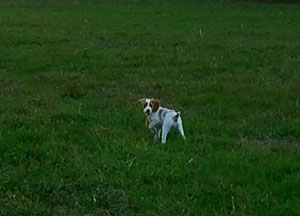 Andy's 1st Birthday
Good afternoon Dr. Pepin - we thought you might enjoy seeing Andy's pictures on his first birthday. They are attached. We love him dearly!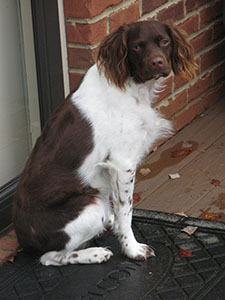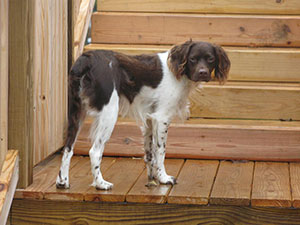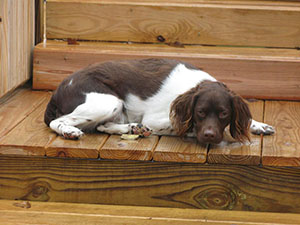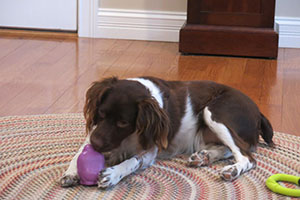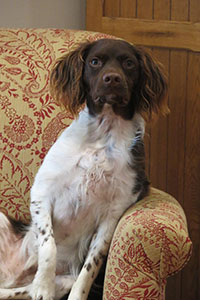 Jodi
This is Diane Averbeck, I purchased "Jodi" from you three years ago. She is a tremendous service dog, our trainers have mentioned time and again that she has the perfect temperament for her job. It has been suggested that I bring in a younger dog to learn from her, due to her being older. I'm not ready for Jodi to retire, I can't imagine leaving her at home we are so connected. But in reality, when Jodi becomes unable to assist me, I will need another service dog. Diane Averbeck
Cross Creek's Shades of Cooper - 10 months
Hi Barbara, I've attached a new picture of Cross Creek's Shades of Cooper at 10 months. He is filling out so nicely and such a handsome young man! Love this little guy!!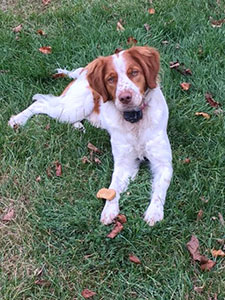 Cooper
Hi Barbara, Cooper's first grouse hunt was very successful! He's a natural. This was his first trip overnight up to our cabin and he behaved so well! Rode well and slept well, too. Such a great addition to our family.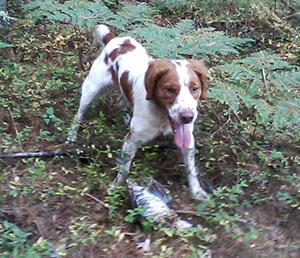 Isabel
I cannot believe she is almost 2 years old. She has been a blessing to us during my husbands illness. She is definitely a hunter and digger. We are thankful you raise wonderful dogs. Irene dake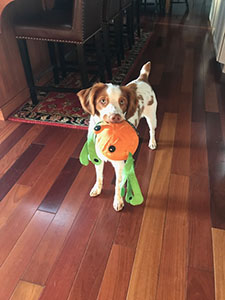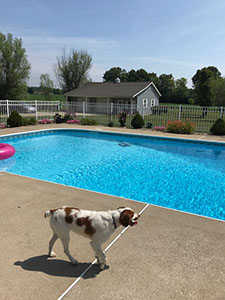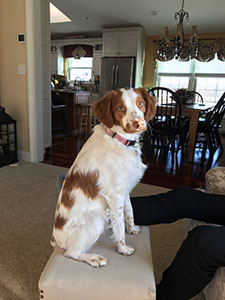 Petie
Dear Barbra & Wayne, I took Petie out for a walk this afternoon down an over grown fence line on the back of our property. He found two wild Quail sitting in the fence line and pointed them. So he can use his nose! And Starla is spoiling him rotten. He is getting along well with the Chocolate Yorkie my wife has and they have a big time together. Patrick Stevens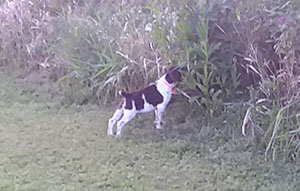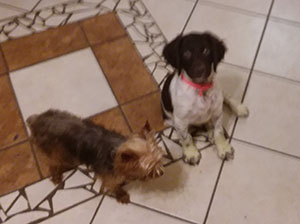 Hi from Jeff Klages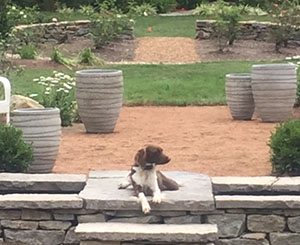 Annie's Flyer
Cross Creek Annie's Flyer just over 6 months at 19 lbs. She's a ball of fire.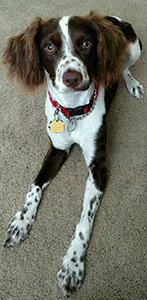 Chestnut
Hi Barbara, Chestnut is nearly 9 months old. He's a big boy at 37lb, beautiful, quite intelligent with a gentle soul, affectionate, loves people and dogs. He exhibits his hunting nature daily by catching anything that flies. His never ending energy and stubbornness gets him into trouble at times. We are so happy to have him in our family. Regards, Genie Berberian :)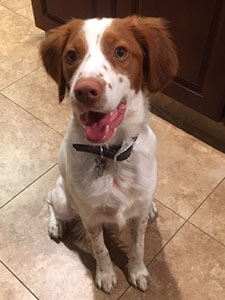 Star - Chief Baby
Barbara, Here is your little girl out of Chief and Carter Brittanys! She is amazing!!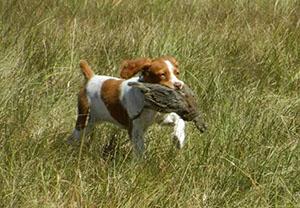 Cache
Hello Dr. Pepin - Once again Cross Creek Knobstone Cache finished the Knobstone Trail here in Southern Indiana. Cache is 5 years old and this is the fifth finish of the 54 mile long KT. We're on track with my goal to do the trail together every year.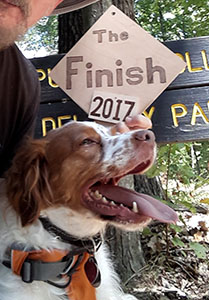 Winnie
Hi Barbara, I have gotten so many compliments on how beautiful sweet Winchester is. Winnie is 12 weeks old today...weighing around 9 lbs. Here's some photos of her that I took this morning.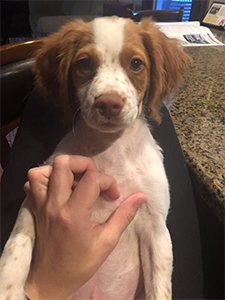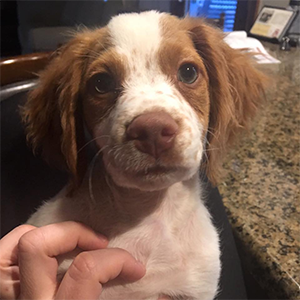 Here's a few photos of Winnie from the last week. August.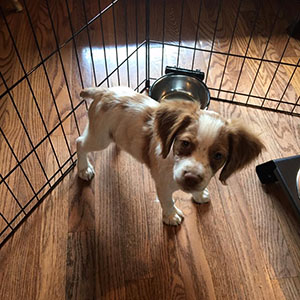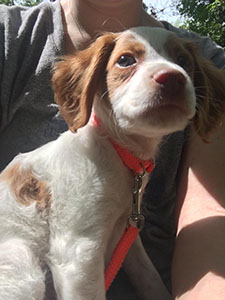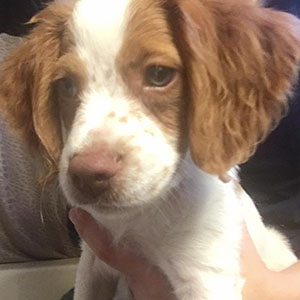 We went for a truck ride the other day and she crawled up my chest and onto my shoulders, curled up and fell asleep behind my neck. I attached a photo because it was pretty cute.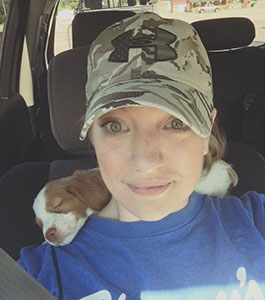 Puppy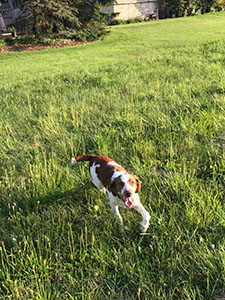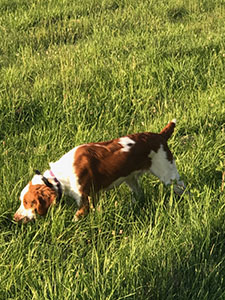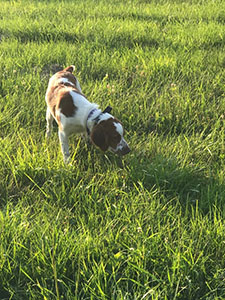 Sadie
Barbara, Enclosed a pic of Silky Girl 3 (10/09) after a hard day of squirrel chasing relaxing in the yard. She will be 8 in October and has been a pure joy. Mike Roe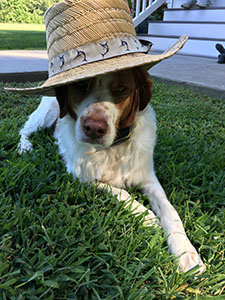 "Scout" -- Luna & Pete puppy
Hi Barbara, I just wanted to let you know that Scout is doing great! We're adjusting to life together and couldn't be happier. I'm amazed, as are my friends, just how easily he has adjusted. He slept through the night last night, just his second night here.
I appreciate all the goodies you sent. Scout loves his toy AND I love his new collar and lease. It was on him the minute we arrived home. Thanks too for arranging with Sharon to transport him. It was especially helpful to watch her give him his meds.
He's a beautiful, highly intelligent and very well adjust puppy! I'm thrilled to have discovered your website this spring. If you have an email list with updates on your competitions I hope you'll add me to it.
Next up is hunting down some pumpkin puppy teething chews! Oh those little teeth!!
All the best, Meri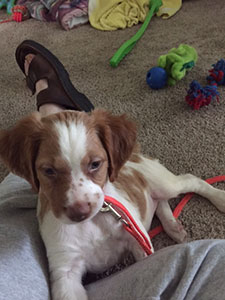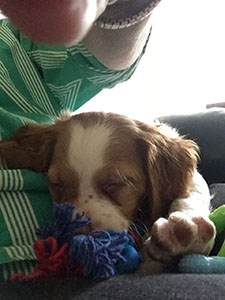 Bailey
Hi Barbara, I wanted to send you an update on Bailey.. he is such an amazing dog. He wakes up only once in the middle of the night and early in the morning. He loves to play and is so loving. He is really doing well: Best, Maria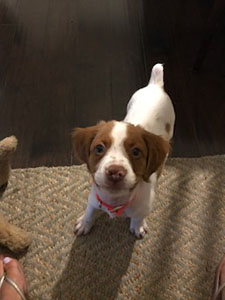 King Midas
Hi Dr. Pepin, Midas will be 6 years old in just a few days. He is such a great dog. He loves children, swimming, and tennis balls! Great family pup!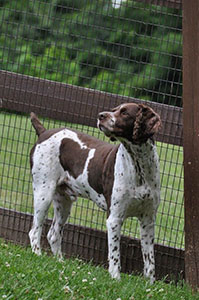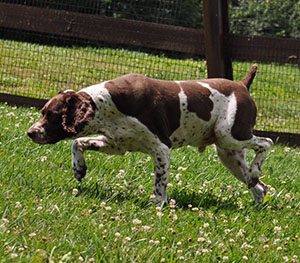 Cooper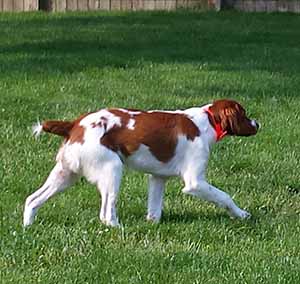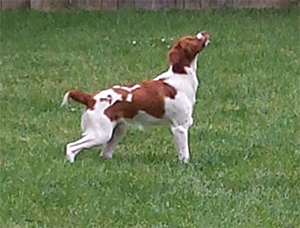 Gypsy Breeze & Brandy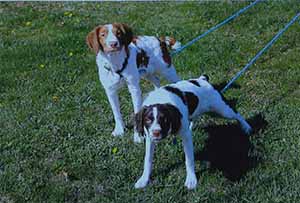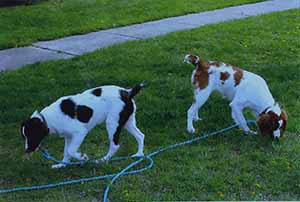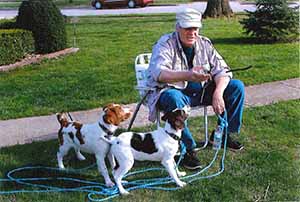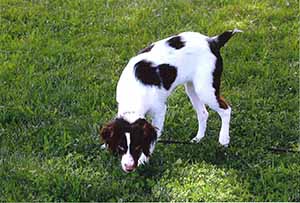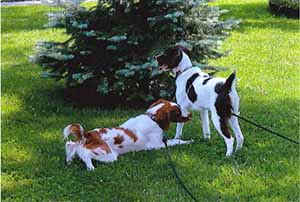 Crosscreek Shades of Cooper Pics
Hi Barbara, Here are some pictures of Cooper taken tonight. I can't believe he'll be six months tomorrow! Although it seems like he changes a little bit every day. He has brought such joy to our lives💕 he was surely meant to be ours.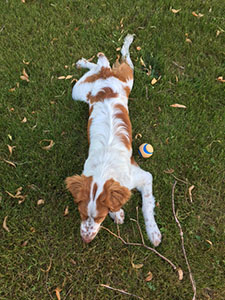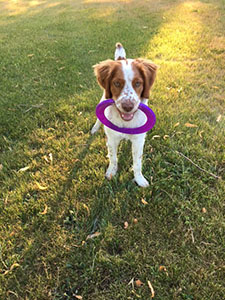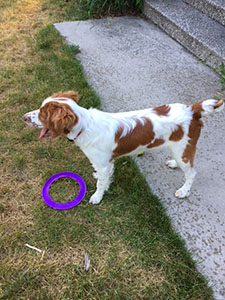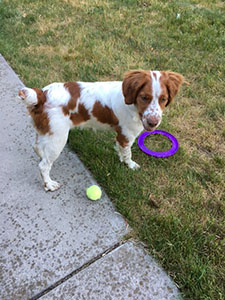 Helga, Murphy, and Luke
So here we are at 4 months and 20 days. We just came from weigh in for Heartgard. Helga the one in the left is 33.0 lbs, Murphy in the middle is 32.9 lbs and Luke the horse in the right is a monster boy at 37.1 lbs. he is as long and almost as tall as Madison. They are all wonderful. Having issues with housebreaking but we are getting there. Just wanted to give you the update. Enjoy the pics. Mike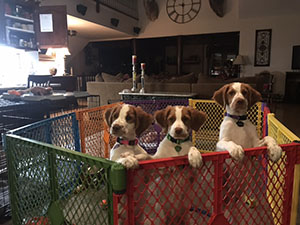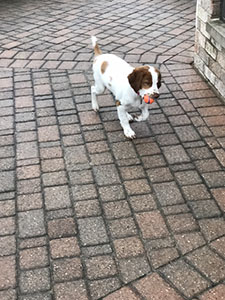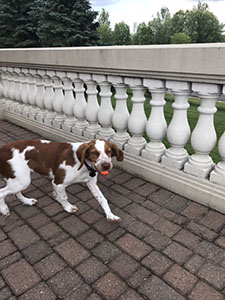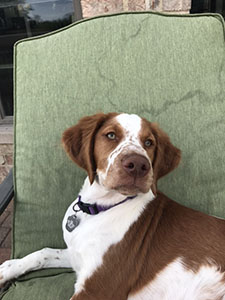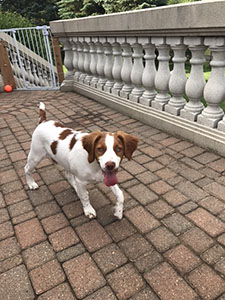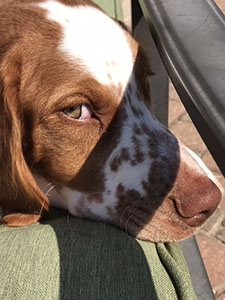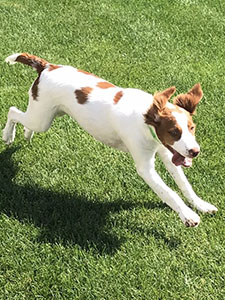 Maggie
Loving her life!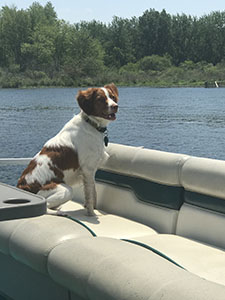 Cross Creek Annie's Flyer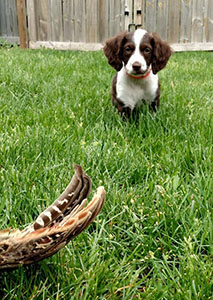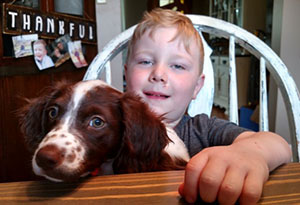 Tess
Dr. Pepin, We just wanted to send a recent picture of Tess on her 10th Birthday. She has been wonderful as always. Also wanted to congratulate you on Chief's recent wins and to tell you we were rooting for Harley on tv at Westminster. How exciting!
Take care, Trina & Nick Jack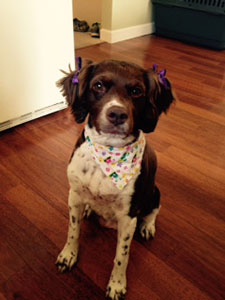 Patch
Hi Dr. Pepin! Hard to believe I'm one year old already. Just got a trim so I thought I send you a snapshot. My human companions say I'm a good boy who sometimes makes bad choices but I try. This fall I'm going to bird dog training camp.
Bye for now, Patch Schulhoff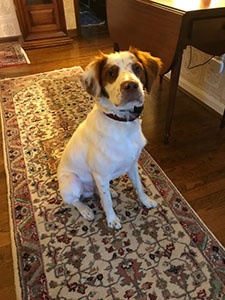 Scout
Hey Barbara, I can't believe it has already been a year for this little nugget! Though the road has been arduous and long, I am so very happy to have Scout as part of my family. She has been a wonderful addition to my life at a boarding school and my students find joy in her ridiculousness amidst stressful academics all year long. She is starting to grow into her own personality and she and I are getting into quite the groove. I just wanted to thank you for all of your guidance along the way and for producing such a tremendous pup. I look forward to many more adventures with her and to watch her grow into a fantastic dog in the months and years to come. Thank you for all that you do and here are some pics on her first birthday!
Cheers, Ashley & Scout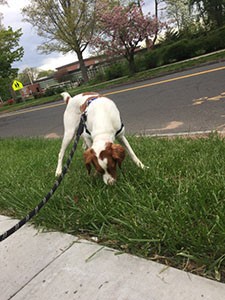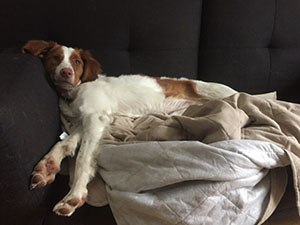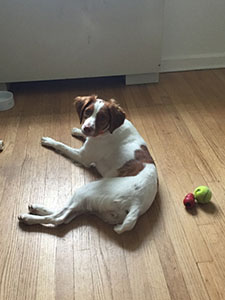 Gunner
Hi Barb. Here is Gunner at four and a half months. He loves to be outside tracking a scent and watching Birds.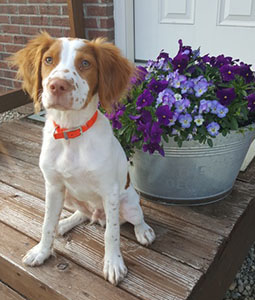 Cooper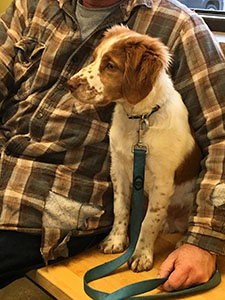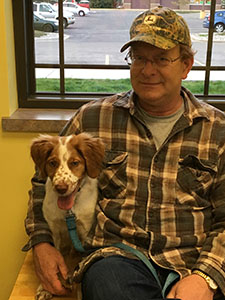 Taffy
Hi! I just wanted to share these pictures with you from the Southern New England Brittany Club Specialty. Taffy - CH Cross Creeks Sparkling Taffy (Andy X Sparkle) was Select bitch from the veteran class! I co own her with Sandy and Roy Smith. So happy with how she showed for being over 10 years old!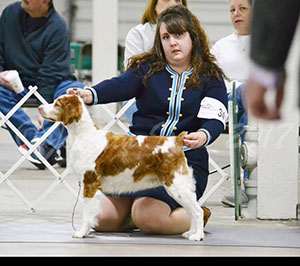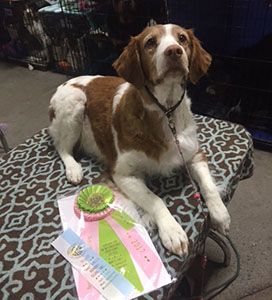 Raider
Here is Raider and his "brother" Simba living in harmony!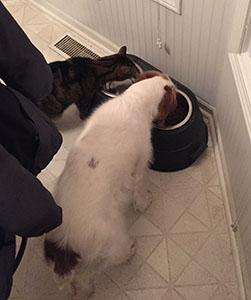 Cooper
Hi Barbara, Here's a couple of pictures of Crosscreek Shades of Cooper on his daily walk. We have 600 acres that connects to our property that we get to enjoy with him.
He is just in his element! He is independent and minds well :) He has bonded beautifully with us and we love him so!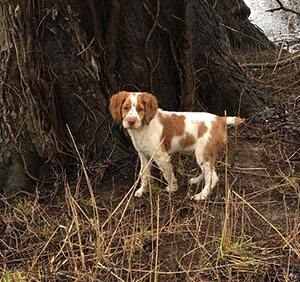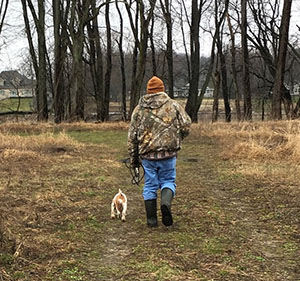 Lilly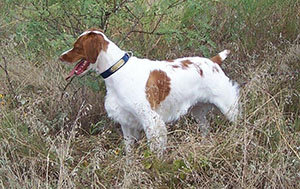 Gunner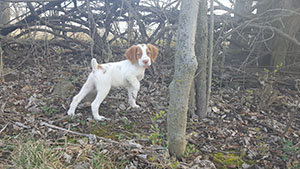 Cooper
Crosscreek's Shades of Cooper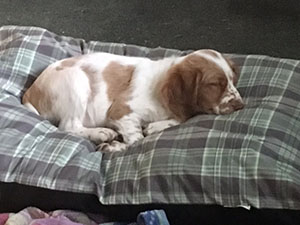 Piper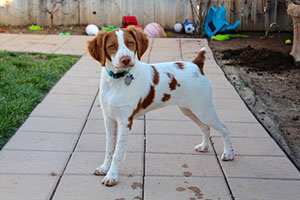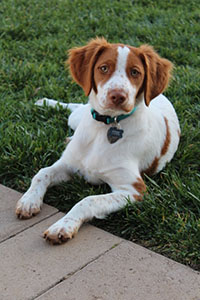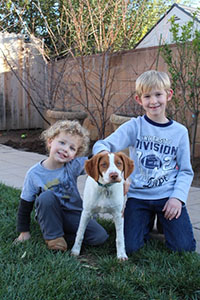 Chestnut
He's just beautiful, great natured, loving, playful puppy! And learning fast!!!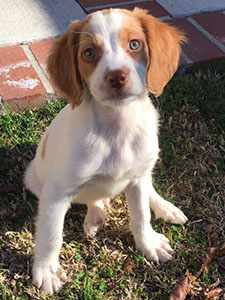 Byerley Pup
Her first day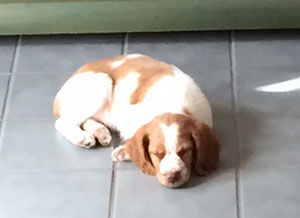 Gunner - Hope Crosscreek Lady In Red "Millie" x Ch. Castle's I Can Dance "Emmmett" boy
Hi Barb. We finally have a name for our boy, he is called Gunner. Here are a couple pictures. Thank you again!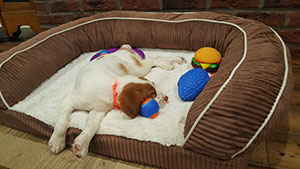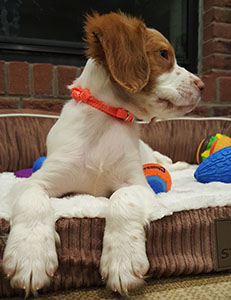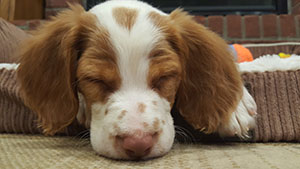 Cooper and Remi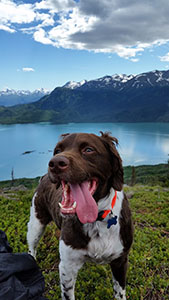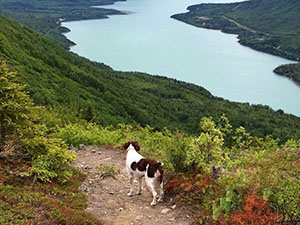 Ch. Story x DC Hershey puppy - Lady Bird
Just wanted to let you know that the puppy is doing great! One of the best behaved puppies I have ever dealed with! She is so sweet and gets along great with my son, they are truly becoming buddies! Next weekend we are going to introduce her to some live quail, excited to see how she reacts. Thank you, Taylor Haliburton-Taylor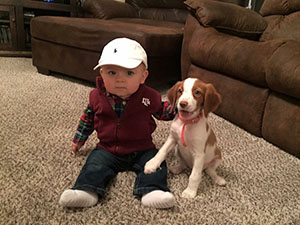 Boone
Dr Pepin, Just wanted to share a photo. Boone is doing great. I've had him hunting 2-3 days a week for the past month. He's been running 15-20 miles each time. I think the exercise is really helping him. He's doing much better.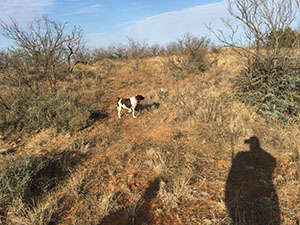 Ranes Puppy
We love our baby so much she is such a joy. She is very intelligent and learns quickly. We are very pleased with her. Linda Ranes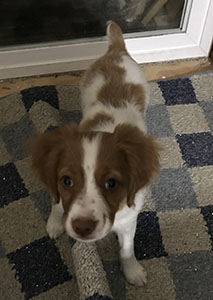 Luna x DC Pete puppy
Gunner Boy
Good Evening, I hope you all are well. We decided on Weatherby Gunner at Cross Creek. Here is a current picture of Murphy, Gunner and Coco. Sincerely, Jessica Goddard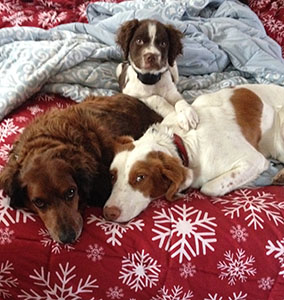 Nala - Stella x DC Pete Puppy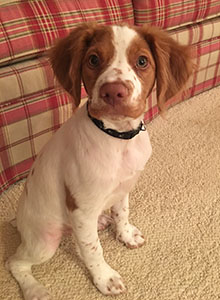 Scout
She is wonderful! She seems to be very content with her new environment. We have been keeping her in our kitchen which is open but secured with a couple of doggie gates. She is eating well and getting plenty of indoor and outdoor exercise (in our backyard). She has plenty of chew toys. Our cat has been curious but is keeping his distance for now. We love her! As for her name, we have been calling her "Scout". Is there a particular naming theme for her litter? Sincerely, Laurie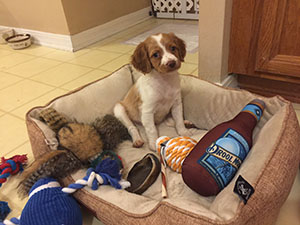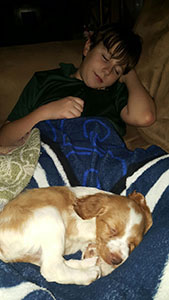 Puppy
She is adorable! Such a sweet personality! We are very happy with her and she is super gentle with our son! Could not be happier.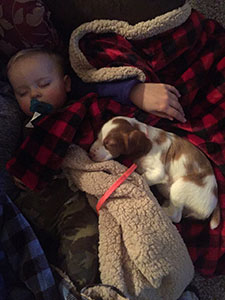 Spice - Ricky's daughter
Hi! I thought you may like to see these photos of my girl Spice ( CH Sandridge Sugar and Spice JH ) she is out of your boy Ricky and Sandy Smiths Lilly (GCH Crosscreek Winter Lilly)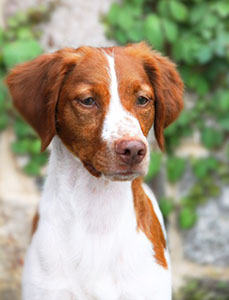 I started working on her grand championship this summer and she got most of her wins but these last few months she's been busy with hunting which she enjoys a lot more than the dog show stuff! She's such a great dog.
Cooper
We made it home. We are going to call him Cooper. I will get back to you with the name for his registration papers.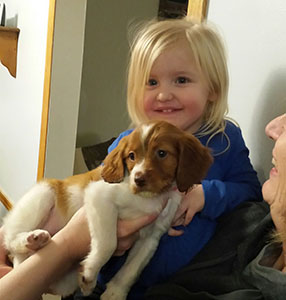 Brittany Puppy
He is doing great. Super confident and almost housebroken from the day we got him! Eating well and growing fast. No illnesses. Watery eyes at times. Just wants to chew, chew, chew. I think he must be a puppy. Martin Farm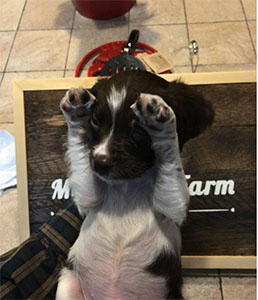 Gypsy x Hershey girl in Alaska
Hey Barbara Just wanted you to know that "Aggy" is doing so well so far she's quite the feisty thing. We are so happy!! Thank you again so much. Also here's some pics of her in new her life.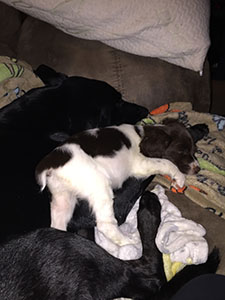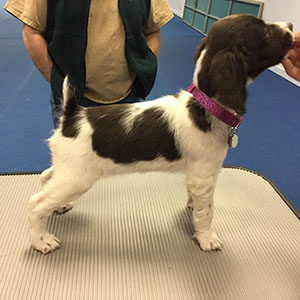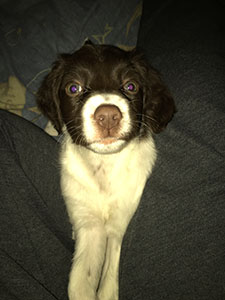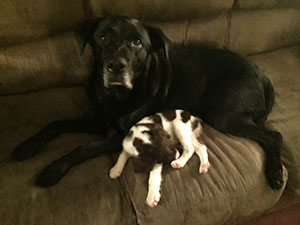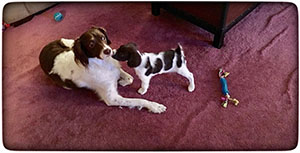 Luna x DC Pete puppy
Hi Barbara, We made it home. Puppy made it to ESNC safe and sound. Slept most of the way. Very bold and confident in his new home! Thanks for everything. See you in January! Tim Martin
Ch. Story x DC Hershey puppy Christmas 2016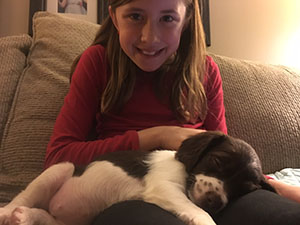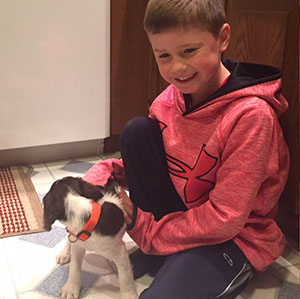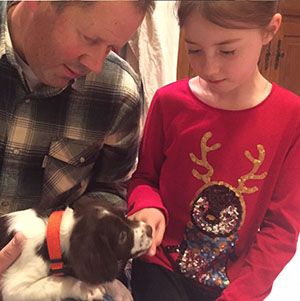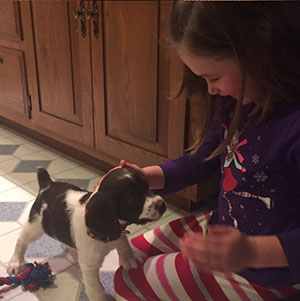 Mozey
My oldest son kept saying is this a dream! It was a perfect morning... thanks!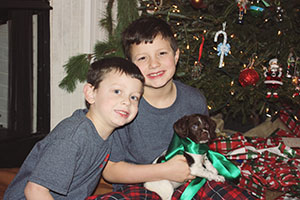 Merry Christmas to all!!!
I am SO exhausted from this day!!! Wow!!! I think I really like Christmas - I got so many treats and toys. Thinking about my sister Libby! Hope she has had a good day too!!
Love, Maggie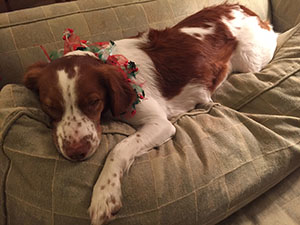 Reading - Luna x DC Pete baby being entertained
Our little girl reading a story to Bellah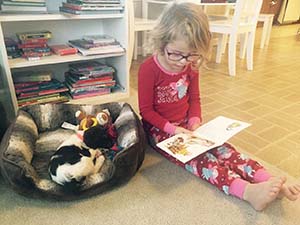 Cache
Hello Dr. Pepin, Cache continues to be an excellent hiking companion. I thought I'd share some more pictures of him on the Knobstone Trail. But first, I have to tell you I regret the name 'Cache'. It is a meaningful hiking term to me, but those who read it think he's 'cash-A' and refer to 'her'. I've been writing his name 'Cash', But he is still my Cross Creek Knobstone Cache!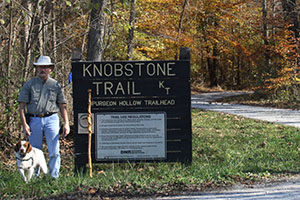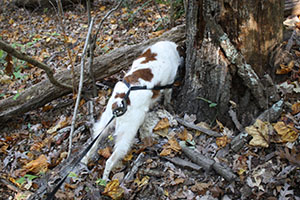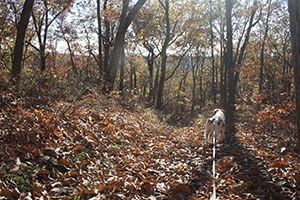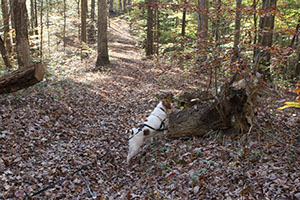 Fletcher
Barbara, Fletcher celebrated his second birthday with a day and a half Illinois wild pheasant hunt. He and his hunting partner Trip (English Setter) had many points and helped us bag 9 birds for the trip. Thanks for the great dog! Brent Brinkley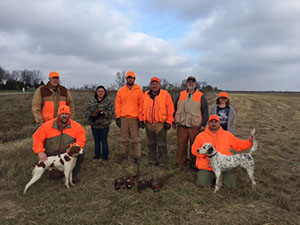 Colt
Hey Dr. Pepin, We wanted to send you some updated pictures of Colt today on his 1st birthday! We have truly loved having him as part of our family! Thank you for helping us pick our sweet boy to join the family!! Thanks, Derek, Allie, and Kate Marcoccia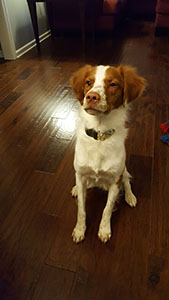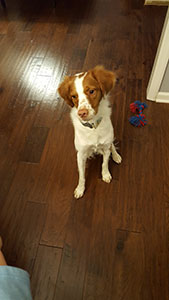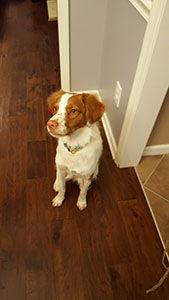 Blaze
Hi Dr. Pepin: We thought you might like to see how Blazes markings are coming in. He is quite a handsome fellow! He is about 90% potty trained. Once in a while he will slip up but it is usually right by the door and most likely because Curt and I didn't get there fast enough. Today we were working on retrieving and releasing the toys he has brought back. He was a bit reluctant at first but it didn't take him long to get the hang of it. The Cheerios were great encouragement. He was 12 lbs 8 oz at his last vet check. All up to date on the shots. Dr K says he is perfect. Curt & Denise Brazel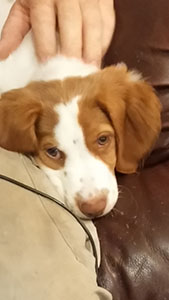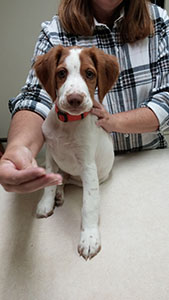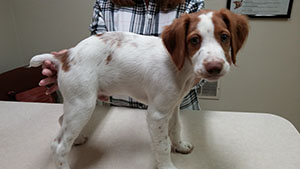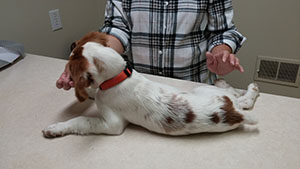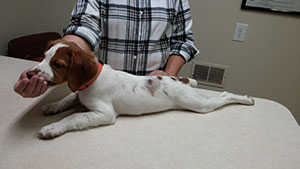 Gracie
Update: say hello again to our little "Gracie". We are 1.5 weeks into our new life with her. Potty training has been a little bit of work but, last night was a milestone. It was the first night with no pee or poop to clean up. Doubt it will continue, but we feel like it's ahead of schedule! Thanks again for our little girl! We will make it though the next tough couple of months of "puppy-life". :-) We will keep you in the loop from time to time if that's ok with you. Until then...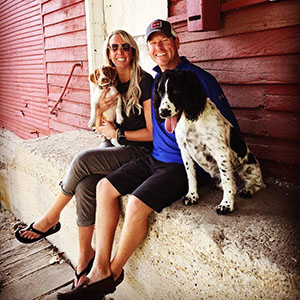 Yank and Duke
Two of your dogs, Yank (7 years) and Duke (5), are still going strong in the Traverse City, MI area. Grouse and woodcock through October and pheasants and quail through the winter makes for happy dogs. I saw on your website pics from four years ago--great memories. If you ever need more pics, we can provide (to a fault!). We plan to get one more from you in the near future. Here they are after a busy week. Fred and Zoe Fields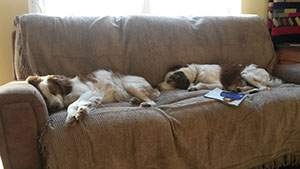 Remy
Remy is doing great. He's a Lyndy/Chayce pup. Just finished his CGC, working on Therapy Dog, and even trying out Fast CAT. He has matured into a smart and gentle companion. We are so happy with him. Even the cats have decided he is okay! Have a great autumn! Yours, Carolyn Phillips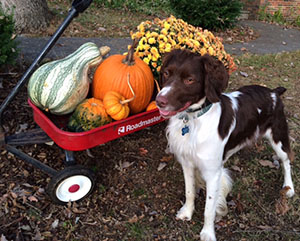 Tucker
I thought you might like to see a picture of our Tucker. He's a Holly x Ricky boy. He's wonderful!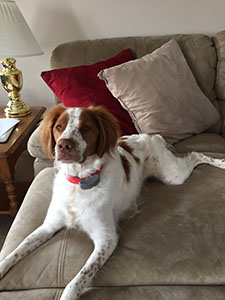 Sweet Little Peanut
Our sweet little peanut is home and happy! She slept almost the whole way home. We love her!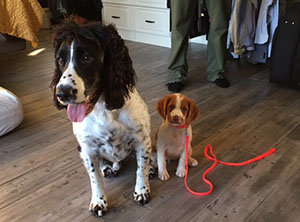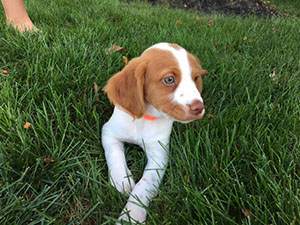 Jack 1 year
Ms. Barbara, I thought I would have been better about sending updates but time has a way of getting away from us. Jack is an amazing dog. We are thoroughly enjoying him. He is a good looking boy and he has great instincts in the field. Any lack is due to his owner. God bless you. Sincerely yours, Bennie Tomberlin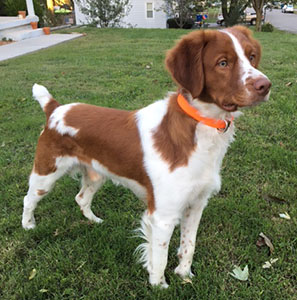 Cooper (Left) Rudy (Right) 14 mo. In Las Vegas, NV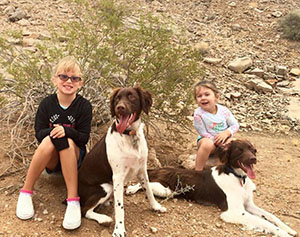 Layla
Just wanted to send you some pictures of Layla girl. This dog has my heart completely. She is a dogs dog and is never happier than when she can hang out with some of her friends. Thanks for breeding such an amazing dog.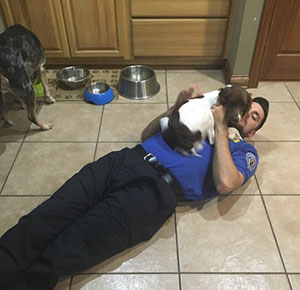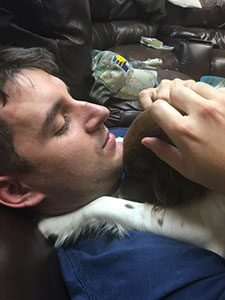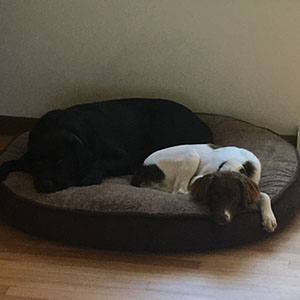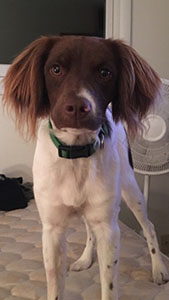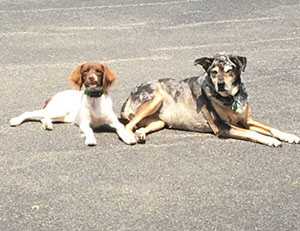 Daisy
A tired me is a good me!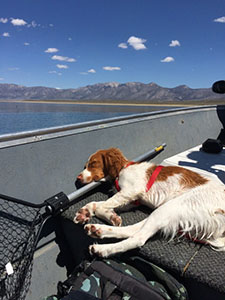 Trigger (Therapy Dog)
Hi Barbara, I know you haven't heard from us in a while, but Trigger continues to thrive here in SC - except for this summer heat. Dogs & humans both could do without it. We were featured in our local paper last weekend and wanted to make sure you had a link to it. I know you had wanted some pictures of him with the people he visits and there are lots with this article - along with him and some of his other therapy dog buddies. Trigger has decided if you just give him a good back scratching, his life is complete :) http://www.aikenstandard.com/20160812/160819845/furry-visitors-make-appearances-at-aiken-retirement-homes We continue to be blessed to have him in our lives. Thanks, Lynn Ealey and Trigger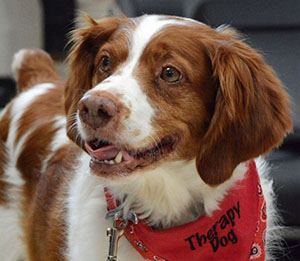 Trigger's AKC Therapy Dog Excellent certificate came today. We have been a team with Alliance of Therapy Dogs (therapydogs.com) since April 2013 and as of this month, have completed 270 visits. We are so very proud of him. Here's the link again to the newspaper article about Trigger and his therapy dog buddies in our local area. http://www.aikenstandard.com/20160812/160819845/furry-visitors-make-appearances-at-aiken-retirement-homes Lynn & Charlie Ealey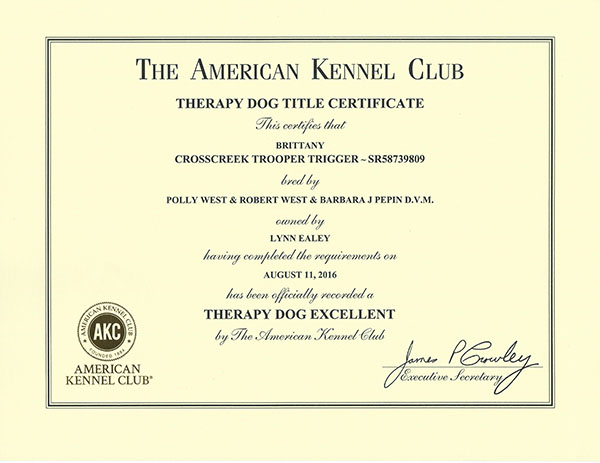 Ellie
Barbara, I just wanted to update you on our little Ellie (Crosscreek Ellie Rose). She's almost 7 months old now, and my husband and I are so in love with her. We get SO many compliments on her everywhere we go, and she's a well behaved and smart little lady. She's also quite the little runner, and runs at least three miles a day with us. Thank you so much, we can't imagine life without her! Erin Kennedy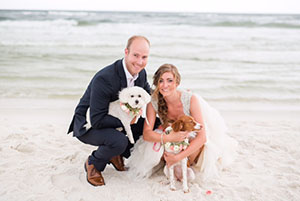 Lucy
Barbara - a quick update. Cady loves her new sister Lucy. They are best pals. Lucy is a carbon copy of her sister - smart and devilish all at the same time. Thank you so much - we are in love! Debbie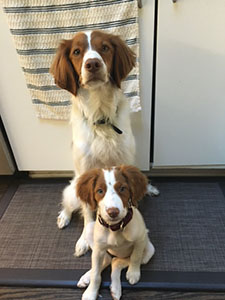 Midas
Hi Barbara, So, I have to brag about how sweet and well mannered Midas is. He walked in our city parade this year supporting my brother in law running for County Judge, and he received numerous compliments. About a million children petted him, and he was in his glory. Thought you may want to see a picture, so I've attached it :) Thanks again for the most wonderful dog! Lauren Shaw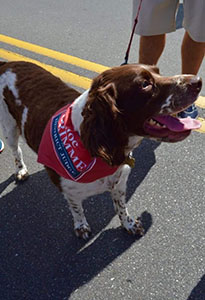 Dexter
Hi Dr Pepin - Just sending you a note to let you know that Dexter is doing great and settling in well to his Charlotte home. He has LOTS of energy and is also very smart (too smart for his own good). Took to crate/kennel training right away and is sleeping through the night until early morning. Sending a pic of Dexter and also a video of Dexter "taking" Katie, our Springer, for a walk. Katie is slowly getting used to the new pup and tolerating him. :-) We are so glad to have Dexter in our family.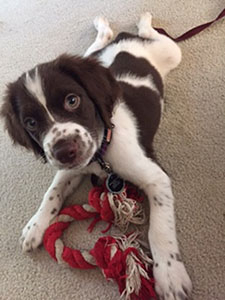 Mr. Bingly
Hi Dr. Pepin, It's been a while so thought you would like to see Bing (Toni x Ricky) at 15 months. He is so very handsome, super sweet, intelligent beyond belief, and always ready for action, of course. We wouldn't have it any other way! Our sweet Liza Jon is in the picture too. She is just a delight - turned 6 last week. Thank you so much for helping us connect with the Wests to get her. We couldn't imagine life without them. And you were right, Britts are like French fries - you can't have just one! I hope all is well with you. Take care, Carolyn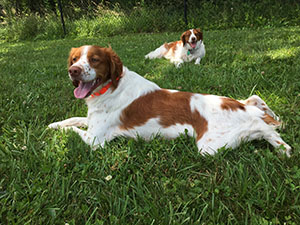 Trudee
Our great little hunter loves to point on butterflies. What a wonderful puppy, she's growing so fast and learning soooo much. Mark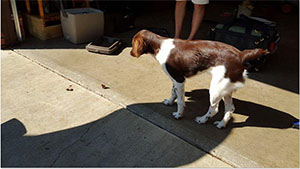 Rough Riding Roger Parrish
I thought since his birthday is right around the corner, July 5th. That I would send you a picture of Roger Parrish. He was looking for a lost bone in this pic. He is about to come up on his 5th birthday. He's still an awesome puppy. He has gotten a little gray around the eyes, but other than that, he still looks and acts like a puppy. I hope all is well with you and the Kennel. Laura Parrish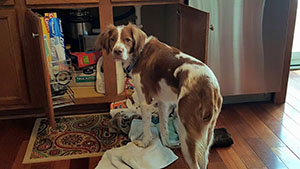 Maxwell
Hi Barbara and Wayne, Jeff Clapp here with Maxwell, who turned 4 last Dec. doesn't seem possible. This pic is from Canada last year. Max is doing 1 of his 2 favorite things.......fishin' (hunting will always come first). He has been a wonderful family member, and one hell of a bird hunter. Kindest regards to you both. Jeff.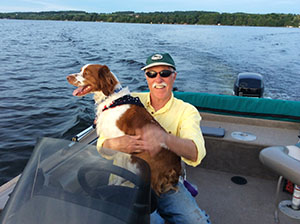 Ruger
Hi Barbara! Just wanted to send you an update! We just got back from the vet and we are doing great! 14.7 pounds and a ball of joy! Jeff and Kim Redenius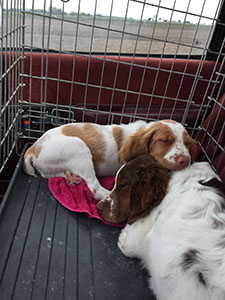 Sophie (Callie x Pete 4/17/15) -- 1 year old!
Hi Dr. Pepin! We just wanted to pass along some pictures of our sweet Sophie, who just turned 1! She is such a joy and everything we hoped for when we got her. She's very petite, is full of snuggles, is becoming quite the runner, and loves her brother Charlie! Matt & Kimberley Meinema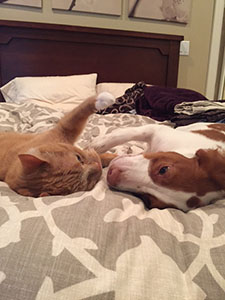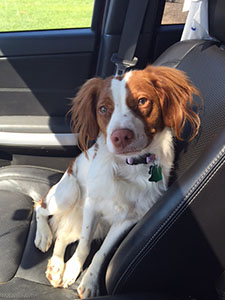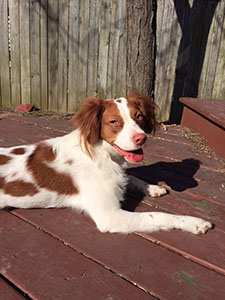 Penny (Derby & Pete #3)
Hi Barbara, Spring is here & Penny is delighted with all the fun activities it brings. Thought you might enjoy some recent photos. She is a smart little gal and has quite the sense of humor. She likes laying down with her back legs out behind her & has a keen interest in all things with wings--especially butterflies. Best, Allison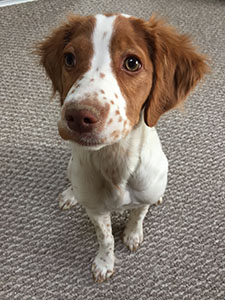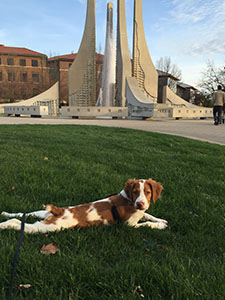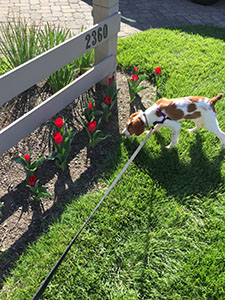 Abby and Luke
Well, it is so hard to believe that these two beautiful Brittany's are now 4 years old. They are best of buddies as you can tell. Loving N.C. Abby keeps us laughing all the time her favorite thing is to hide under a blanket and play hide-n- seek. It is so funny. She has the most interesting mind I guess we'd say of all the Brittany's we've had. Then Luke well, he is the most loving but all Brittany's are. He loves to play and sit on our laps, take naps with Ron and chase geckos around the patio. They love taking walks with me around our neighborhood, the park, everywhere, we always get smiles and how beautiful they are. Also love car rides. No we don't hunt them but love them to pieces. They love swimming. Luke would rather ride on his raft at times. One thing so funny is they for the most part sleep in their crate together at night. Well, they love throws in there, for the longest time I thought Ron made their bed up so perfect and he thought I did. Well, come to find out somehow these to little characters do it themselves. I guess they watch me do it and somehow do it. Would love a video of them. I know to much to post but wanted to share our joy. Thank you, Eva and Ron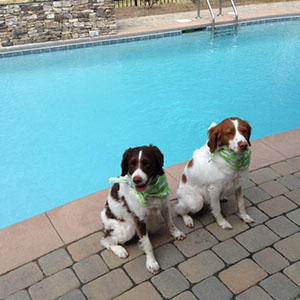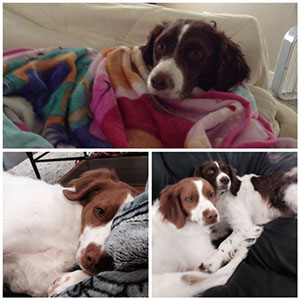 Cross Creek Pihcita Alemwa, aka - Patch (Ranger Rick / Small Town Girl - Jan 2016 litter)
Barbara, Just a follow-up on Cross Creek Pihcita Alemwa, aka - Patch (Ranger Rick / Small Town Girl - Jan 2016 litter). From Day 1 he's shown a strong prey drive for birds, tracking them across the sky like they're on radar. He's almost nailed down retrieving, other than the occasional last minute reluctance to "give". He's picking up on hold on command (whoa) and had "come" figured out the first week. He's even started responding to whistle commands in addition to voice commands. After 4 full months he's started showing a pointing tendency. I'm almost concerned he's moving along too quickly, if that's possible! He went over the top crazy on a bumper with quail scent. Unfortunately the quail population seems to be way down in my area this year, so I'm going to have to start him out on retrieval of doves. Everyone comments on how he seems to strike a pose when he comes to a stop (chest out, back legs extended). They have to laugh at him when on rough, hilly ground he exhibits a full speed, mountain goat-like gait, jumping and moving without fear. To the point you almost fear injury. And file this under "it's a small world". His veterinarian here locally (Heal Pet Care) is a former employee of yours. What are the odds? Thank you for a quality dog and if we decide to look for another Brittany, Floyd Knobs will be our first stop. William McKinney Bloomfield, IN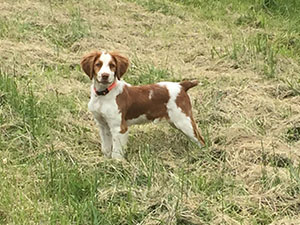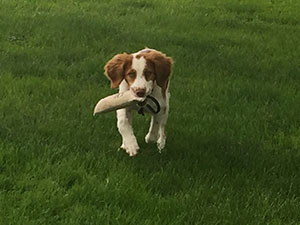 Stanley Playing
This is Stanley who is a Lyndy x Ricky puppy enjoying a new toy.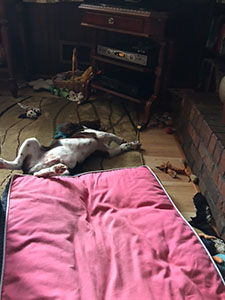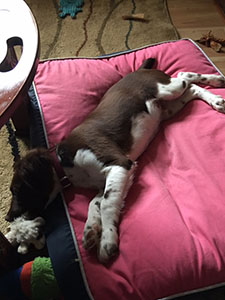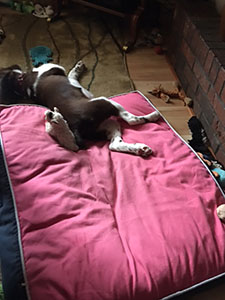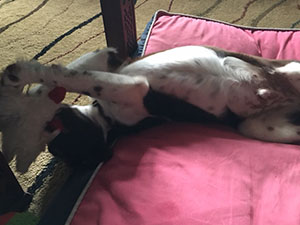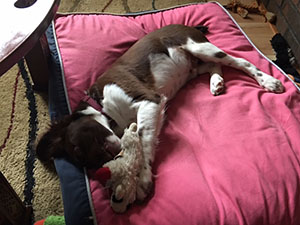 Puppy of Sanbar Crosscreek Small Town Gal "Lyndy" bred to Ch. Hope's Ranger Rick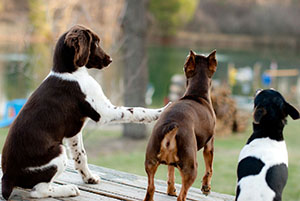 Ruger
Hi Barbara, I believe we have come with a name. Cross Creek's Rude Awakening Ruger. Jeff and Kim Redenius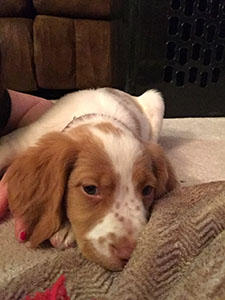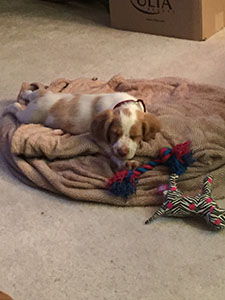 Bailey and Sable
We are thoroughly enjoying Bailey as the new addition to our family! As you can see, she and Sable are already great buddies. :) ~Renee and Kevin Kramer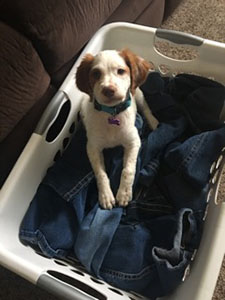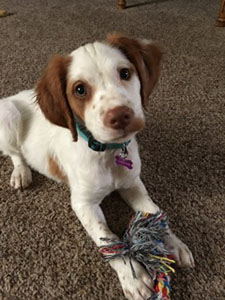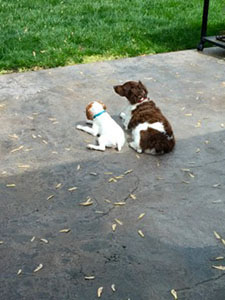 Mr. Bingley
Hi Dr. Pepin, We can hardly believe it - Bing is 1! We cannot imagine life without him. He has been such a joy, keeps us laughing, is sweet and snuggly, and the smartest dog we've ever known. Thanks for everything!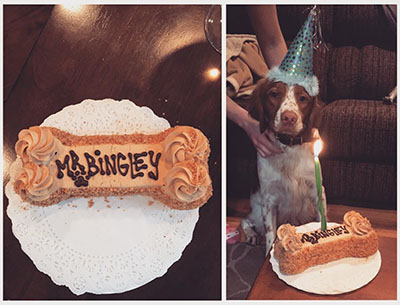 Ped
Barbara, Ped was playing fetch and flying over the small hill keeping his on on the toy. This was Ped 's first 12 inch snow. Did not stop Ped from digging down to retrieve his toy:) We loved seeing Chief on the front cover of the American Brittany magazine! Congratulations, again!! Taking Ped out to the farm today. We are going to work with 10 quail. Can't wait to watch him work. Have a great day, Kay and Phil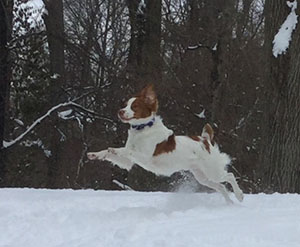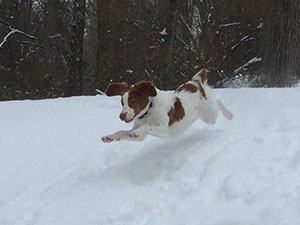 Tucker
Dr. Pepin, It's hard to believe that it has been 8 months since we picked up Tuck. He has proven to be an amazing dog and has brought us so much joy. I wanted to share with you a beautiful pic of Tuck poising in the snow. Take care, Lori

Scout
Barbara, Scout (boy3 echo x Ricky 11/9/14) is doing great. He was last years Christmas puppy for my family. He is just about finished his first hunting season and people can't believe how good he is for his age. Scout has so much prey drive he is all business in the field. He still needs work on retrieving but, we'll get there. I've shot about 60some birds over him so far. Not including training. He is the best first dog I could have hoped for. Thank you. Eric Maisch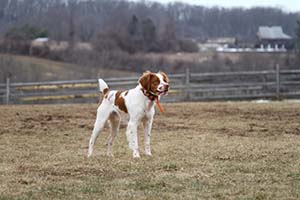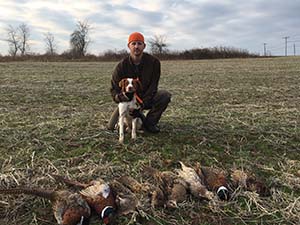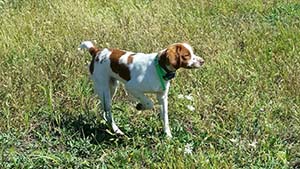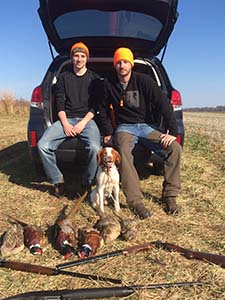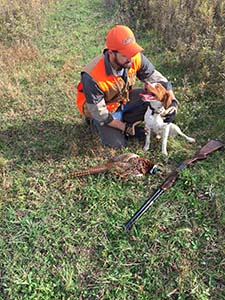 Penny - Derby and Pete Girl
Penny (#6) is doing well here in Georgia. That's for everything!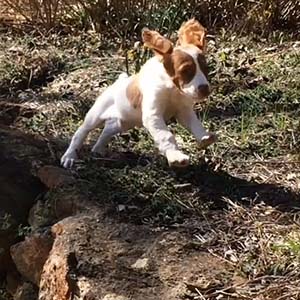 Izzy
She is wonderful. A delight. Sleeping thru the night. Not fussing when we put her In the crate. Will sit on command. Starting to learn to come (of course Cheerios help). Potty training however is a challenge but we will get thru it. I treated her ears for a couple of nights and she seemed to quit scratching her ears...so hopefully all is well. Our boxer has finally accepted her as you can see from the photo. Thanks for asking. Wishing you and yours a very merry Christmas Irene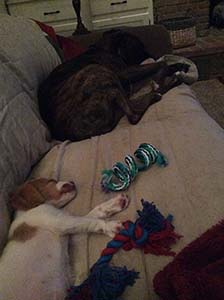 Laci Girl 1...aka Ginger
Barbara- We couldn't be happier with her! She did get sick on the way home -3x, but she has been great the past four-five hours and vigorously ate her dinner! Thank you for a great pup! Melissa Hempel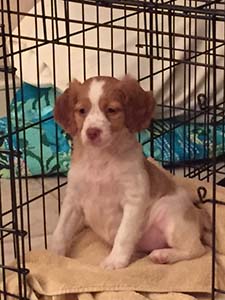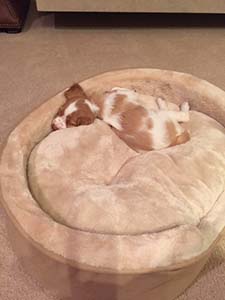 Fletcher
Fletcher has been working hard on his hunting skills. Several trips to the preserve and finally wild pheasants in Illinois. Here's a picture of his two first wild birds. He made a beautiful retrieve on the opposite side of the deep drainage ditch on one of the birds. My dad gets a bird at the age of 70, marking his sixth decade of harvesting pheasants and Fletcher gets his first bird before turning 1. Hope to point and fetch a few more before the season ends.
Jack
Barbara, Jack is doing very well adjusting to his new family environment. In the pic he and Anna Grace are sacked on the kitchen floor of all places! He is being loved well. He messed his crate the first night and not since. We are thoroughly pleased. He is doing well with the other pets as well. I just wanted to give you an update. Have a blessed day and thank you for your hard work it shows. Sincerely yours, Bennie Tomberlin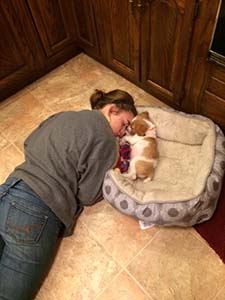 Karlie
Karlie has completed all shots and medicine! She is getting big and can reach the counters now! We have her in training classes, she is sort of timid with other dogs but loves people. When she's comfortable with them, she'll start to play. She loves running in our yard and going for car rides! She is incredibly smart and talented and already knows plenty of tricks. She is really cute and EVERYBODY loves her. She's already tried jumping in the lake to go catch the ducks, but didn't get very far. Just wanted to update you about her :) Madelyn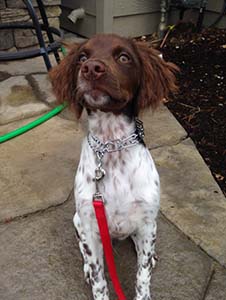 Keiran
Dr. Pepin - Thought you would enjoy these 6 month old pictures of Keiran (Holly boy 3). As you can see he is all legs. We have finished up 3 different puppy classes and will resume with more classes after the holidays. We had a lot of fun in class. I love having my Brittany boy and he keeps me busy. When he is tired, he is a cuddler. Take care, Lori Gillfillan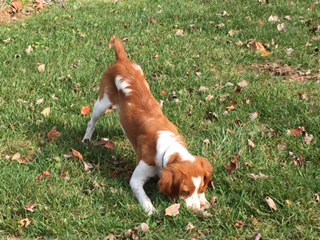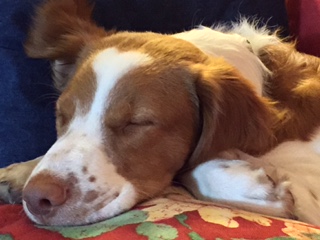 Spice officially finished her championship yesterday! October 18, 2015
Spice (Sandridge Sugar and Spice) she is out of your Ricky and Sandy Smith's Lilly ( Readi X Taffy )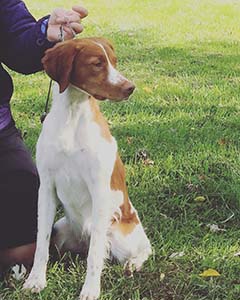 "Jameson" Crosscreek Jamie's Got a Gunn
This is a Crosscreek Annie Get Your Gunn x Ch. Castle's I Can Dance puppy.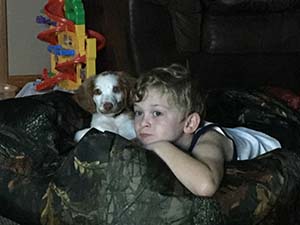 Crosscreek Kona Jewel of Triple Crown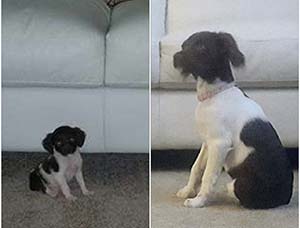 Spice (Sandridge Sugar and Spice) she is out of your Ricky and Sandy Smith's Lilly ( Readi X Taffy )
Here's some updated photos of our Spice (Sandridge Sugar and Spice) she is out of your Ricky and Sandy Smith's Lilly ( Readi X Taffy ) she got the third leg of her junior hunter this weekend. I also added a photo of her third major ( she needs one show point to finish). Looking forward to hunting season starting up here in WV next week. Just wanted to share an update with you on one of his pups. Hope all is well with you !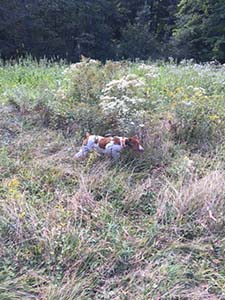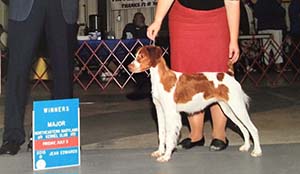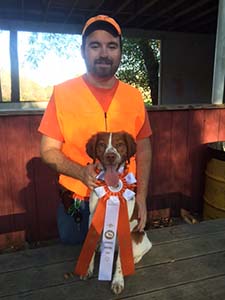 Remy aka Lyndy 3 - This is a Lyndy x Chayce puppy
Here's Remy enjoying a day at the park. Carolyn Phillips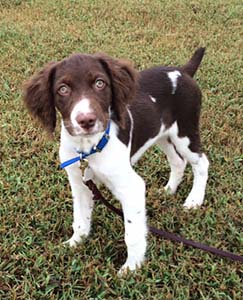 Ped loving life :)
Grandson-13 months, loves to kiss Ped and visa versa. Ped likes to sit on the bar stool while I am on the ipad or likes to watch me cook. Last pic is at the farm ( 2nd time) exposed to live quail. Ped is finding the birds and has a soft pick up-perfect! We are keeping it all fun and games as it should be for a 4 month old. Hope all is well with you and your family.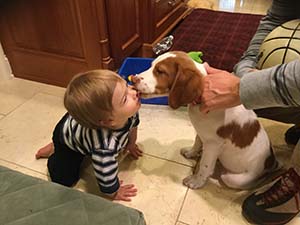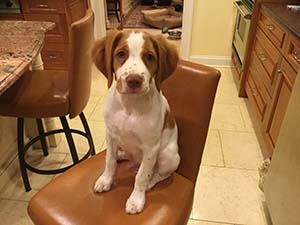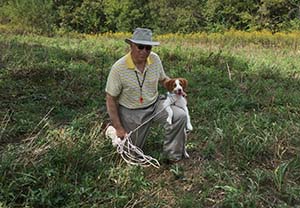 CrossCreek Cloey's Dancing Gunn. This is a Annie x Emmett baby.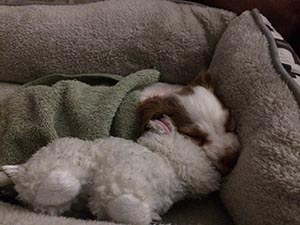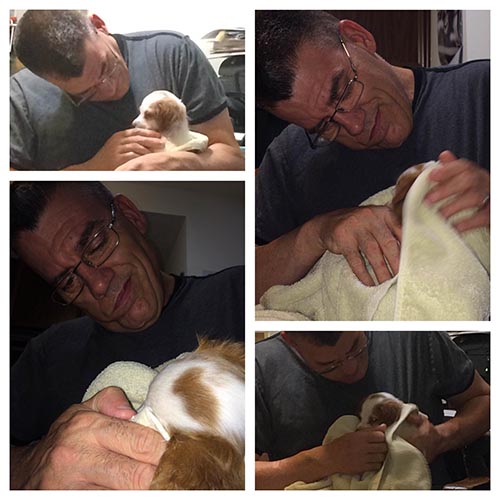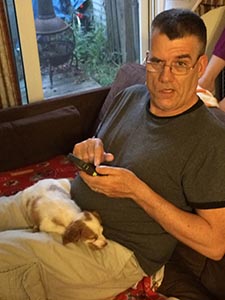 Crosscreek The Murray's Jameson - Annie x Emmett boy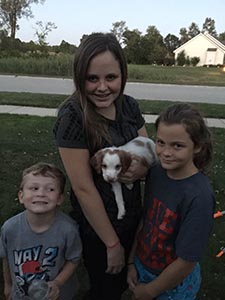 Tucker - Lyndy and Chayce puppy
I think you mentioned it should be summer/sun related as well? We decided on Cross Creek Rising Sun. Tucker is wonderful. Very smart and inquistive and actually pretty well behaved for a puppy. He loves to play fetch. We are so happy with him. Here's some pictures from this weekend.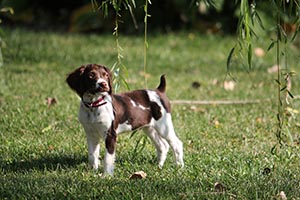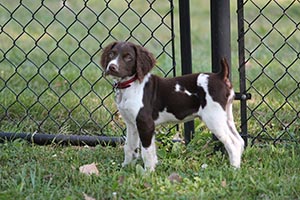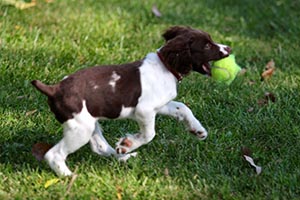 Ollie
Ollie is doing great and growing. Keith Nance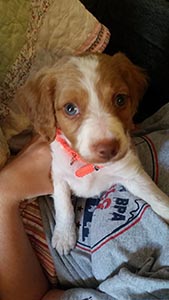 Mr. Bingley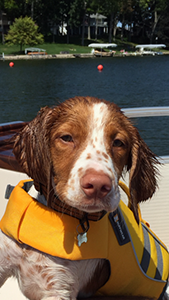 Cabela
Barbara, Attached are a few pictures of Cabela from our hunt last weekend. Thank You and Enjoy, Jared and Jen, North Pole AK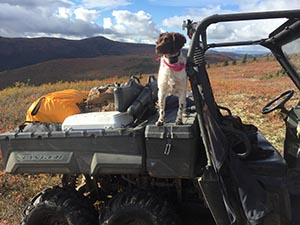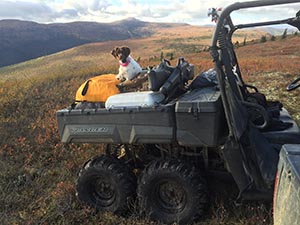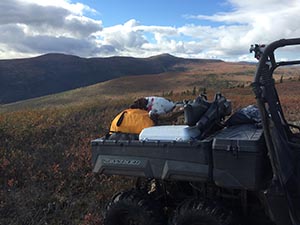 Tuck aka Cross creek Simple Twist Of Fate -- Gemma x Ricky baby
Dr. Pepin, Hi. Thought you'd like see to a current pic of Tuck. He is amazing and has been such a joy for Brad and I. Thank you so much!!! We love our little man!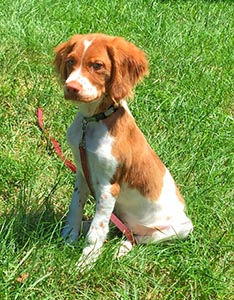 Maggie
Hi there, Dr. Pepin, I thought you might like to see what I have been doing this summer. I have had a great time at the beach. I love being in the water and chasing the birds and fishing. I also love running on the beach; I can run without a leash and it is fabulous! How is my sister? I have not yet gone into heat. Has she? Still debating over getting spayed or not before that heat. Are you going to breed Libby? I am turning out to be a pretty good dog. Can't believe we have a birthday coming up very soon! I am not as big as Lucy was, I weigh about 30 pounds. My vet here thinks I'm perfect. So does my mom! Please give Libby a scratch from me. I hope to be able to meet her someday. Best to you and everyone in Indiana. Your pal, Maggie Rags.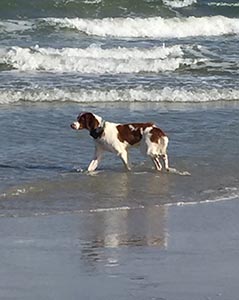 Kona,
Barbara, Thought you might want to see an updated photo of our girl. Week one when we got her home and yesterday. She is extremely smart and already learning sit, stay, come and heel. Thank you Tom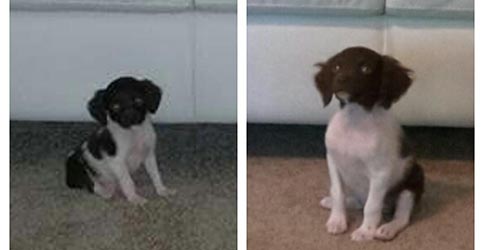 Missy
Hi Barb, Just wanted to let you know that Missy is doing well--Bobby feels like she is coming along faster than any of our other dogs did! She loves to swim, chase and point butterflies, and ride shotgun in the go devil! She is quite a little monster with the other dogs--especially the younger one--Amanda was right, she isn't afraid of anything! We're hoping that this is just with our dogs--there have been other dogs at the lake, but she just watches them and doesn't go after them. It will be interesting the first time Bobby takes her to the game preserve!! Well, better get going--have a wonderful evening!! Steph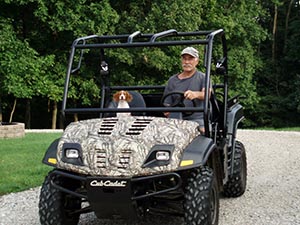 Rigby
Hi Dr. Pepin, Just sending you some recent Rigby pictures! He continues to be very healthy (not a single problem), happy, enthusiastic addition to our family. He has learned some basic commands and absolutely loves his walks in the woods. He's absolutely beautiful and gets so many compliments from passers-by! Thank you for the fine dog. The Sullivan Family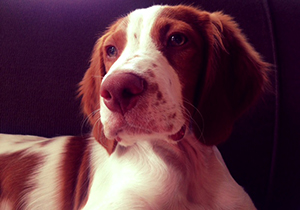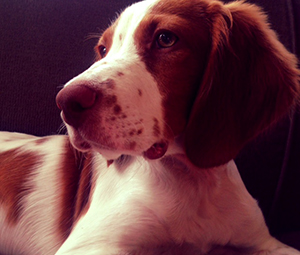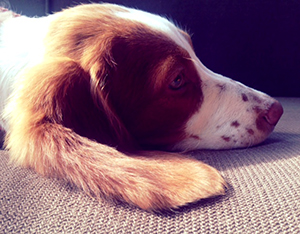 This girl is a Calli x Pete baby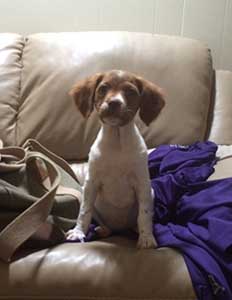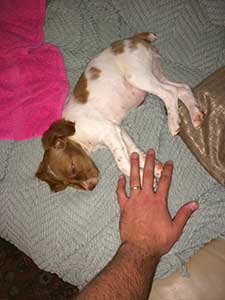 Missy
I thought I'd share a picture of Missy retrieving and swimming at the lake! I'll have to try to send the video separately. Thanks, Steph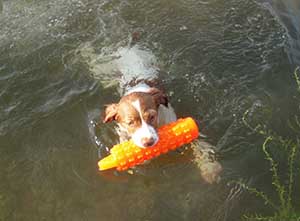 Bingley
Bing (Toni x Ricky) is 3 1/2 months old and still perfect in every way except he can't read.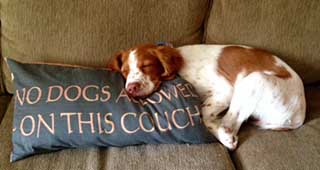 Sadie (silky girl 3)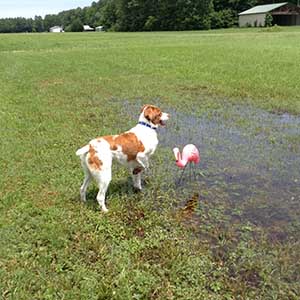 Daisy
Everything went great! Daisy loved all the family dogs that she's met and all the meeting has made her tired. Tired puppies are good puppies. She didn't even cry in her crate last night! Thanks again for the great pup! Mary Kathryn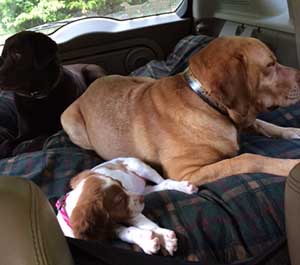 Lady
This is "Cross Creek's Lady of the Sea" since we live at the ocean here. Thank you so much for everything, we love her!!!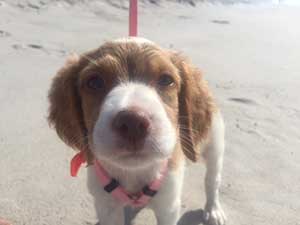 CC Rugged Rigby 11 weeks
I may not have any girls in ballet but Rigby can point! Doing great. Boys love him; he's happy every day! Thx again, Sarah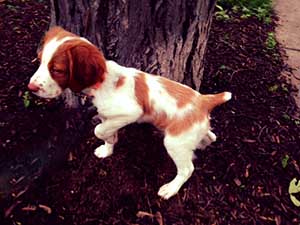 Mr. Bingley (Toni x Ricky 3/24) met Sophie (Calli x Pete 4/17)
Mr. Bingley (Toni x Ricky 3/24) met Sophie (Calli x Pete 4/17) today. Hard to believe these pups are just over 3 weeks apart in age - such a size difference from 9 to 13 weeks! They played very well and just had a ball. Two Cross Creek puppies will sleep very well in Indy tonight!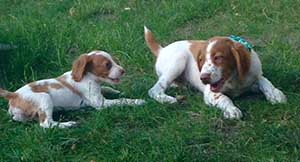 Cesbear's Puppy - Darwin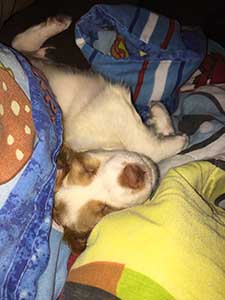 Lucy and Olive
I hope you are doing well. I just wanted to thank you for setting up my friends Cameron and Annie Schacht with one of your awesome Brittany's! They picked her up yesterday and are at my house in Indianapolis for the weekend and we're enjoying watching the pups play together. Attached is a picture of Lucy who we picked up from you last April, and her new friend, Olive!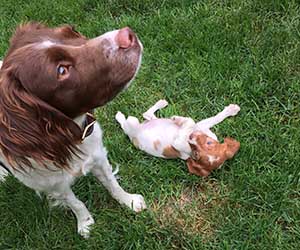 Scout - Gemma x Ricky puppy
Fitting in nicely at home. Thanks so much!! The kids love him :)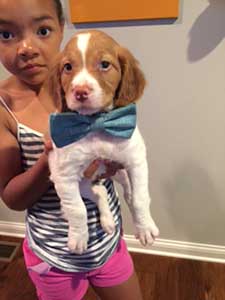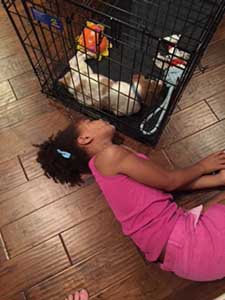 Murphy Jethro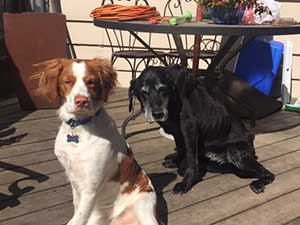 Puppy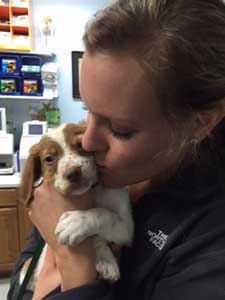 CC Rugged Rigby
Here's another fun one of CC Rugged Rigby! :) Having so much fun with him. Love him so much, and thankful for his health and vitality. Sarah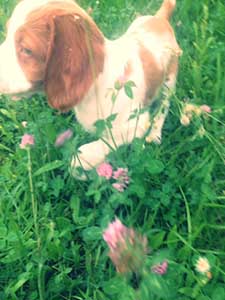 Cinder Boy 5 and Smudge Girl 3
Just some photos over the years thank you so very much for the joy you have brought us with these wonderful dogs !!!! Thank you!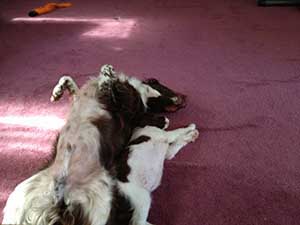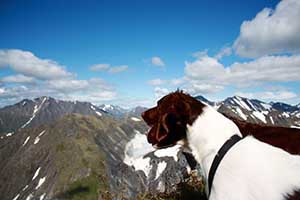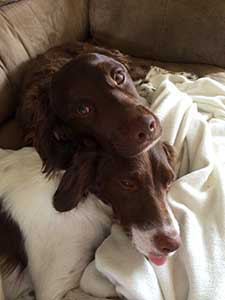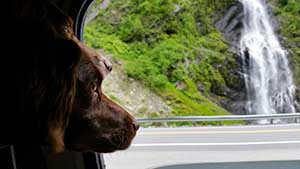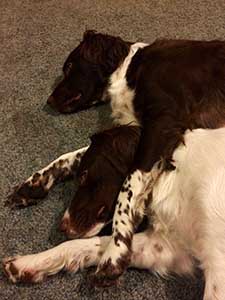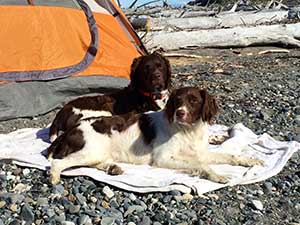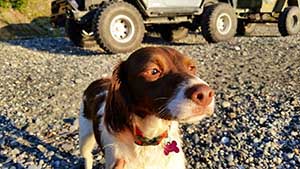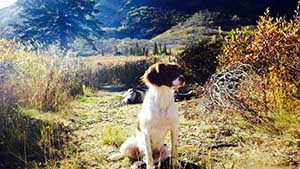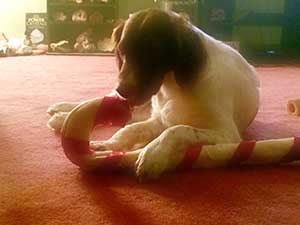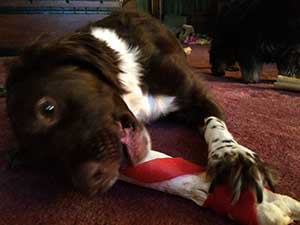 Mr. Bingley - Toni x Ricky baby
Hello! I just am so in love with Mr. Bingley. He must be the cutest puppy you've ever sold! I know you like to keep up with them and I already have so many great photos! Here are a few of my favorites. He weighed in yesterday at 16 lbs, I can't believe how big he is. He loves his yard and all his toys. He's the best! Adrienne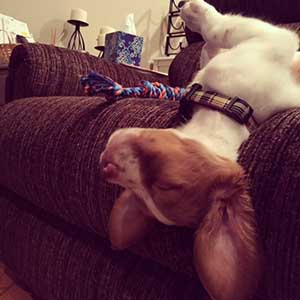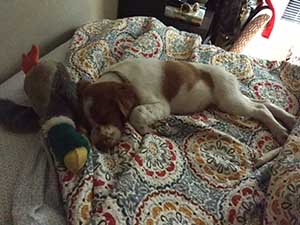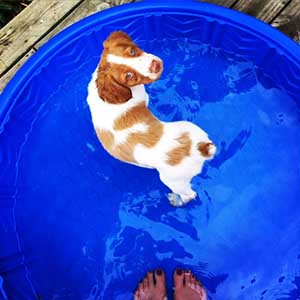 Calli x Pete baby

Parker Lock Ch. Maggie x Ch. Ricky puppy
We made it home safely and in good time. Parker did awesome! He did go potty on the way home but once we got home he pooped and potty like a good boy! We gave him the meds, food and bottled water. He only ate about a half cup so we pulled it up and will give it to him tomorrow. He has gone potty quite a few times in the house already but we keep trying to run him out. The girls are playing with him and we will tire him out so he will sleep good tonight! Thank you!
"Abby" Gypsy and Ricky baby
Crosscreek Smith's Freckled Abby. She us doing GREAT!! Her second visit to the vet she gained 10lbs in a month!!!! We're VERY happy with her, she's very smart! Taking pictures almost daily...had to send these few...two of her best friends, Arrow and a purple pig. -- Thanks, Ellen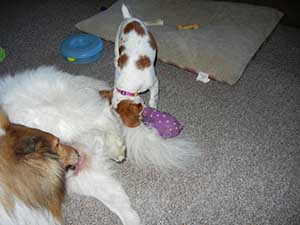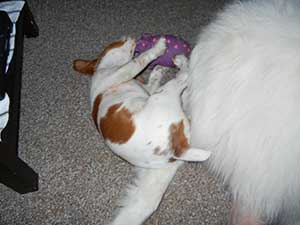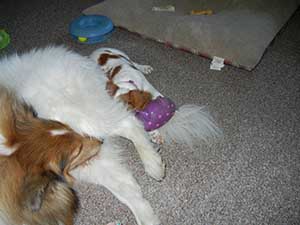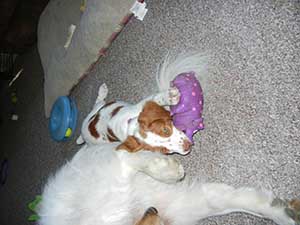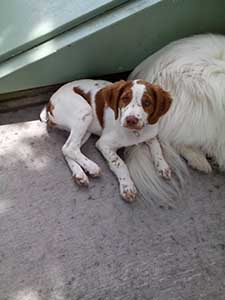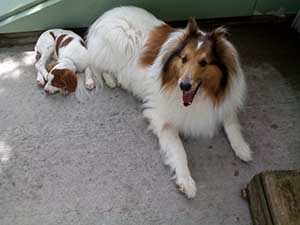 Gypsy x Ricky boy
His first point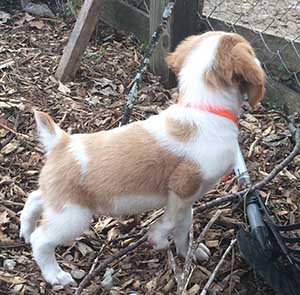 Cinder x Emmett baby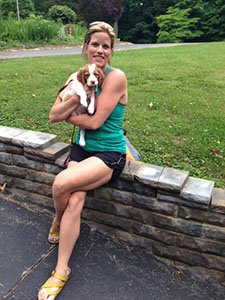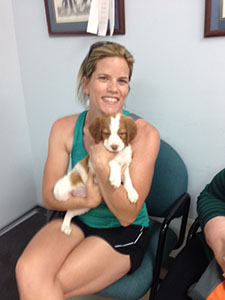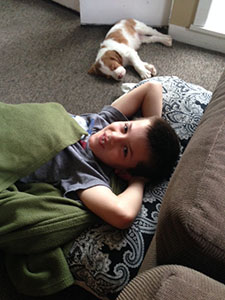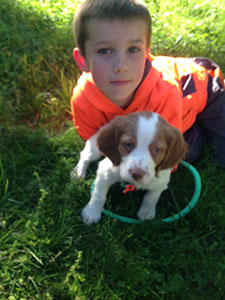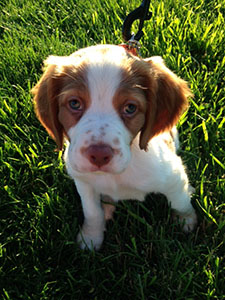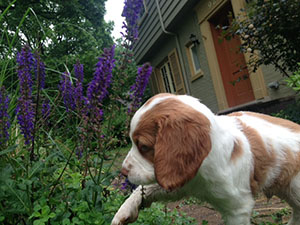 Cache
Hello Dr. Pepin! Cache and I again finished the Knobstone Trail together. My current favorite picture of Cache is his happy and exhausted face. It shines with his wonderful character. Don Frisz & Cache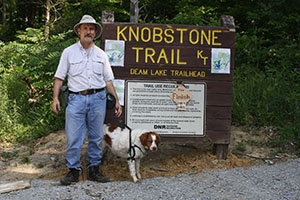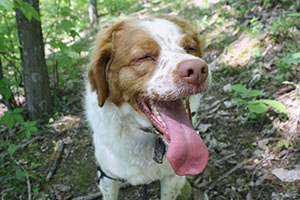 Abby & Luke
They are the best buddies as you can tell. Can't believe they will both be three this June. Time goes so fast. Eva Petty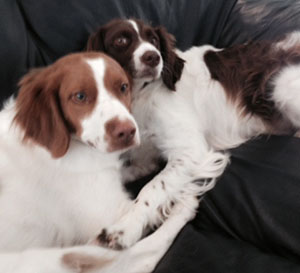 Chance
HI - Don't know if you remember us or not, but we purchased a Brittany from you in June of 2013 for our daughter, Lauren. I should have sent these picture sooner, but thought you would like to see them. Lauren worked with Chance and trained him, with the help of a trainer we hired to come to our home. She showed him at our county fair in 2014 and won Showmanship, Confirmation, Obedience, and was the overall Grand Champion dog. He is well loved! Susan Umpleby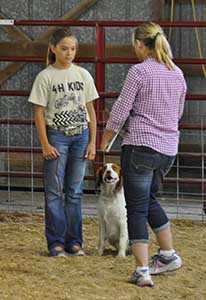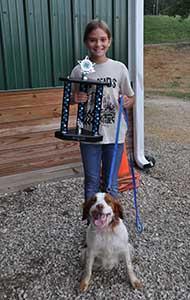 Abby - Ch. Gypsy x Ch. Ricky puppy.
Abby is quite a joy to our family!! She amazes us every day with something! The other day she was outside, Ed came in the house for a minute and when he went back out, found her sitting in his chair!! -- Thanks, Ellen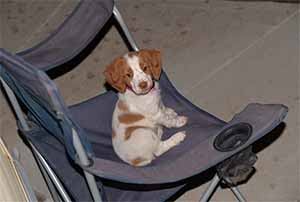 Creole - Halle x Pete puppy
She is gorgeous. Thanks again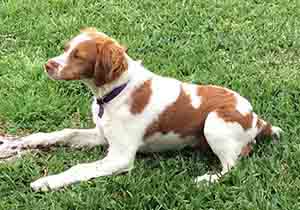 Jake - Gypsy x Ricky boy
Here's a picture from the trip home. Jake did awesome in the car!
Ripley - Gypsy x Ricky girl
Barbara, things are great! Ripley is doing really well & settling in just fine. She has been my little shadow since I got home. We have received some company off & on over the weekend ... every one simply loves her & she makes a great impression. I can't say thank you enough for working with me and for raising such beautiful, healthy dogs! She already has a funny personality that I love. So her given name is: Ripley Selene Gunn I attached a photo from today for you. Thanks, Jeff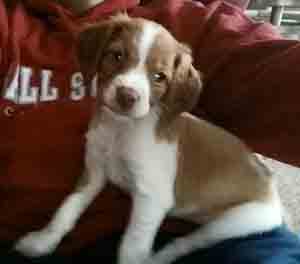 Rocky
Hello Barb. I bought Rocky from you almost 2 years ago and I am just letting you know he has been an absolute gem. I just got him into Trials unfortunately have been without luck :( but has been a great learning experience! I am just sending you an email to say, Thank you once again for such a beautiful dog! Everywhere I go heads turn directly towards him and everyone wants to know where he is from and tell me how striking his build is. Sooo basically this email is just to say thank you for my puppy and that I am looking forward to getting him into a show ring also (judging by how impressed people are with his build). attached are a few pictures of him during hunting season, a trial picture and one of him just looking good! Once again thank you! I understand now when you said you have people who wont buy anything other then crosscreek.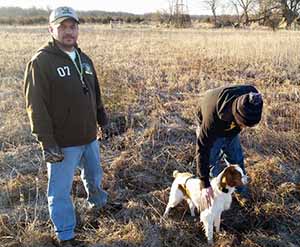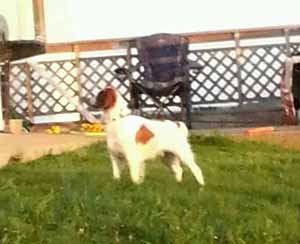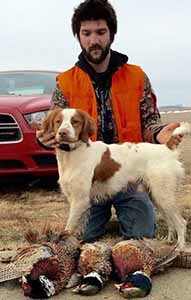 Fletcher
Barbara, Fletcher is enjoying life at nearly 4 months, and he enjoys posing for pictures, going for long walks, and pointing the ducks and geese on the pond. Here is one with our daughter Erica. Brent Brinkley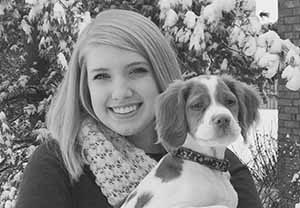 Lilly and Taffy taking a nap and getting warm after playing in the snow
Both of these girls are finished show champions! They are enjoying their owners house.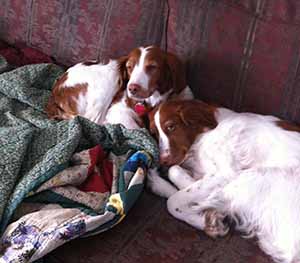 Blitzen
We call him Blitzen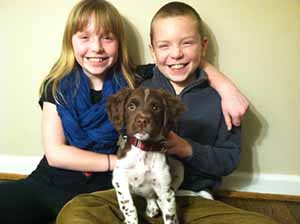 Lexie Blu
Hello Barbara, Happy Valentines Day, but also sharing a birthday is Lexi Blu !!! We wanted to send you a picture to show how beautiful our baby girl has grown up. She is doing well and still a puppy at heart. We will be seeing you soon, for shots. Hope all is well, we love our fur baby !! Craig, Rose & Clayton The Shearer's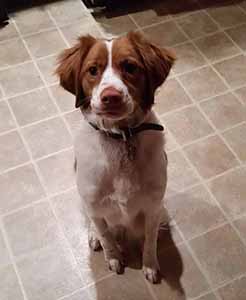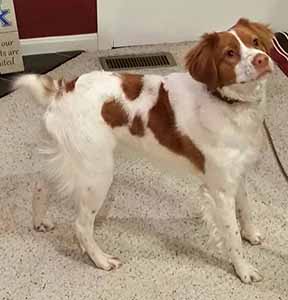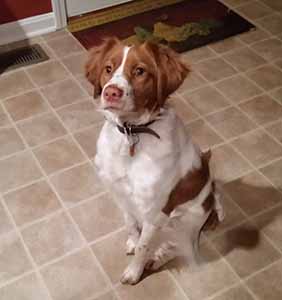 Tess
Barbara We took Tess for a haircut the other day. I thought you might like the pictures. She has charmed everyone she has met. Things couldn't be any better. Nick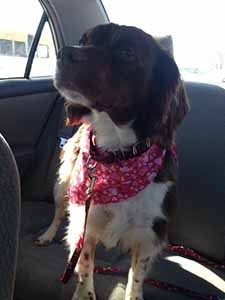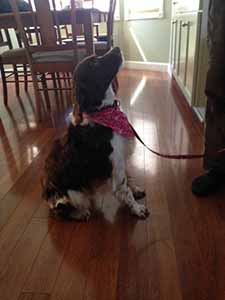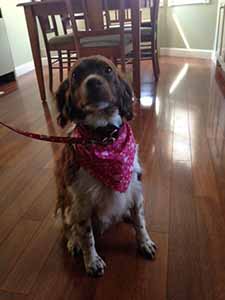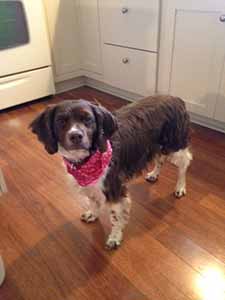 Khandie
Thank you She celebrated her 5 month birthday by playing hard with our grandson Scout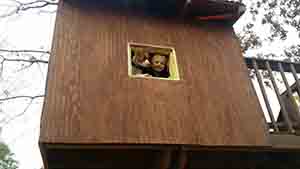 Jett
Barbara, JETT is doing great he is adjusting great to living at home with me. He is in a obedience class now, and is doing great. He is definitely a special dog. I'm planning on getting some bird training with him soon. I am so happy with my purchase of him!! Thanks Tim
Lini
Here is a recent picture of Lini that I thought you would enjoy. She is growing up very nicely - I think she looks great!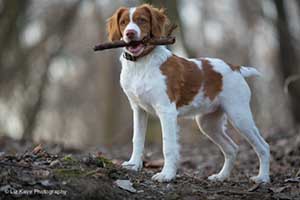 Remi and Cooper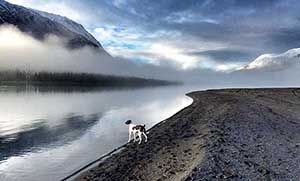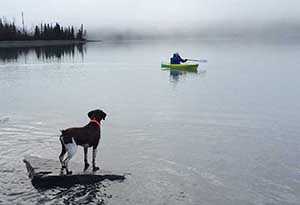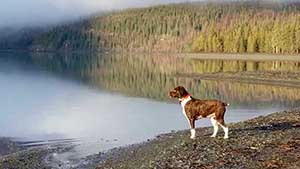 Holli
Dr. Pepin, Updated photo of Holli out of Pete is attached. She has hunted a lot this season and is doing great. Very smart. Thank you Keith Bryant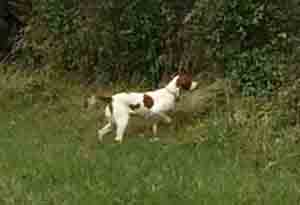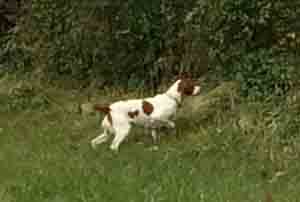 Khadie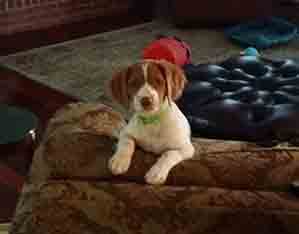 Daisy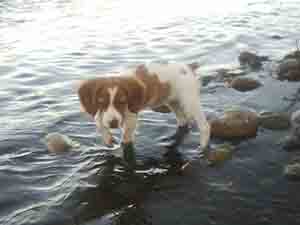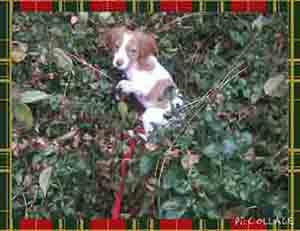 Tango
Hello Dr. Pepin, We will be celebrating Tango's (Crosscreak Pursuit of Happiness) 2nd birthday on January 23rd and I wanted to give you an update on Tango. He is Ricky's and Halley's boy and has been the most amazing addition to our family. He is a BIG clown and has already made a name for himself in Jersey City, NJ. He definitely has more friends (human and pet alike) then most of the people we know. He loves running with us and being outdoors and if he is not chewing on something at home, his second number one activity is taking a nap! Thank you for choosing him for us! I am attaching a few pictures as well.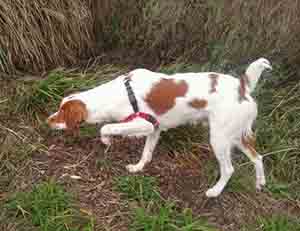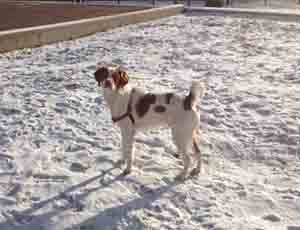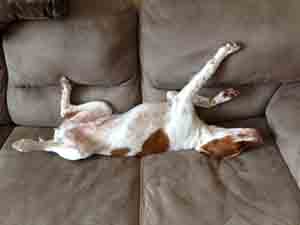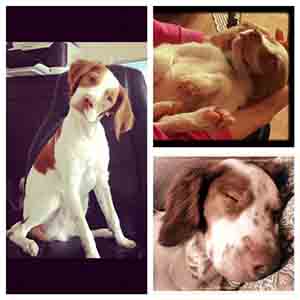 Lini's first photo shoot
Liz Kaye Photography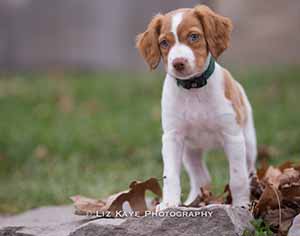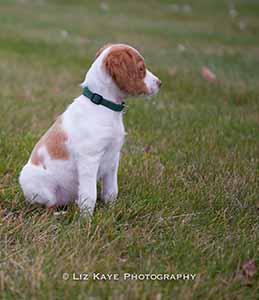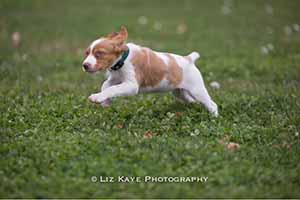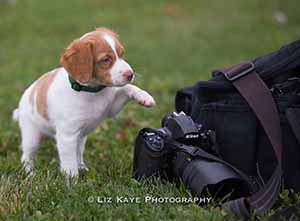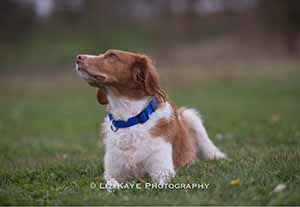 Khandie
Khandie is doing so good. She growing so fast. House training is coming along. She asks to go outside sometimes. At 9 weeks we think that is really good. It is amazing she points the pheasant wing and holds it for 30 seconds or more. She has stolen our hearts. Thanks Henry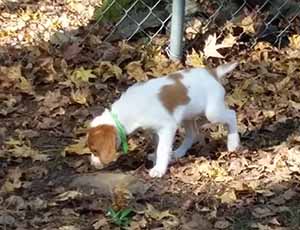 Dixie
Photo of Dixie's first point on quail today. Ben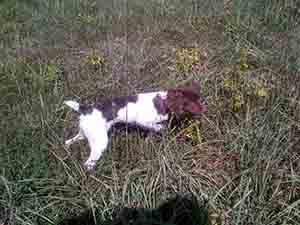 Toby Mies (Cross Creek's Polar Vortex)
Barbara, I just wanted to drop you a note and a few pictures updating you on our Toby. He continues to be an absolutely fantastic dog. Very well-behaved, great personality and disposition, a loving member of the family and a natural instinct like I have never seen. Thanks for a great dog. Kirk Mies and Family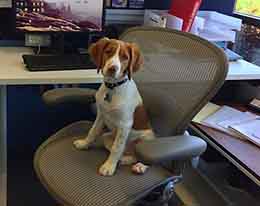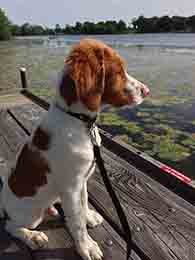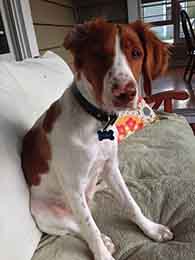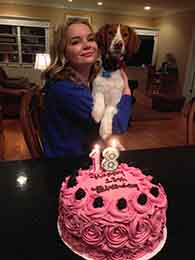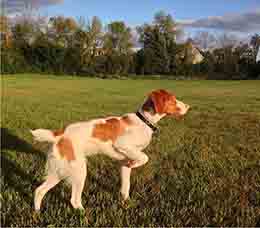 Dylan
We have learned that Dylan likes high places! He loves to climb on his "mountain." :)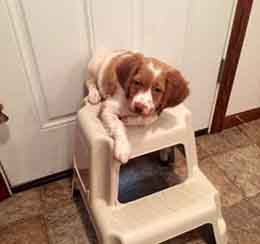 Tucker
Barbara, We are completely enjoying Tucker. He has not had 1 mess in his crate which I sure is due to all of the wonderful care he got before he came to us. He already chooses to go sleep in his crate even when we are home and he doesn't have to. He bites quite a bit but we are working with him and noticing some improvement the past few days. I make sure all strangers have treats to feed him so he doesn't clamp down on a finger and scare everyone away. He's getting stronger and running around more every day. He has learned his name, come, sit, and hurry up (pee command) already. We still need to teach him to play fetch. He is only mildly interested in getting the ball and rarely brings it back. Thanks for the CD with all of the information about puppies. I think it was all covered in our library books but I was glad to double check that we hadn't missed anything. Thanks for sending the paper I forgot. I wanted to make sure I had all of the information for his vaccines. I had no trouble giving him his shot last week - so thanks for setting me up with that to save a trip to the vet. Attached are some pictures of Tucker. Thanks, Linda

Cooper
Hi Barbara, I received your message and we would like to have Cooper's registered name be: Cross Creek Cooper's Blustery Night. He is a wonderful handful. I think he looks a lot like his dad Pete. Yesterday I took him to Milford Hill Hunt Club and exposed him to his first Chuckars. He seems to have an extremely good nose and a real desire to hunt. I will send another photo when he gets his first pheasant. Robert Richter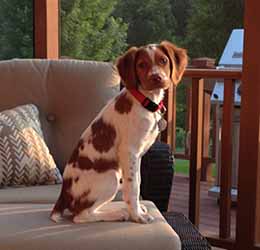 Frankie
Frankie is truly the best dog I have ever had! He has been a member since we picked him up at the airport. He loves our chihuahuas, love our children, beaches, hiking, toys and of course food and water! He is so well mannered it's AMAZING! We can't wait to get another Brittany! :) Thank you so much! Here are some pictures after he left the groomers.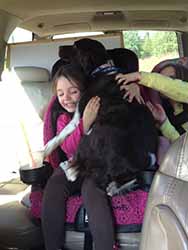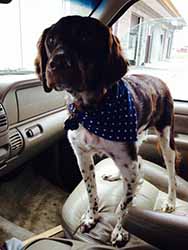 Mae Bell
Here she is: Crosscreeks Mae Bell Montgomery! Have a great day Chad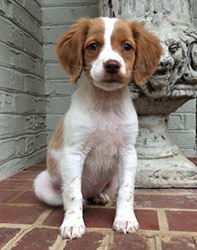 Spice
Hi, I thought you'd like to see this picture of my girl Spice, she's a daughter of your boy Ricky. Her first weekend out she took. Best of Winners for a major at just over 7 months old ! Very happy with her so far.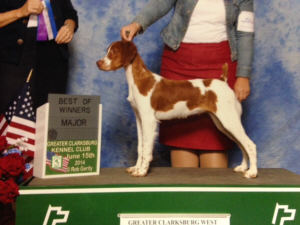 Peter Pan - Echo x Ricky puppy
Things are going very well. Very few accidents, going outside often. Getting up three times in the night, but that's to be expected. He LOVES chewing and biting! Thanks again we couldn't be happier! Nathan, Stacie and Elliott!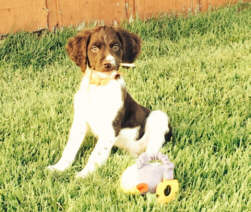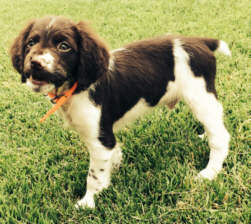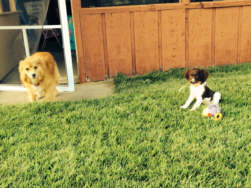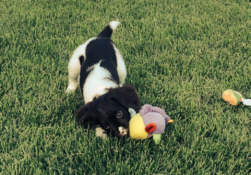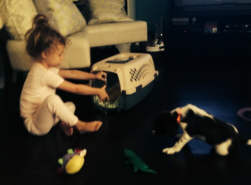 Abby and Luke
They love our pool and floating on their rafts. We do spoil them hope you are doing well. Love seeing the new puppies, no we need only these two but fun seeing them.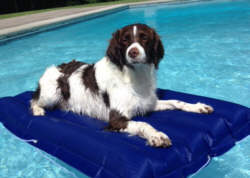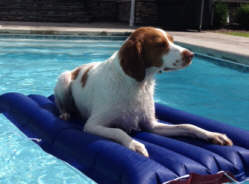 Cache
Hello Dr. Pepin! Cache is maturing well at 2 1/2 years. He's developed his sire's, Coach's, long broken coat, which I love. We're working on his third time completing the 54 mile Knobstone Trail. Here are a couple pictures. -Don Frisz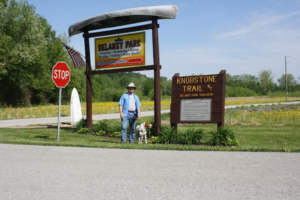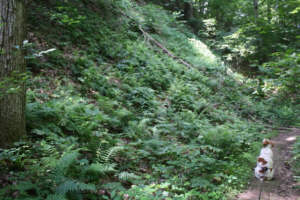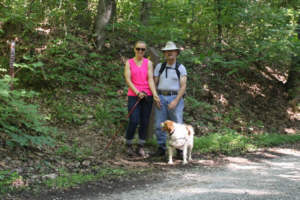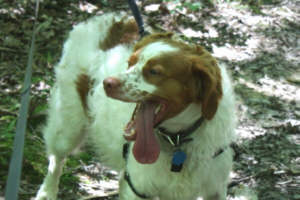 Scout
Hi Dr. Pepin, Scout (Halley Boy 1) is completely adjusted to life in Cincinnati, OH! He has a great temperament and is a quick learner - we are proud parents. Attached are some pics of him, as promised. He LOVES water (and taking baths), likes driving in the car with Dad and helping Mom study, and his favorite toy is the Kong Wobbler! Claire & Brian

Frankie
He did awesome at the beach, had fun in the water and playing with other dogs.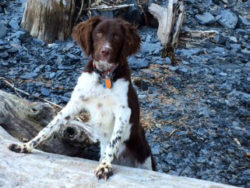 The Britts, such amazing dogs! Frankie, Remi, and Cooper(Frankie's brother)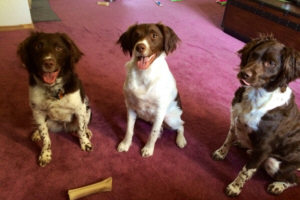 Cross Creek Whirlwind Piper
Just wanted to let you know we are thrilled with our puppy. Thought you would enjoy seeing her on her first Christmas.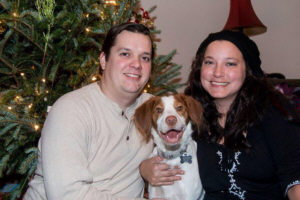 Jodi
Barb, Jodi is doing well in service dog training, currently we are beginning public access training as well as task training. I should have asked the question sooner, but it slipped my mind. What commands does Jodi know? I've stumbled across "off and leave it". Does she have any retrieving skills? Also, who was her sire? Obedience has progressed slowly but we are getting there, she must be corrected ever so slightly. As far as public access, so far we are coming out with flying colors. Jodi has made several visits to the Marion Veteran's Hospital, a juvenile correction center, an elementary school with kindergarteners and first graders, the bowling alley (they set up the children's ramps and have the dogs "push" the balls down the ramp), shopping outings and this week will be her first restaurant visit. The staff at my doctor's offices love her, she is a hit wherever she goes. Even my mother in law who is not a dog person, her first question is how's Jodi (I doubt she even knows the other family members dogs names!) Jodi is at the point where with the exception of restaurants, she is my constant companion. For service dog certification, she needs a minimum of 120 hours of public access and my trainer's (a former drill sergeant) approval. We are getting close. I will get back to you when this is complete. Most of all, Jodi is a joy, not only does she now have a purpose, she has given me one as well. Diane Averbeck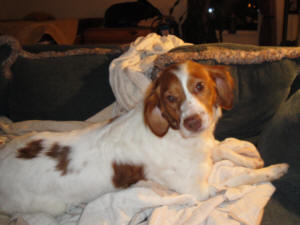 Digger
Hi Barbara Here are some pics of Digger at 6 months old from Sault Ste. Marie, Canada. He is a funny little guy - makes us laugh everyday ! He is very friendly with all other dogs and people and he gets so many compliments both for his looks and his friendly personality. He loves camp! Had lots of runs on the ice this year. He is very cuddly and keeps us very busy- as a baby should!! Thanks for breeding such a wonderful dog! Heidi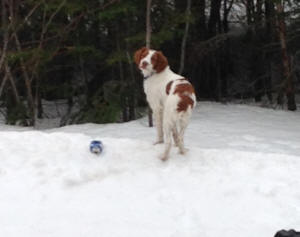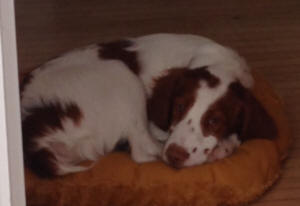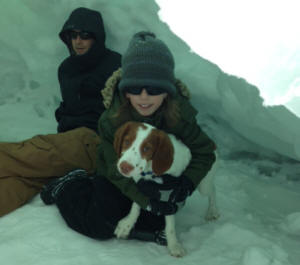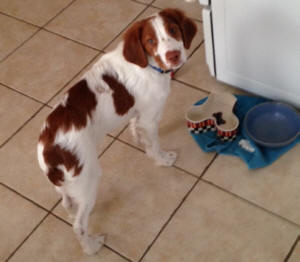 Murphy Emmett (Cross Creek Smudge to Emmett)
Hi Barbara, I hope this email finds you well. Attached please find a few pictures of Murphy - my family purchased him from you last March. There's a few photos of him in the recent snow we got in Maryland; him on our pier looking out on the water; and one of my favorite shots of the first time he had peanut butter! There is also one from when he was just a few months old. Murphy is doing really great and we are so happy to have him. He currently weighs 47 pounds! His personality is so well rounded. He's added so much joy to our lives and makes friends wherever he goes (furry and human). He's great with friends' kids, our cat and other dogs. His disposition is a dream and he picks up commands and trains easily. He's a big ball of energy and likes long walks, but we don't mind because we like to keep active as well. He's also a really handsome dog. We've come across other Brittanys, but none as good looking as your dogs! Which brings me to the second reason for my email. We've enjoyed Murphy so much we'd like to get another Brittany, and since we had such a positive experience with you we would like to come back to you for a second dog. Thanks so much! Erica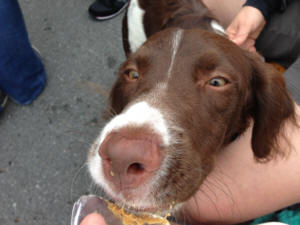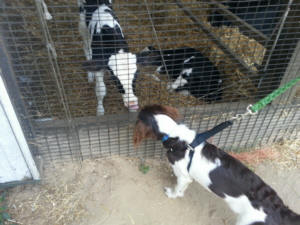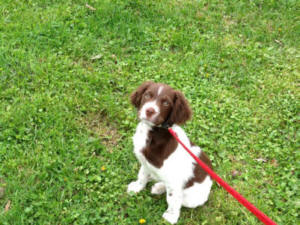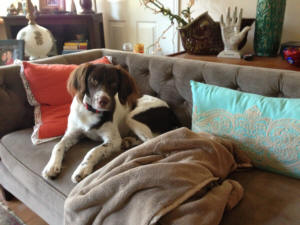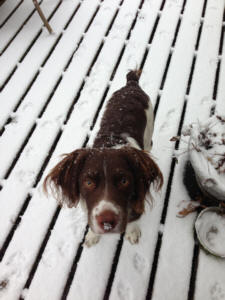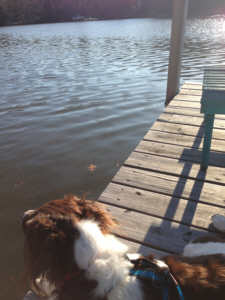 Holly x Ricky baby
She is doing great. Potty training in the cold is no fun, but she does as well as expected. So long as I catch her cues she is fine and occasionally goes to the door to go out. She fetches for us and is a very loving, playful, and tolerant dog. The children's shouts and squeals don't faze her in the slightest. She loves playing with them outside. She seems hungry all the time, I am feeding her about 3/4 cup of food twice a day plus a few pieces of food as treats when she comes in from going potty. I'll attach a picture taken on 2/24. Thank you very much. Jennifer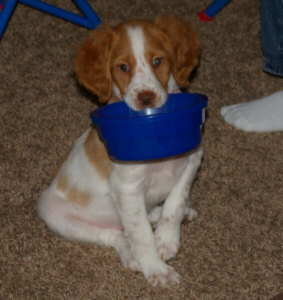 Hunter
Dear Dr. Pepin, Greetings from Grand Rapids! It has been way too long since my last note. Sorry! Hunter is doing great! He's a year and eight months, now, and I swear, he gets better looking every day. I took him to a hunting preserve last October (at 11 months old), for his first ever pheasant hunt. As expected, it was a study in contrasts. For the first hour he was all puppy, running as far as his 30' check cord would take him. He was much more interested in finding (and eating) every pile of dog/coyote/deer/bunny/cow/turkey poop in the State of Michigan, than he was in finding the first two pheasants that I flushed, shot, & hunted dead. Just as I was starting to question his hunting instincts, he stuck a brief point before the third of our four birds flushed in front of him. I made (what I thought was) a good clean shot, but the rooster was not where he fell. He was no where within 20 feet of where he fell. And Hunter was being of no help finding him. He was 30 yards away, doing what he'd been doing all morning. Playing . . . or so I thought. As I looked up from my ground search and called him to come help me "hunt dead", the bird popped out of the cover within a foot of Hunter's nose, and ran into a drainage culvert under a two-track. To my amazement, he had been tracking that wounded bird. I sprinted to his location and led him to the other side of the two-track, where he immediately went on a hard point. There, under the smallest tuft of grass imaginable, was the deep green head of Hunter's first pheasant. He had pointed & flushed him, then tracked him down and pointed him, again. I tried to let him get a good nose full of bird as I hugged and praised him for a job so well done. But he was no longer interested in hugs, or praise, or dead birds. He wanted to find more! The light in his head had switched ON! He was now a "Bird Dog"! He found our fourth bird a little while later; plus two extra birds we hadn't had planted. All of them were pointed just as nicely as you please. Two weeks later, we celebrated Hunter's first birthday in Nebraska; and again, the hunting instincts you bred into him just astounded me. I had trained him on pheasant scent, pheasants, and wild turkeys. He had never seen or smelled a quail, but the first thing he pointed was a small covey of quail. In fact, he pointed 5 or 6 covey and an equal number of pheasants during our week-long adventure. Even found a dead quail someone else had shot, but was unable to find. Their dog must not have been a Crosscreek dog. Now that summer's here, he's been pointing more wild turkeys in our field. That's where I took this picture.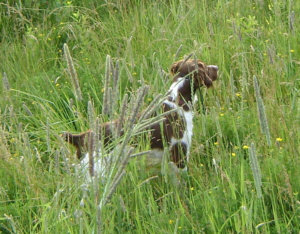 Best regards, Hunter's Dad Barry Brown
Abby and Luke
In N.C. Just wondering about this ice. And when will it be warm to swim. Thanks for great pups. Hard to believe they are both almost 20 months.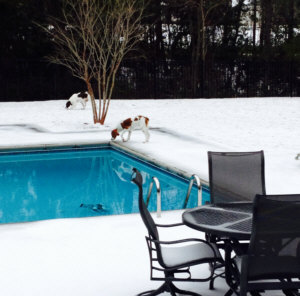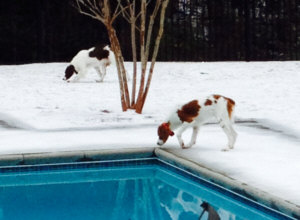 Trigger
Barbara, Just wanted to give you an update on Trigger! He is such a wonderful dog! We have become a registered therapy dog team. His most recent visit was to the local Veterans Hospital this week. We are exploring opportunities with the local library for him to become involved with children's reading programs. You can find some of his pictures and stories at http://happywhiskerz.com/triggerstales/triggers-blog/ We will never know how we got to be his third home, but July 20, he has been with us a year and continues to be a blessing to our family J. Thank you! Lynn Ealey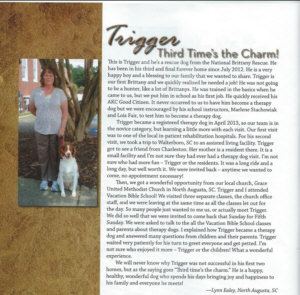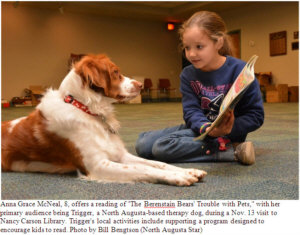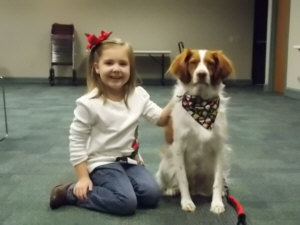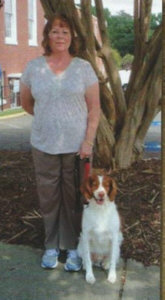 Rudy
Wayne and Barbara, Hope this e-mail finds you both in good health and enjoying this long and snowy winter. I write to you as the owner of one of your pups - Rudy - who will be 6 August 25 (dam is Hope's Ginger Snap/sire is Windswept's Adirondack or Andy). We adore Rudy - my husband calls him the "best of the bestests". Over the next two years or so we hope to get a second dog from you if possible. I have been following your website and see that you seem to be having fewer pups available than you did a few years ago so I wanted to see what your plans are and when you think that a pup might be available. We can be flexible, but we were kind of hoping for a female this time around. I see that you have an on-line application and I can complete and submit it if that is what you advise, but I was wondering what your wait list looks like and what your future plans for breeding are. Any insights that you can give me in that area would be much appreciated. Thanks again for your help - I've attached a couple of recent pictures of "Rudy" for you -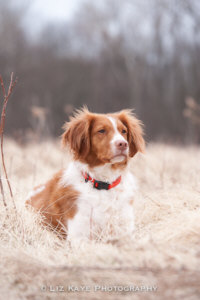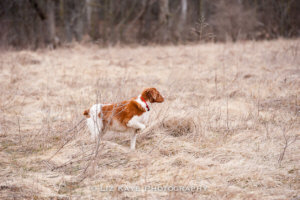 Cabela
Hi Barbara! We just wanted to tell you again how pleased we are with Cabela. She's learned lots of new tricks and is one of the most tolerant dogs I've ever seen. She loves playing in the snow and absolutely loves water. She tries to get in the shower with us every day! We couldn't have gotten a better dog for us. Thank you so much!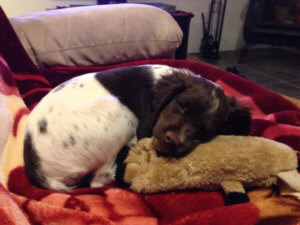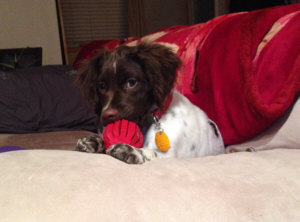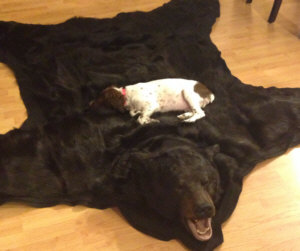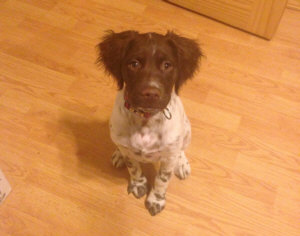 Glowing Ember
Happy new year Dr. Pepin. Ember is growing up and we are all having a wonderful time watching her and training her. We have a field that we go out and walk frequently takes us about 25 to 30 minutes to walk around the field. She is not shy about diving into the underbrush. A real joy to watch. She stays in the house all the time but she really loves running in the snow outside and the cold weather. We are looking forward to the show season and seeing what we can do. Looking forward to seeing you again. Jan Gwen and Chrissy

Liberty
Barbara, Well, our puppy is now almost full-grown, and we couldn't be happier! In keeping with the patriotic theme, we decided her official name should be Liberty. She is a bundle of energy, and she loves going on runs with me, but she can also be quite the cuddle bug sometimes. We think it was really good for her to be born among other types of animals, because she enjoys going to the vet (and she loves her veterinarian). She's so smart, and already knows so many commands. I've attached a picture to show how much she's grown. We love our little addition to the family! Thanks for everything. Brennan and Cassie Doud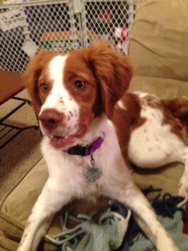 Cash and Coach
Guess who..... Cash and Coach! Thought you might enjoy.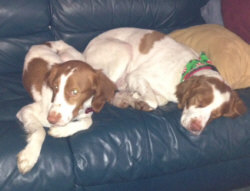 This is an Echo x Ricky girl that is 10 weeks old. She lives in Fairbanks, AK now.
Just wanted to let you know Cabela is doing great. We've been working with her with grouse wings and she's so smart! Already pointing! Thanks again for the great pup!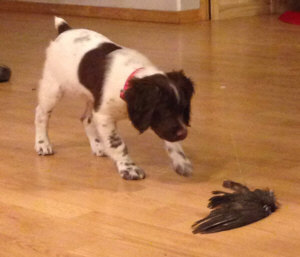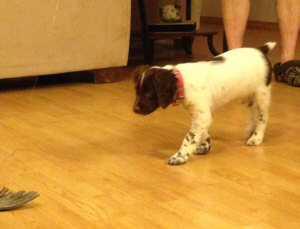 One of your Pups is a calendar girl!
Just a note. Ikea (a Katie/Redi pup made the ABR Calendar 3 times this year. She is Oct, Nov & Dec!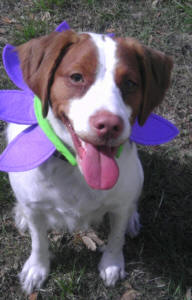 Max
First the first time ever I am regretting having my pup fixed, this little bugger is something special. I remember having first pick of the litter, but had to pass because i was stuck in FL having to rebuild my brakes. Then passed again, and again, until there was one pup left, the runt. Best dog I have ever had the pleasure to love! Little boy is so well trained he is the envy of the neighborhood, his only vise, eating everything in sight! -Billy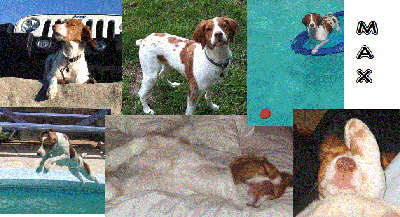 Photos of Tempo (Toni girl 1 DOB 7-13-13)
Hi Barb, I've been meaning to send a few pictures! It's hard to catch a picture since Tempo's a bundle of energy! After losing our first dog about five years ago, I didn't think any of us would be able to open our hearts to another pup...I was wrong! Tempo has been a huge compliment to our family! I think we "all" needed this little girl! She is sweet, smart, and likes to talk! The photos with the fence are at my mom and dad's house 2 blocks away. She likes to take a "run" over to their house to play and explore in the backyard! She isn't fully trained yet on the invisible fence in our yard, so we try to let her run out her energy over there. Tempo has her little routine. She loves "her" two boy (my sons Timmy and Tommy). She loves to cuddle, play fetch, and do tricks for treats!! I will try to send you some more updated photos in a couple of months! She is growing FAST! Thanks again for breeding such beautiful Brittanys. We appreciate the great care you take in producing such fine pups! It's been a pleasure! Sincerely, Tina Weigand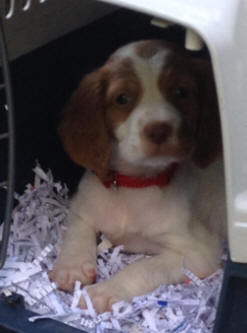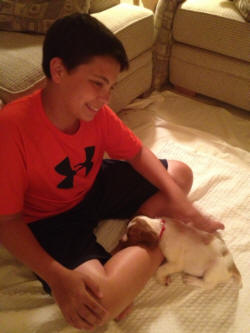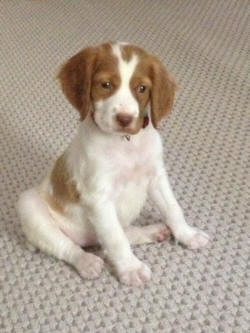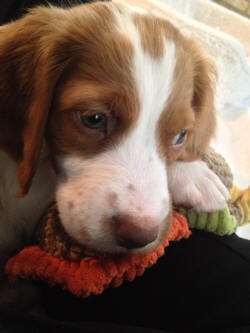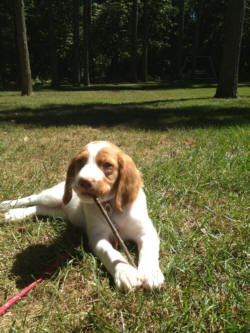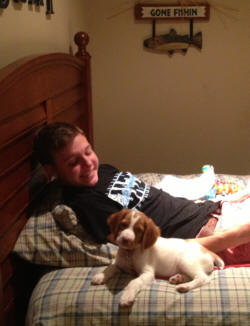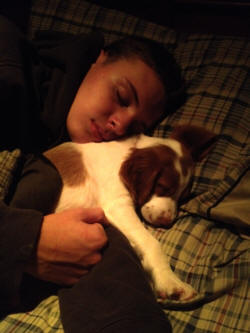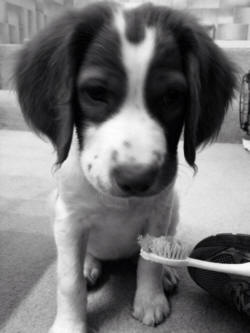 Scout's First Pheasant Hunt. This is a Ricky baby.
Scout might have gotten more stickers than Pheasants, but, all in all, a good outing for Scout's first Pheasant Hunt. It was pretty warm, the cover intense and he was a pooped pup at the end!
Crosscreek Sanbar Smitys Willie B Bad got his first point!!!!
Hello, Willie went to the Kankakee IL shows on Sunday and got his first point!!!! Have attached a copy a picture when I get the real photo will email you a copy of the official photo. Will be going to Springfield this weekend. No points available but need the practice. Have a good day!!! Montell & Kelly Smith Catlin IL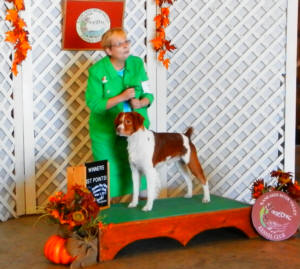 Ryder
Hello Dr. Pepin! I just wanted to email you to thank you for all that you have done for Ryder and I! He is loving southern living in VA and is such a sweet boy! He constantly makes me laugh and is very smart! He is already pretty much potty trained, walks politely on a leash, and is learning basic commands very quickly! After he has had his next set of shots, we will be participating in puppy classes and I will be letting him be more involved at the Horse farm that I work on! When you have decided on a theme for the little for their registered names, please let me know! I would love to try and think of a fun and creative name! Feel free to post this email and pictures on your website! Thanks again for bringing the little bundle of joy that I call Ryder into my life! ~Cecily M.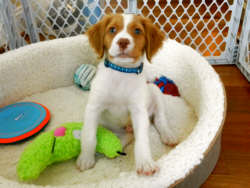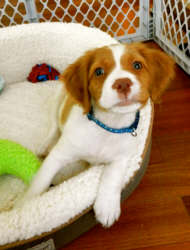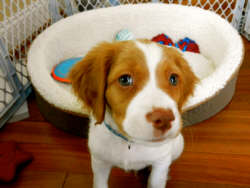 Boone
Hi Barbara! Here are some great pictures of Boone! He's doing great. Almost completely house-trained, only a few accidents here and there. And already knows how to sit and lay down!! Avery Schroer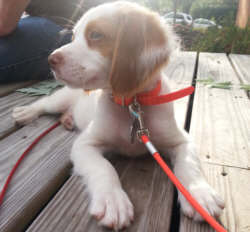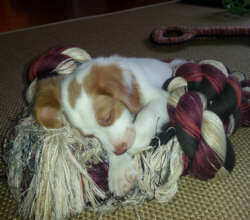 Cabela and Caitlin
Here are some pics of Cabela and Caitlin. They are the best of friends and they go every where together. Caitlin is applying to colleges and Cabela and her will go off next year together. Caidie will not leave Cabela behind. We will send pics of our Louie our pride and joy he is such a blessing to our family he is everyone's buddy he makes us smile every day. He still has a lot of work to go for hunting but as our family dog he is perfect. Louie and my dog Winston love each other and are a great pair. Will send pics of him he is gained weight you will not believe how pretty he is. Thank you The Bledsoe family PS Cabela and Louie are the best of friends as well. We have 3 very happy dogs.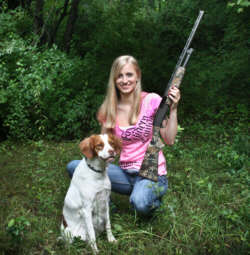 Sadie (Silky Girl 3)
PaPa, Get the Gun, I see one !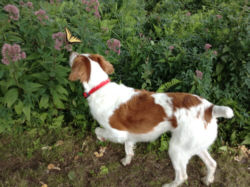 Cooper and Remi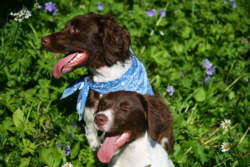 Holly
Hi Dr. Pepin, Just wanted to update you on Holly, from Smudge x Coach. She is about a year and a half now, she is doing great and is the sweetest girl, she loves playing with her sisters, our two other Brittanies, and cuddling with anyone. Thank you for our wonderful dog! Allie Doering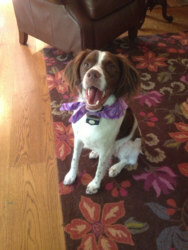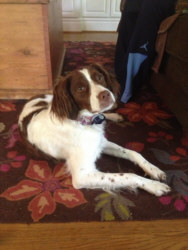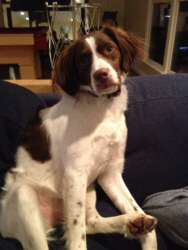 Toby
Ch. "Katie" x Ch. "Ricky" puppy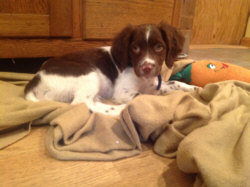 Cross Creek Bentley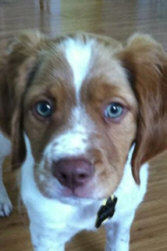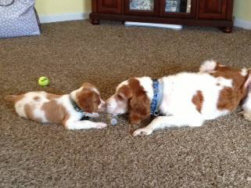 Luke and Abby
Puppies in the pool..Love to swim...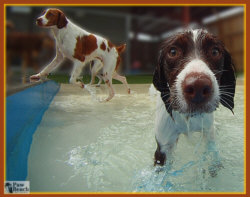 Cashe
Hello Dr. Pepin! Cache, Smudge x Coach 12/24/11, is now 1 1/2 years old and maturing into a my best companion ever. He is the excellent trail hiking pal I hoped for. His over exuberant puppy-ness is settling month by month. Consistency and persistence in training is paying off. Here are some pictures of Cache on the Knobstone Trail. Don Frisz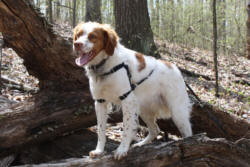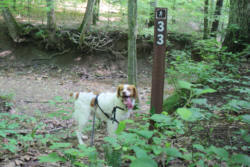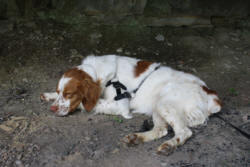 Smudge Girl 3
just a pic to show how big our remi is :) she's the perfect addition to the family . thank you guys so much . Toby and Carol-Ann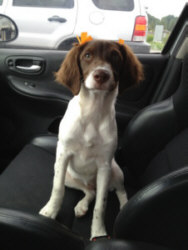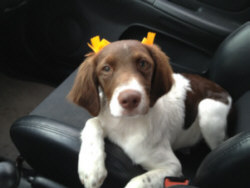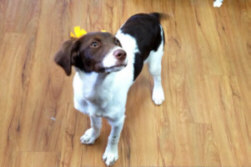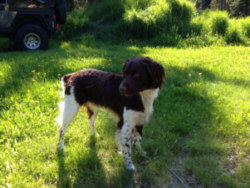 Copper
We thought you might enjoy some of the first photos we have of our new addition. His official full name is Cross Creek Copper of Kretschmer Valley, but we all just call him Copper.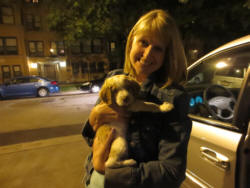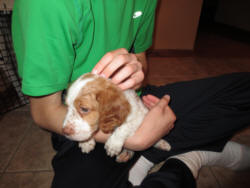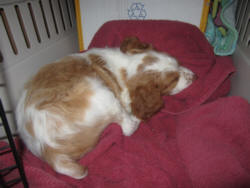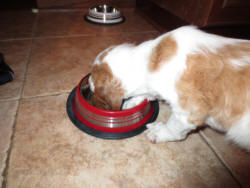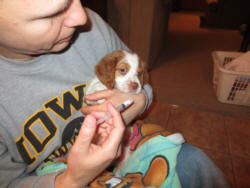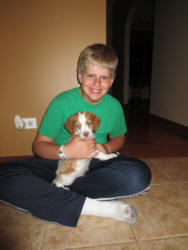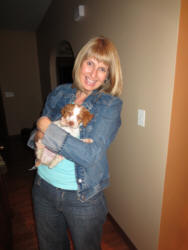 Cross Creek Forever "Scout"
Our Brittany - One-Year Old
Hi Barbara! We got our Cross Creek Forever "Scout" from you last year. We named him Scout and he is from Ginger & Romey. He was born last February 12th and we picked him up April 2nd and brought him home to Ohio. He is a wonderful dog and does well with people and other dogs. He is smart and very loving. Attached are a few pics of him. Thanks for breeding such high quality Brittany's!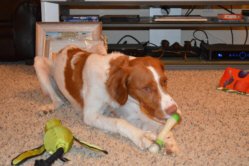 Crossceek Willow Rose
Hi Barb, We wanted to give you an update on Willow. We bought her this summer from you, she was a liver and white(all liver face) She s 7 months old about 30lbs, We did have her spade before Christmas. We love her so much, she s a wonderful dog. She took her first trip via car to Florida this Christmas and did great adapting to her new surroundings. Super friendly, obeys us, trained so easy! Between myself husband and two sons at the end of the day she s one tuckered out puppy. She sleeps pretty soundly at night. We ve been working with her on her hunting skills. We re all going out this Thanksgiving to North Dakota to pheasant hunt. We just wanted to Thank You again and let you know she ended up in a good home, Thank you John, Becky Jimi Michael Hanauer
Packer and Kacie play at bb game
These dogs just knew they were family! Having a great time with them together at the baseball game. They really had a blast playing! Thanks again for such a great pup! Kim Nurkiewicz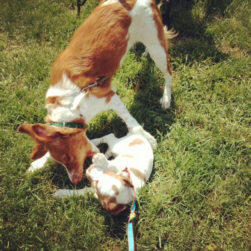 Holli
Dr. Pepin, Latest photo of Holli. Keith Bryant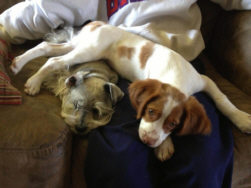 Kacie
Hi Barbara! Glad to share some pics of our sweet girl! She just blends right into this family....had to share the pic of the kids in the backyard perfecting our dog's name call/come command. They would each take turns calling her and then she would run up to each of them. So cute...two neighbor girls we have known since they were 3 joined us that day....all four of the kids linked legs together and our puppy played with them like this for a good 45 minutes or so....so cute. Kacie our pup really understands the routine of the day- getting kids on the bus....play time....riding in the car to the soccer fields....playing catch with Dad at night....she has a great life here! :) We have calls every day of someone new who wants to meet her from our neighborhood....she enjoys meeting people and then when she has had enough, she buries her head in my arm and calls it day or a nap! :) Time for her crate. She is super easy for a puppy. We are so lucky. We have some neighbors that went with a "fashion dog" for a puppy about three months ago and is having behavior issues over there. I think they are highly jealous of how good this pup has been. Thanks for this great dog! This breed is incredible. Kim P.S. She is about 90% potty trained too. Only the occasional puppy accident and that is to be expected. Really amazed how easy that part has been.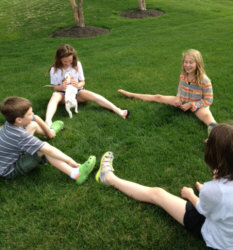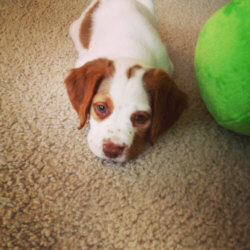 Chloe
Kate on the prowl
Dr. Pepin, What a fun day Kate had in the field. And, so did I. Wes Young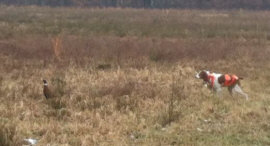 Jake & Jersey
Hi Dr. Pepin & Staff, I know you see these guys on a regular basis but thought we'd share a couple pictures of our Brittany boys, Jake & Jersey. Arguable the best dogs ever! Thanks again for such wonderful additions to our family. ~Don & Sherri Neal Sellersburg, IN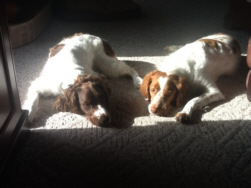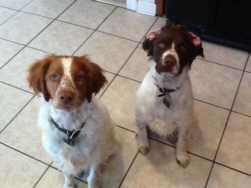 Lilly
Hi, My names Reva Dickson I have shown/co-owned both of Sandy and Roy Smith's dogs (Ch. Cross Creek Sparkling Taffy and NEW Ch. Cross Creek's Winter Lilly) I was just writing to let you know Lilly finished (I wasn't sure if Sandy told you yet or not). I also attached her recent photo from when she finished (its not the best picture of her). Take Care, Reva Dickson
Scout
Barbara, Scout is doing well with his potty training, he is growing like a weed! If he grows into his feet I'll be in trouble! Tim Maguire

Luke
Abby and Luke ate doing great. They both weigh 30 pounds now great personalities and love playing with other dogs and as always love people they love riding in the car great with all our travels. Send a Abby picture soon this was too cute. And just this week Luke is getting more spots. Any pictures I send you can post. thanks Eva
Murphy - Tony and Ricki Boy
Good Afternoon Dr. Pepin! Hope all is well with you. Thought I would send a couple of pictures of Murphy so you can see how much he's grown. The first two are from about a few weeks ago and the last three are just a few days ago - he is growing like a weed and is the love of our life. We are working with a trainer to curb him of his only bad habit....a bit of dominance - he's a quick study and is getting better every day. As you can see, he loves the snow..... and the fireplace after the snow! I'll send more pictures as he grows. Take care! Lisa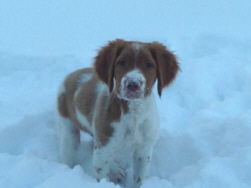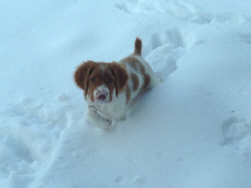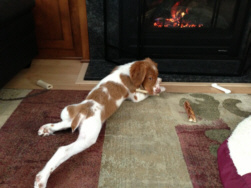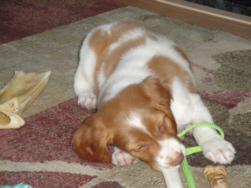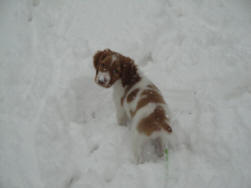 Bella
Our brit, Bella, we got from you recently is wonderful. Great pet and showing great desire in the field. Thanks Rod and Teresa Wagner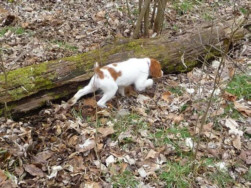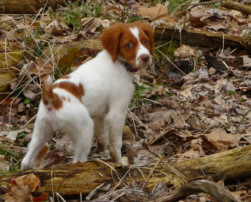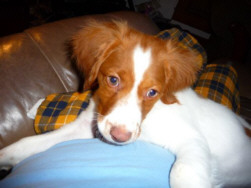 Babbins Gino
Cross Creeks Christmas Rosie Becker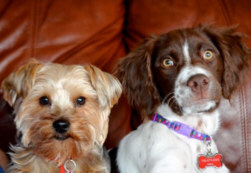 Duchess
Barbara, Just a quick update on how things are with our pup, Duchess. Logan and Duchess are official members of the Monroe County 4H Dog Club! They will be competing in showmanship, obedience, and agility, at the end of July. We are currently working on Duchess' CGC title, and Logan would like to be involved in our local library's "Read to the Dogs" program. I could not be happier, with the way that Duchess and Logan have bonded. She is really quite the ambassador, and helps open a lot of social interaction doors, for Logan. And, she just plain loves that boy! Logan can hide in the yard...and I don't care where he hides, and how clever he is, that little girl will put her nose to the ground, and find him - every single time. Every afternoon, about 15 minutes before the bus arrives, this is where I find her....waiting...watching. It is just amazing. That is all, for now. I'll let you know when Duchess earns that CGC title! :) Abigail Wallace
Brontë
Dear Barbara - Pekka and I have been enjoying life with Brontë very much. We recently returned from a trip to Rovaniemi, Finland, just inside the Arctic Circle. Attached are some pics of us and our beautiful girl. Brontë's a great trip dog and I'm sure we'll have many more adventures with her in the future. Thanks for raising such wonderful Brittanies. Best Regards and a belated Happy New Year - Siobhán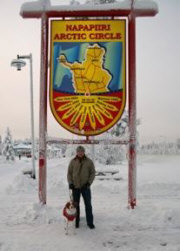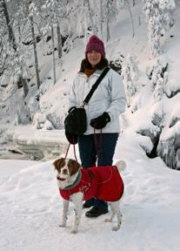 Kate
Dr. Pepin, What a fun day Kate had in the field. And, so did I. Wes Young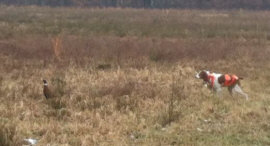 Yank and Duke
Yankee Gun Runner (Rick & Gatling) and Sir Duke of Flat Creek (Rick & Sanbar) with wild birds taken in Michigan and Indiana. Very pleased with these dogs. Glad I own both. Yank is three and Duke is one. When I return to Hillside Pheasant Farm to guide these two provide much success and entertainment. Thought you'd like to know. Fred and Zoe Fields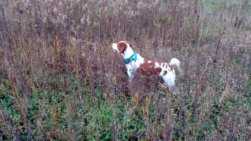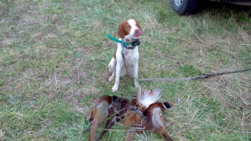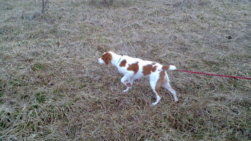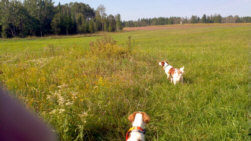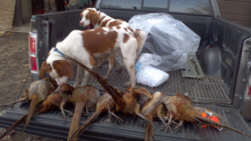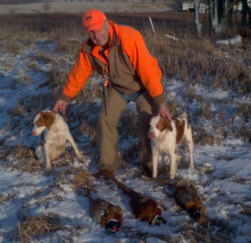 Sadie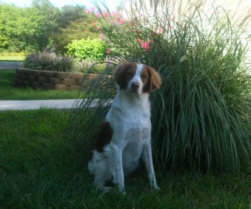 Scout 4 months old
Scout on point. Turns four months old end of this week. Jim Manley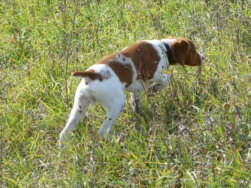 Bentley
Hi Barbara, Here are a few pictures of Bentley (Ellie Boy 3) I took this past weekend. Just thought I would share them with you. Enjoy!! Jennifer Davis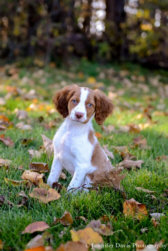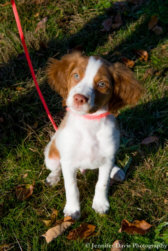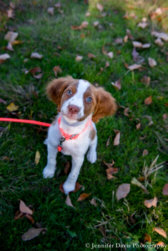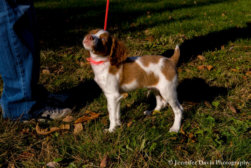 Our Love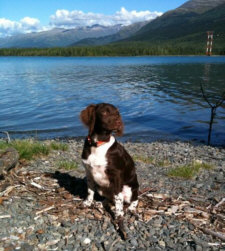 CH Crosscreek Argus' Early Christmas
Barbara, Let me be the first to say, Crosscreek Brittanys may boast of a new Champion pending approval. I recieved a text earlier this evening of the last point/s won by Argus, he only needed one point going into this weekend and the text didn't mention if it was a two or three pt win. Non the less, he did it in Harrisburg, PA. If my math is correct, he completed this at 16 months, incredable. His abilities amaze me everyday, wow!!! So I raise my glass, to you and your breedings of top quality britts. Donovan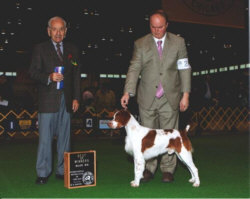 Brittany 3 years old
I`m a guy that bought a britt from you 3 years ago thought you would like to see how well she is doing!! The snow pic she pointing a pheasant in ohio. the other is in back yard.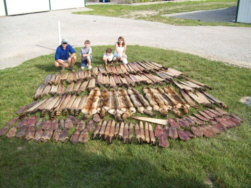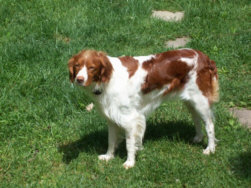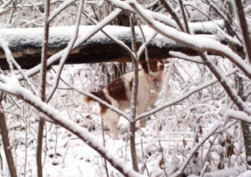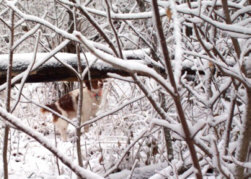 Woody
Hello Barbara, I thought you would enjoy this picture of Woody. He's so handsome! And he looks right in his element. --Tara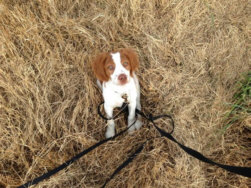 Cooper
Barbara, thought you'd like to see some recent pictures of Cooper. Sofa has become is #1 choice for naps...and for curling up w/Mom in the evenings. He continues to be the "Best Puppy" in the world. Weighs little over 15 lbs. now. He gets lots of exercise - a long walk every single day. Does great with my two cats now as well. Very peaceful co-existence. He's been fetching a tennis ball since he was 2 mos. old - so he must have some Retriever in him - Ha! Referred a prospective buyer to you couple weeks ago. His last name is Farris, I believe. He has a 4 yr. old female Brittany, who hunts with him, and he wants another. His mother lives in my subdivision and she fell in love with Cooper when she saw him; she called me one evening to get all of your info, so hope you heard from him. Thank you, again, Barbara, for my Cooper....Merry Christmas! Phyllis Updike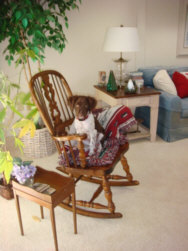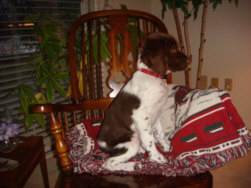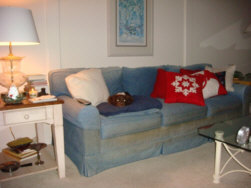 Luke and Abby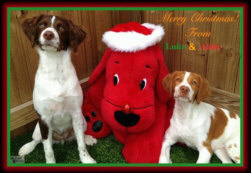 Cabela (Smudge and Female)
Hey here are some pictures from our pheasant hunting trip. She is doing great. From the Bledsoe Family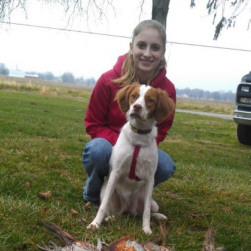 Cassidy - Cross Creek's Wheel to the Storm
Thanks, Dr. Pepin! I've attached a few photos from hiking in Lake Tahoe over the Thanksgiving weekend. Cassidy loves the snow! Best, Virginia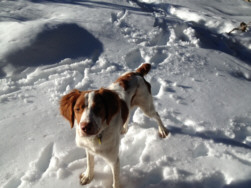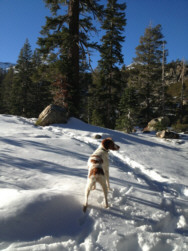 Cloudy
Hello Barbara: I know your busy so I'll be brief. Thought I share a few photos of Cloudy. She has bonded well with her two Brittany sisters. She spent the holiday at Ocean City Maryland running through the surf. She is a great addition to our family. Feel free do use the pictures if you would like. Cloudy is pictured with her sister Penelope. The oldest (Hershey) just likes to watch the other two play. Take care and Merry Christmas! Gary Heubeck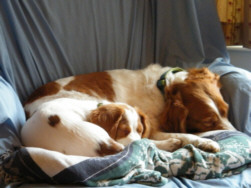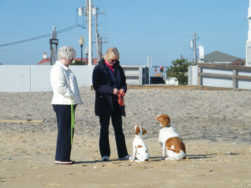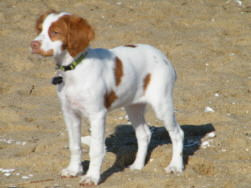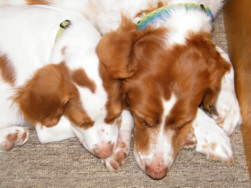 Oliver - Smudge x Coach baby from Dec. 2011
Hi Dr. Pepin, Oliver is doing great. We had a recent trip to Western Kansas pheasant hunting. His endurance for the week was amazing. I was hunting with three other guys and their 4 other dogs and relatively speaking Oliver was amazing. Here are a few pictures of him. Thank you for breeding such wonderful brittanys. Kind Regards, Mike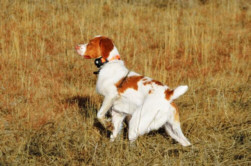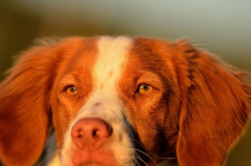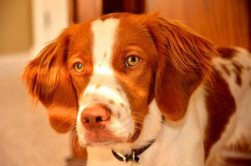 Crosscreek's Maxwell
hello pepins, hope all is well with you. as i promised, barbara, i am writing to give you a progress update on crosscreek's maxwell (your tess boy #3 from 12/10/11). we picked him up from you on 2/10/12. first 2 months, just getting acclimated and acquainted. nothing too fancy, obedience work along with walks. by 4 months, we were walking 4 miles daily. by 5 months, 6 miles daily. at 4 months, basic commands were fairly well established, enough to start controlled fieldwork. started with quartering and dummy retrieving. this boy is a quick learner. at six months introduced him to birds in controlled environment (chukars). this boy is crazy about bird hunting, and good, too. because of the Michigan weather, i did not get a chance to hunt him on ruffed grouse before our s. dakota trip, as i had planned. i really didn't hold very high expectations for the western hunt, but boy was i in for a surprise. first hunt was with one other hunter on Karen's cousins land. max jumped from the truck to the field and never looked back. acted more like a 3 or 4 year old. long story short, i am still in shock over his performance at 9-10 months old. many of the guys i hunted with out there could not believe that this was his first hunting trip and that he was only 10 months old. i think the attached pictures tell the rest. he ended up pointing about 18 birds (some false points), some hens. i did shoot four roosters over him which were absolutely textbook examples of dog work. max is and has been a wonderfully tempered dog. adapts readily to other people and dogs, and our 3 cats too. in my mind his whole attitude, disposition and performance is a result of 3 important things- excellent breeding, consistent and continuous loving training, and good veterinarian care. i plan to hunt him at local game preserves over the winter as weather permits. will keep you updated. from my perspective, whatever you are doing in the breeding arena, keep doing! kindest regards, jeff.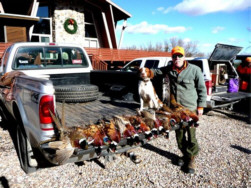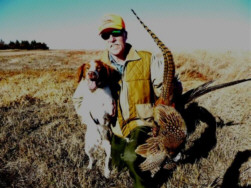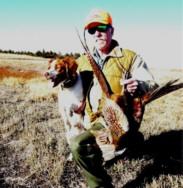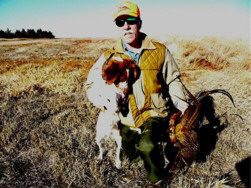 Dutchess First Christmas
This is a Smudge x Ricky girl.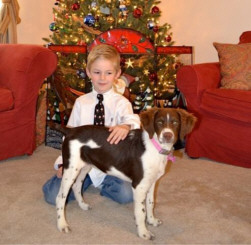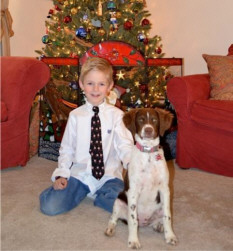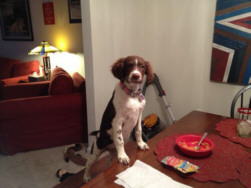 Daisy is a "Ginger and Andy" pup from August 2008 and my Katie is a "Ginger and Phantom" pup from November 2010
Dr. Pepin, Both my son and I have Brittanys. His Daisy is a "Ginger and Andy" pup from August 2008 and my Katie is a "Ginger and Phantom" pup from November 2010. Being retired, I take Katie out almost every day. I think she loves hunting more than me. It's amazing how these dogs have become such a part of our families. She's at my side now and wants to go hunting. She always gets her way. Mike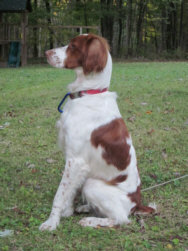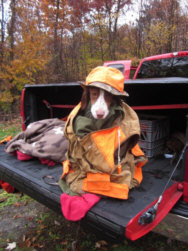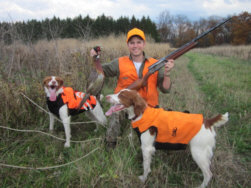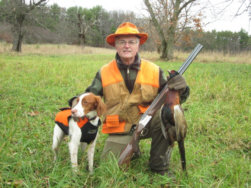 Woody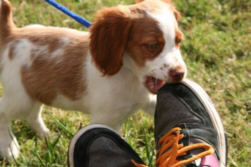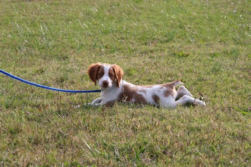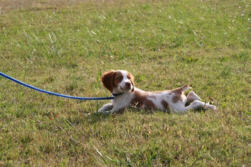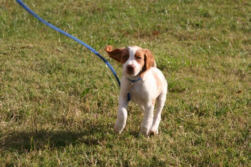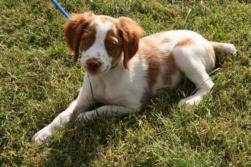 Scout
Scout on point; turns four months old end of this week.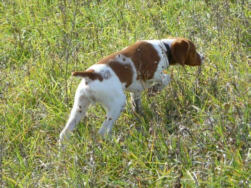 Tule
Hi Barbara, Here's a picture of Tule as of August. She's high-spirited, loves the kids, and will hunt anything that moves! She's a great addition to the family.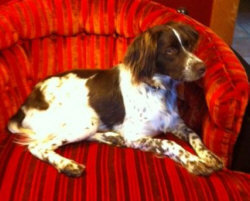 Cooper
Barbara, just wanted to let you know that Cooper is the BEST!!! Smart, funny, lovable, etc., etc., etc. I thought my Labs were easy puppies...but Cooper rivals them! Establishing his routine has been key, so I think the housebreaking won't take very long. I just have to keep reminding myself that his bladder is very small and immature - Ha! Nothing bothers or startles him! A little while ago, he was out in the back yard with my Lab, frolicking in the leaves and the sunshine, when someone started a chain saw in the yard behind me, and he didn't even flinch. He eats well (as you know!), plays hard, naps great - and the best part - never fusses when asked to go in his crate. I have a nice towel in there for comfort, and in case there's an accident, and it's the same towel from Day One - no accidents whatsoever! When I go to bed, I have his crate in my bedroom, and I watch TV in bed for a little while. Doesn't bother him in the least - he goes right to sleep. He wakes me with a little whine around 4:30 a.m. - out we go - then back to the crate, I go back to bed, and all is quiet until we get up around 7:00 a.m. Just doesn't get any better than that! Thank you - Thank you- Thank you! I have the sweetest and best puppy in the world! Cooper is a keeper!! Hug Tess and Ricky for me - their mating made him possible. I hope his sisters' owners have the same great experience that I'm having. Pictures soon! Phyllis
Cache
Hello Dr. Pepin! Crosscreek Knobstone Cache earned his middle name this past week. Attached is a picture of Cache completing the Knobstone Trail. We hiked the double marathon, 54 mile long Knobstone Trail in sections. Early on we did the 2 loops at the northern end of the KT. The middle sections were good trail head to trail head hikes, but southern portion with the tornado damage was a challenge. That had to be hiked piece meal. The March 2nd tornado that hit Henryville so bad seems to have unleashed it's greatest power on the knobs. A one and a half mile wide stretch of the KT was devastated. The tornado ripped and tore out trees between two knobs that straddled Round Knob then denuded Round Knob. It may need to be re-named "Bald Knob". Cache and I bushwacked through areas of downed trees on the KT but in the heaviest hit section we resorted to the logging roads. The pictures attached only give a small glimpse of the damage. Also attached is a picture of Cache as we rested on a knob top by Shaw Lake, north of Henryville. Isn't he the most gorgeous animal?! The picture captured his keen attention. There is so much intelligence seen in those eyes! And look how muscled Cache is getting at 9 months. He is a powerful and swift dog! The last picture shows off that chest a little better. Thank you again for the opportunity to have and to raise such a great Brittany, my Crosscreek Knobstone Cache! Don Frisz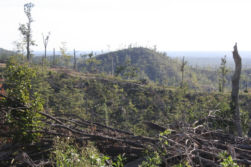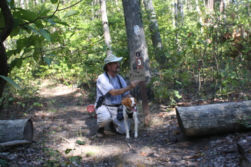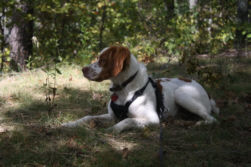 Scout
Just thought you might get a kick out of seeing Scout with our first Grouse taken together, kamikaze Grouse though it may have been, taken last Saturday at our place in the U. P. Obviously, we're not formally hunting yet, by a long shot, but we spend virtually all our time together, ergo, when I'm in the woods, so is he. The only difference is that I'm the one with the shotgun and Scout is the one with the nose!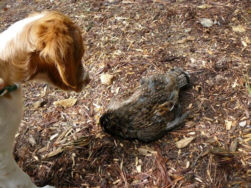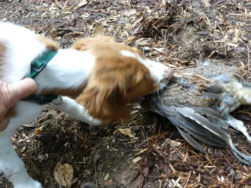 Rip - Smudge Boy 2 arrived in Las Vegas safely!
Dear Barbara, We absolutely adore Rip – he was well cared for and arrived safely last night without any ill effects from traveling – eating, drinking etc. He is getting along well with our golden retriever, Abby and we have an appointment with our vet today to get him on track for all of his puppy needs. Attached some pictures for you and will send others as we move along through his development. He slept well last night and was quiet unless he needed a potty break out of the crate. Have a super day and all the best! Katey Johnson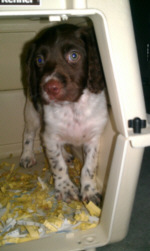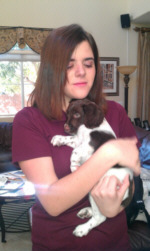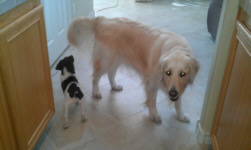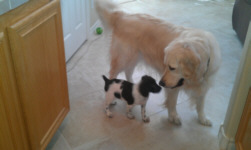 Ranger
Hi Doc. Ranger is doing fantastic! I couldn't imagine having a better dog. He is smart, attentive, obedient (as puppies go) and picks things up quickly. I've never had a dog that was so eager to please! I do want to get him formal training on live birds. I have been reading about Brittanys and training - apparently they do best with softer training techniques as compared to other hunting breeds? Your thoughts? ie no electric collars, etc... Do you have anyone you would recommend? Thanks much! Paul
Duchess - Smudge x Ricky puppy.
She is doing great, loves playing with our Welsh Terrier, and loves her little boy! :)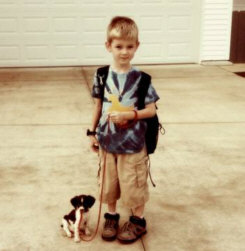 Malina
Dear Dr Pepin, I've been wanting for sometime to send you an update on Malina (Crosscreek Rosie's Riveter) whom we got from you in February 2011 to let you know what a wonderful dog she is. We get compliments on her constantly -- not only for her looks but also for her personality and temperament. Malina is incredible with children -- and actually adjusts her behavior to very young children. While she is active and playful with our boys (ages 9 and 6), she is quite calm around 2 year olds. Malina loves going to the dog park and hiking and while we can't coax her into the pool, she absolutely loved the beach this summer! I'm attaching some pictures. Thank you for such a great addition to our family. Helaine Dryden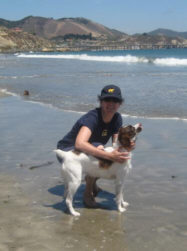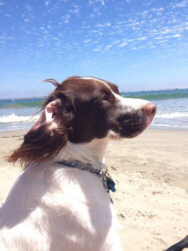 Cache
Hello Dr. Pepin! Cache is doing great and just past his 8th month. He is high energy and always inquisitive. The relationship between him and the other dogs couldn't be better, but some times he's a little too much for old Jack. I missed telling you that the stool eating didn't last long after I did as you suggested to put tomato paste on his food. Also consistency eventually pays off. Cache no longer dives into his food bowl. So as he learned sit, I had him do so for meals. Stay command took a while, but now he runs to be fed, slams his bottom to the ground and waits until I give him the release command. My biggest difficulty is finally being answered. I hike Cache on a leash. The anti-pull harness helped only slightly. I used copious amounts of positive re-enforcement and graded, progressive discipline with the leash. Last week I thought I lost the battle. Cache was just increasingly hunkering down and pulling. Then I remembered you said something about a waist collar. So I looped the leash around Cache's waist in combination with the harness. It immediately stopped Cache's pulling. For The next hike I bought a big chain training collar. It was the most pleasant hike with Cache ever! I've attached a photo to see what you think. And by the way, Cache has only <6 miles to complete the Knobstone Trail's entire 54 miles! Thanks again for Cache and your advise in growing him up. Don Frisz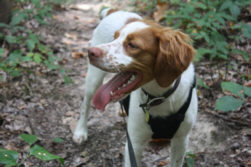 Pennie
Hello- I have decided on the name "Crosscreek Hope for Abe's Pennie". We have absolutely loved "Pennie"! She has already become one of our favorite dogs. We have a two year old male and they have bonded. She enjoys following the older dogs and learns from them. We have taken her with us to different events and exposed her to new people. She is very brave and doesn't allow the other dogs to push her around. Pennie is a beautiful dog and we have loved getting to know her. Thank you! -Kellsie Purdy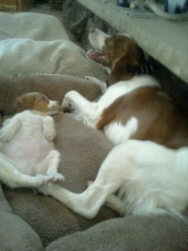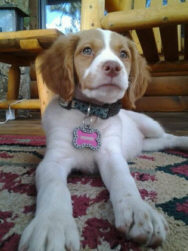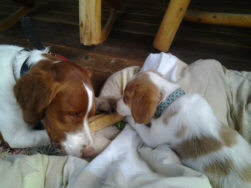 Ginger Boy - Scout
Caption: "But why can't I chew on your toes?" :)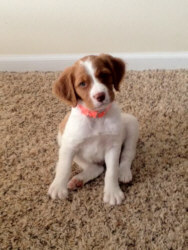 Holly
Hi Dr. Pepin, Thought I'd send you a few pictures of Holly, she's doing great! Allison Doering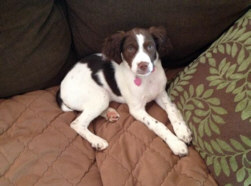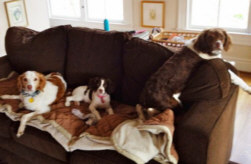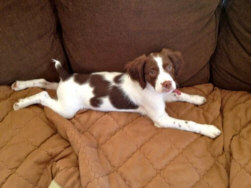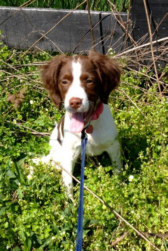 Scout
We love our little Ginger Boy 2 (Scout)! He is so smart and lovable. His training is going well! Thanks for breeding such beautiful Brittanys!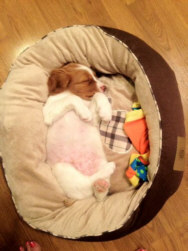 Emma
Just wanted to share a few pics of Emma and sis Rita. She is a great addition to the family and doing very well. Everyone loves her! Thanks again Dan Dunville and family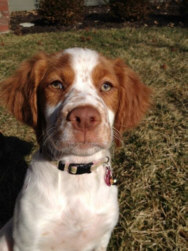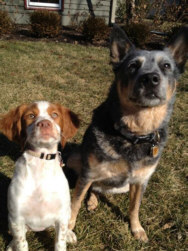 Sable - 4 months old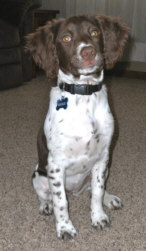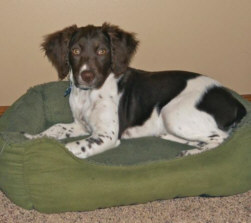 Rowdy and Scout
Hi Barbara, Here are some photos of Rowdy and one of Scout during snake training. The trainer is Web Parton and I have no idea what the snake's name is. The session was very informative. Scout, on the other hand, was not very pleased with his situation after the initial introduction. Needless to say, he will have nothing else to do with Mr. Rattler. More picture soon. Best Regards, Bobby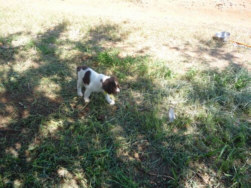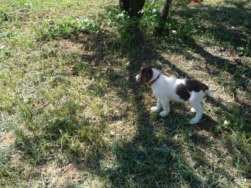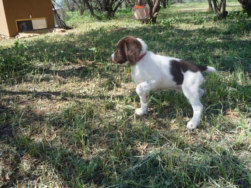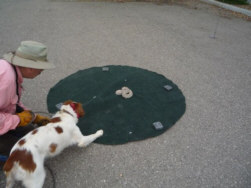 Brontë (Halley x Ricki)
Hello Barbara - Brontë continues to be a sweet, smart girl. We're so happy to have her in our family. Many Thanks - Siobhán
Jewell
Ch. Sparkle x DC Sanbar Crosscreek Repete Call female who is 4 years old now.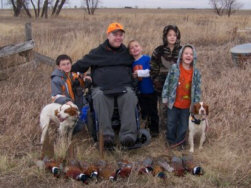 Scout
Hi Dr. Pepin and Amanda! Remember me? I'm Scout who was born Feb. 12 to Ginger and Romie. I'm 5 months old now and am behaving very well for my family Dwight and Ginny Taylor and I live happily with them in OH.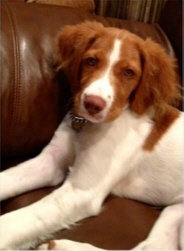 Silky girl 2 "Bella"
Here is Bella @ 8 weeks old.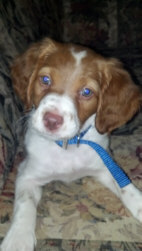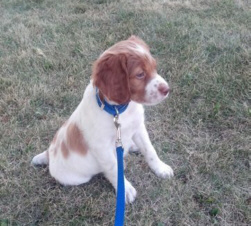 Sadie
Barb Here are a couple pics of Sadie sniffing out the birds at 2 1/2 years. She is a wonderful pet. We have spoiled her terrible. People ask about her breed we tell them she is a Brattney.
Lucy & Annie
I hope you are well. I wanted to share a picture of your 2 girls having fun. Lucy is a complete joy! Take care and stay in touch. Shane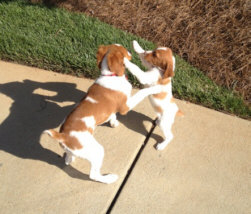 Maverick
Dear Barbara, We just wanted to send you a picture of Maverick's Reign of Glory (Maverick). He was a pup of CH Hope's Ranger Rick and Sanbar Crosscreek Early Call on 6/12/11. He is such a joy to our family!! We just love him! Thanks, Kevin & Kelly Greubel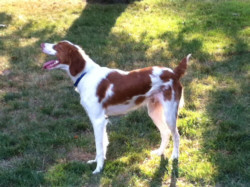 Cooper
greetings from cooper
he is an excellent swimmer :)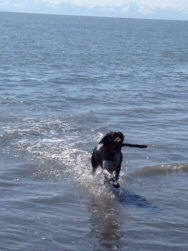 Cinder's Boy 5
Just a pic to show you guys how handsome he is :) can't thank you guys enough. thank you! sincerely, Toby and Carol-Ann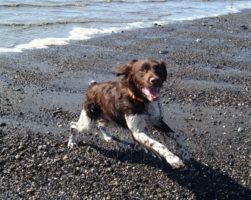 Lola or Buckeye Empire Girl - (Tess Girl 3)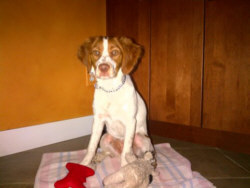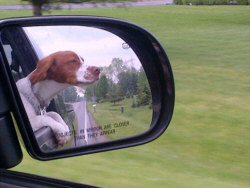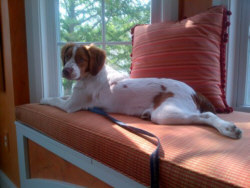 Dafne
Hi Dr. Pepin! Dafne is terrific! She is all up to date on her shot and our vet says she is in excellent health. She is a terrific addition to our family ... our five year old son loves her. We would like to call her Crosscreek Dafne's American Splendor. Have a great day. Patricia Fuentez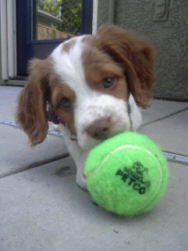 Cache
Cache is becoming an excellent hiking dog. We have hiked up to 18+ miles together on the Knobstone Trail. Two of the hikes were 7+ and 8+ miles in a stretch. I've worn him down but never worn him out! Attached are are a few pictures and a link to a series from most of our hikes on the KT.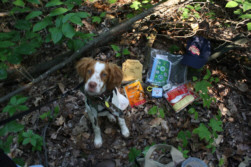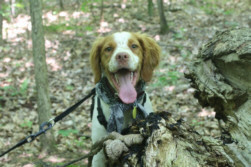 Maggie
Hi Barb, Here's Maggie (Star Spangled Firecracker) - 10 months old - enjoying the garden!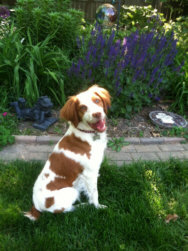 Cady
Barbara - here are some pics of the terrorist. She is spoiled rotten already, and running the house! We have seen signs of hunting instinct already with lots of pointing and a clear obsession with our backyard chickens. She has made the rounds of all of the kids activities and my office and everyone is in love. Thank you for such a good baby - we may be back for another one next spring! Debbie Boltres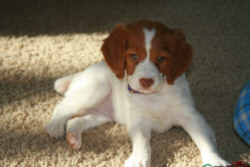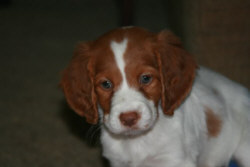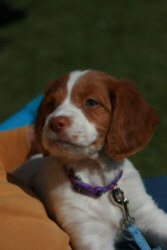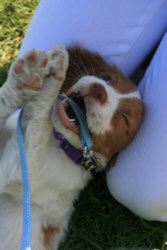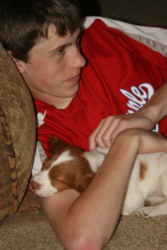 Luke
Hello Barbara, Well, Luke and you are celebrating a birthday on Sunday. It is also my daughter Audrey's 21st birthday. Easter and all those special birthdays. It is truly a blessed day. Luke is sweet, healthy, athletic, curious, and extremely handsome. We all love him very much. I just wanted you to know he is having a great life and to wish you a happy birthday. Yours, Jane Cohen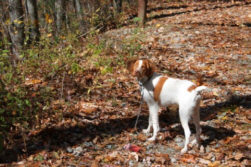 Liberty Belle
Hi Dr. Pepin! I wanted to send you some pics of our Sunny "Liberty Belle" she is the love of my life! She is so easy to train potty trained right off the bat and now rings a bell to go out. She crate trained right off the bat too! No whining or yapping. She was a wonderful puppy right from the day we got her. She likes to chew so as long as she has her toys we are good. We have to keep her out of the garage cuz she likes to eat our shoes... She is a very friendly dog at the dog parks although my friends weimaraner freaks her out cuz he is way too fast for her..=) She is such a joy to cuddle and play with.. She likes to talk a little much at times but gives lots of kisses to make up for it. She really loves me and looks for my extra attention she is a bit jealous of Chad, anytime he is hugging or kissing me she starts talking and jumping for my attention... Her eyes never turned dark brown she has hazel/green eyes which I love. She is the best dog! thankyou! Love- Missy and Chad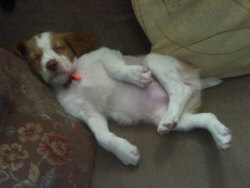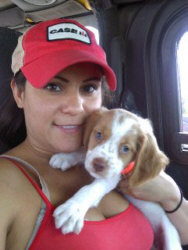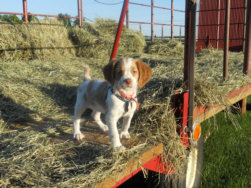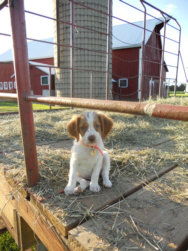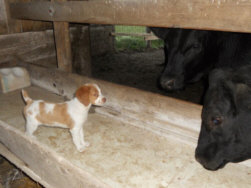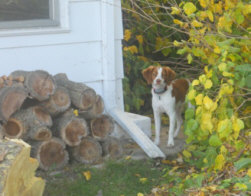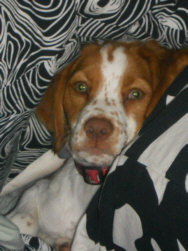 Scout - Ginger x Romie puppy
As you can see, he took to his bed and we wore him out today. He ate well, has pottied outside several times. Dwight gave him the pill and he did great with that. Thank you for breeding such a beautiful puppy!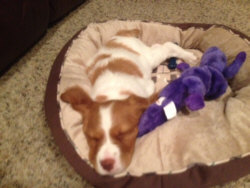 Lucy - Ginger x Romie puppy first week at "home"
She is in a great place and loves her monkey.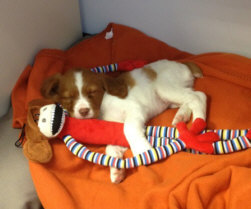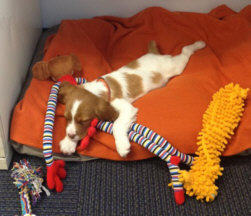 Remy - Halley x Ricki baby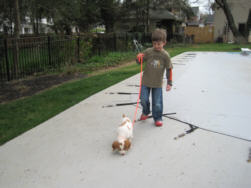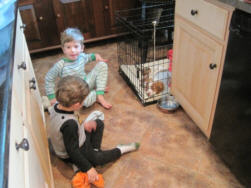 Cabela
Hi just wanted to let you know how our girl is doing. She growing like a weed and is potting training is going great. She is such a blessing and she has us all wrapped around her paw. She has not got to go out much like to the barn since she gets her third set of shots this coming weekend and then she is free to head out and explore the new world we cannot wait. Thank you for our baby she is much loved Angie Bledsoe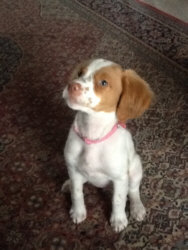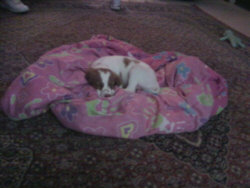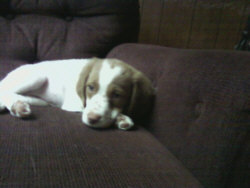 Holly
Hi Dr. Pepin, Holly is doing great!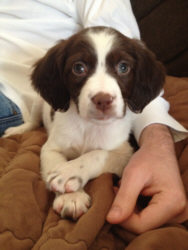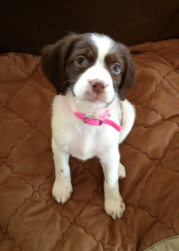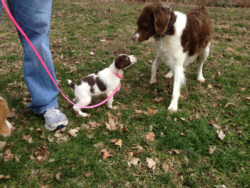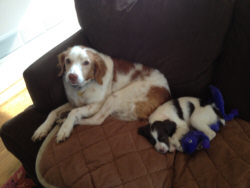 Cache - Smudge x Coach puppy
Hello Dr. Pepin! Cache is making a great transition home. He and the other pets are doing well together. Our fussy Aussie is doing better with Cache than we worried, but it will few days of consistent work. The weather couldn't be more perfect for a first day home. Cache is having a great time outdoors in the warm sunshine and low 50 degrees. Outdoor excursions have been short but frequent. I got some great pictures of Cache playing outside. He didn't exactly point at the trapped starling, but a rustling leaf got him into a perfect 8 week's old point! Cache is playing hard and sleeping hard like a dual champion of both - if there was such a championship. Attached are a few photos. Use them as you wish. Don & Janet Frisz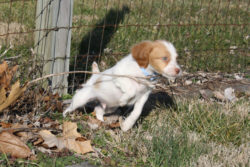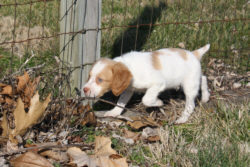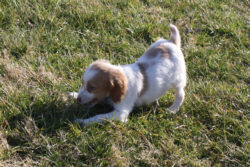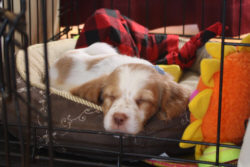 Lola
Lola at 10 weeks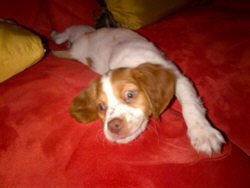 Am. / Can . CH Crosscreek Argus' Early Christmas JH
Dam: Ch. Sanbar Crosscreek Early Call (Annie)
Sire: Ch. Hope's Ranger Rick
Dr. Pepin, A brief update on an action packed 2011 with Ms. Lisa Bettis, Mr. Ryan Wolfe and associates expertly handled Gus to his champion points. Gus completed his American Championship at 16 months of age on April 16, 2011 and Canadian Championship on May 21, 2011. All point wins for his AKC title totaled 2 BOW, 3 WD and 3 majors totaling 1 BOB, 2 BOW with a Group placement. Mr. Ryan Wolfe was the exclusive handler for Gus' CKC title wins that totaled 1 BOB, 1 BOS, and 4 majors totaling 4 BOB with a Group placement. Gus' first field season started in June and finished in September with a solid placement in Open Derby and his Junior Hunt Title was completed on December 11, 2011. Mr Chad Holman is training him by developing his natural instincts of being a powerful forward and fluid runner with an intense point. We now look towards his continued progression and field work in the seasons to come.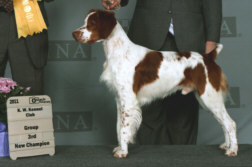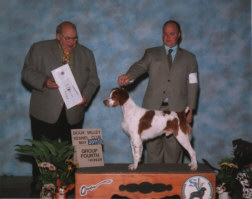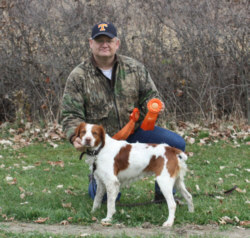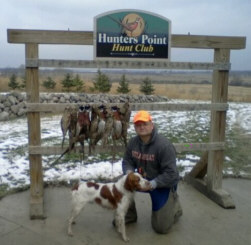 Midas
Hi Dr. Pepin, Just wanted to give you an updated picture of Midas (Cross Creek Callrick's Golden King, Katie boy born 7-14-2011). He has turned into a WONDERFUL dog. Took a bit of training, but things are going so well. We love him dearly, and he is my daughter's best friend. He is amazing with kids and so sweet. Hope all is well. Lauren Shaw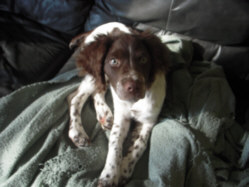 Hunter - Katie/Readi pup
Dear Dr Pepin,
It's been a while since I sent my last update on Hunter - my Katie/Readi pup. That's mainly because whenever he does something cute (which is quite often, I either don't have my camera handy, or its battery is dead. I managed to take this picture the other day while we were working the field behind my subdivision, so thought I'd send it to you. Hope you enjoy it.
Hunter turned three years old in November, and has developed into quite a good hunter. He's "spookie" smart, has an incredible nose, covers ground like a torrent, yet remains within the perfect range for a foot hunter with a pointing dog. He doesn't retrieve quite to hand, yet, but were working on that. Besides, he's the best looking dog I've ever seen, and he makes me laugh. He is truly my best friend! Thanks for the chance to own such a phenomenal dog.
Wishing you continued success in 2012 with both your kennel and your practice.
Hunter's Dad,
Barry Brown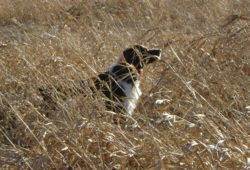 Sable - 3 months old
As you can see, she's growing fast and doing well. We love her to pieces!!! ~Renee Kramer and Family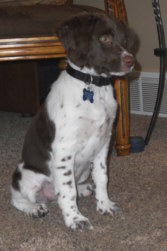 Cache
Hello Dr. Pepin! Amanda made time for Janet and I to see our puppy, "Cache". He is beyond what I could have imagined! I've included a couple of photos. Don Frisz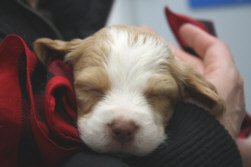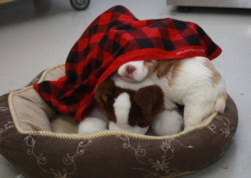 Maggie
Here's Star Spangled Firecracker "Maggie" at 6 months!
Everything is going well... She is very smart; just reminds me of a gangly teenager - she hasn't quite "grown" into her body and she does things even though she knows better :-) We are signed up for a basic manners class in Feb. Our big issue is her jumping and learning "off". Once again she knows but does it anyway! She loves the snow! Runs and runs! And she still loves to cuddle on my lap when she's tired... I love it! I'm sending another picture from today as she was looking out the window at the snow-then you can see how beautiful she is! Thank-you for our Maggie! She is a princess ( in other words she's spoiled!). Sheri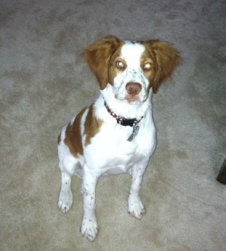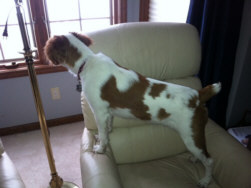 Cooper
Barbara,
I just wanted to update you on Cooper. He is doing great. We love him very much. He is settling down nicely although still very much a puppy also. He was neutered 12-22 and is doing well. He has settled into the family very well and we couldn't be happier.
Thanks again.
Here is a picture of him having a rough day (lol).
Pam DeGeorge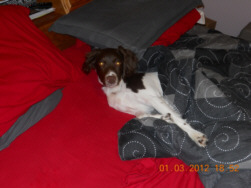 Packer
Dr Pepin
Here are a few photos of our pup. We have named him Packer and he has quickly become part of our family. He was a little scared the first day but by the second day he was playing with all of us and learning to play fetch outside. He is very lovable and cuddly as he loves snuggling on anyone's lap to play or rest. He is a quick learner already doing well with leave it, sit, stay and come. He has adapted well to new people and places. We were all pleasantly surprised at how well he did visiting a new house full of people over Christmas and he loved playing with 3 other dogs! We love having him and thank you for a wonderful pup!!
Take care
Jessica Swenberg.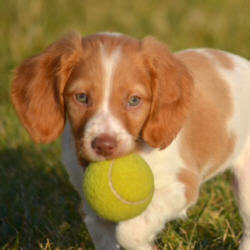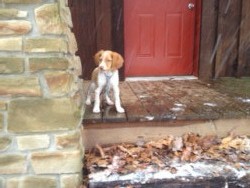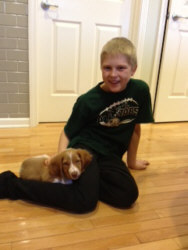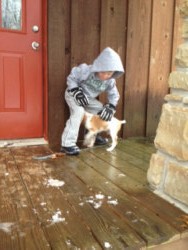 Merry Christmas
Merry Christmas.
From left to right:
left : CH Ataboy's Sunny Voice UV Thundr (CH Ataboy's Fly'n Hi's Casper X CH Ataboy's Rolling Thunder)
middle: CH Castle's Next In Line (CH Sanbar Castle Built On Legends X CH Castle's All In)
right: CH Glaranik Drucie Of Sanroy (CH Sanbar's Call When Readi X CH Crosscreek Sparkling Taffy)
and, the handsome one, yours truly.
Randy Street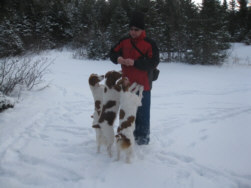 Cali
Dr. Pepin,
I just wanted to send you a note about our Cali.
We got our girl last February to train as a hunting and family dog. My dream has been to be able to successfully train a bird dog. After some research we found you and not far from home. What luck, we could not have found a more perfect fit if we had searched all over the world.
Cali is now 10 months old and has been a pleasure to work with. I have found that she has taken to training very quickly and is well on her way to becoming a legend in our circle of hunting friends. She finds birds easily on scent and holds her point until released. She is beginning to retrieve smaller birds like quail and chucker. She only finds pheasants but will not pick them up. I'm sure as she matures this too will be no problem.
Thanks for representing the breed and providing a top notch dog.
Ben Watters
Maggie
Merry Christmas from Star Spangled Firecracker "Maggie"!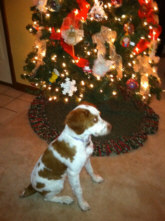 Gun Runner
Dr. Pepin Crosscreek Yankee Gun Runner is a very special hunting dog/companion (Rick x Gatling). In year two, he has come into his own. Pictures include wild pheasants from northern Indiana and a couple of his points. The couch picture in our north Michigan home shows well deserved royal treatment after a grouse hunt. Thanks for the great pal, Fred and Zoe Fields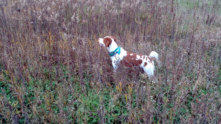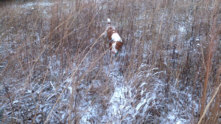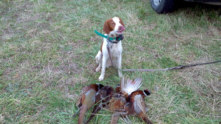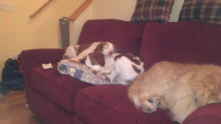 Rudy
Hello! and Season's Greetings!! I mailed out a calendar to you today of "Rudy" - born August 25, 2008 to Ginger and Andy. I have a friend who is a professional photographer and sells to calendars. Rudy is in two of the months of the calendar I am sending your way. I wonder if you can guess which two are Rudy? These aren't even close to being my favorite pictures of him - I probably have thousands of images. He's been in 4 calendars up to now. I have been THRILLED with Rudy - health, attitude, temperament, intelligence, and activity level. We walk 3 to 5 miles per day, every day, off leash - with him hunting the woods and fields most of the time. I also hike with him - year round - up to 10 miles at a time. My next goal is to take a vacation with him - still trying to talk my husband into that one! :) As much as I'd love to hunt with him, we haven't (yet). He points lots of different things - including birds - so there is hope yet. We do some agility, and he's a natural at that; people keep encouraging me to do competitive obedience with him, but I'm not sure either of us want to be that "perfect". Have a wonderful holiday. We may be calling upon you in a year or two for another pup - we have already picked out a name - Sam - and it works well because it can be male or female - depending on which pup we choose. -- Becky L. Andrade
Bennie - Katie & Readi puppy
Hi Barbara, Just wanted to send you some pics of Bennie. He did his first real pheasant hunt a few weeks ago. Ron has not been very diligent with his training and was concerned about how he would do. They released 12 pheasants, 3 at a time. Three immediately flew off when released but Bennie pointed, flushed and retrieved the other 9. He did awesome. As you can see in the pics, he was a bit tired (they were running him through 3 foot tall grass for several hours). After about an hour nap, he was ready to go again. The next morning, we went back out to the field and he immediately found one of the escaped pheasants. He's Ron's best friend. There is also a pic of him on his favorite perch (the couch) looking out the window waiting for Ron to come home, and him napping with Ron. They get along very well. Thanks again for letting us have him. Karri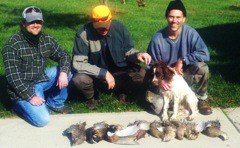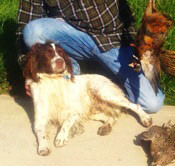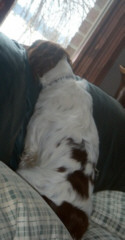 Maggie
Maggie loves running and playing in the leaves! She is so much fun! (Cross Creek Star Spangled Firecracker "Maggie" ....Katie girl 2 born 7-14-2011). We love her! We just finished puppy class last week-she did very well! Sheri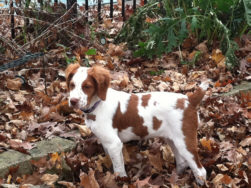 Raider
(Left) He seems to be enjoying his new bed. (Right) Finally got him out in the field.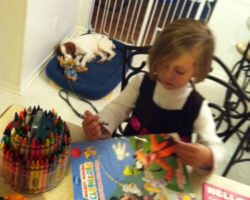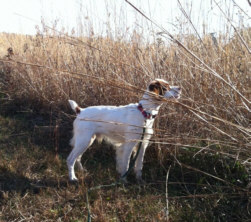 Tabasco
Hi Barbara! We thought you would like to see how Tabasco (previously Tess Boy 1) is doing. His registered name is Cross Creek's Southern Uncle Same continuing the theme of his litter. He is an absolute joy and we are so lucky to have him. He is one of the most handsome and sweetest dogs we have ever had the pleasure to be around. We cannot go anywhere without people stopping and saying how wonderful he is. We even had a car pull over the other day after they saw us at the park to meet him. Even our vet's office is upset now that they will not see him for awhile since he has completed all of his shots. His best friend is our cat Magnolia and one of his favorite things to do is to find and "point" her when we are outside. He loves running with daddy in the mornings followed by park time in the afternoons with all of his canine friends. We can't imagine life without him! We will continue to update you as he progresses into an adult. Here are a few pictures of Tabasco. We hope all of your dogs are doing well and that your kennel continues to find success. You truly breed quality dogs! Sincerely, Victoria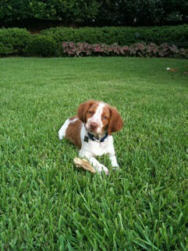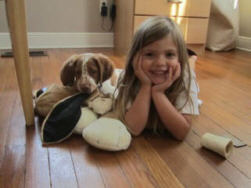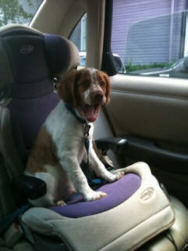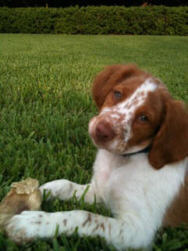 Maggie
Hi Barb, Thought you'd like to see how Maggie is growing....she is beautiful and is doing great! We had friends over for dinner last Sat and they wanted to take her home! Sheri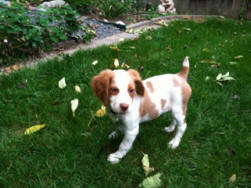 Bailey
Bought Bailey about a year ago. We picked her up on our honeymoon, she fit right in with our Beagle and Miniature Daschund. She has so much energy, and such a personality. There are four things she loves to do; run, hunt, sleep, and run. She has been such a wonderful addition to our family. Thanx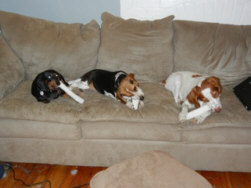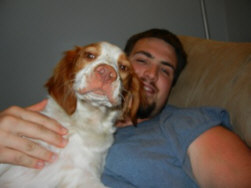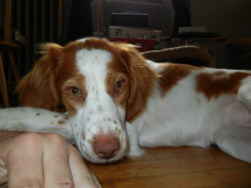 Neffie
Dear Dr. Pepin, Neffie made it to her new home without a problem. She slept most of the way home. She has been very active and inquisitive and has a very healthy appetite. So far so good. Oleg Wasynczuk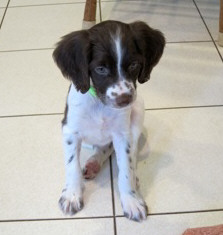 Cross Creek Winter Lilly
CNEBC Specialty Fitchburg MA 8/2011 Cross Creek Winter Lilly 19 mouths old, owned by Sandy Smith

Sadie
Barb, Enclosed a pic of Sadie. Hard to believe she will be 2 October 9. She is doing great and a real companion. If I could get her to quit sneaking bugs in the house things would be better. I take her out about 10 in the evening before she lays down for the night. I had a feeling something was not right when we came back inside. In the kitchen she looked at me with her mouth closed tight and she wouldn't look me in the eye. I told her to drop it. She opened her mouth and out flew some kind of large bug which I had to chase down as it flew from room to room. Other than that she is great. Hope one day to bring her back for a good check up. Mike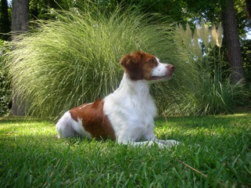 Toni Boy 5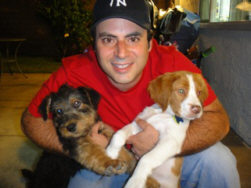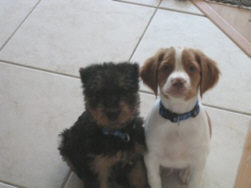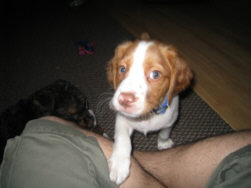 Peter Biagiotti's Brittany


Happy Hunters

Benjamin is a Cinder x Ricki puppy
Hi Barbara! Well the little one did really well last night (only up every two hours!!!). Seriously, it is so wonderful to have a baby in the house. We've settled on Benjamin (or Benji, or Ben-Ben, or Been Jammin'...you get the idea) and his registered name will be 'Cross Creeks Freedom's Ranger'. As promised, here are a few photos. More to follow. Thanks again! Carla and the Mize Family
July 2011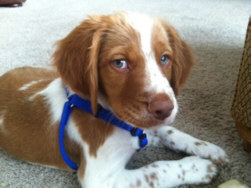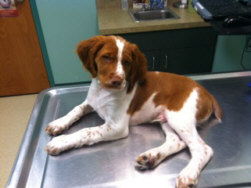 May 2011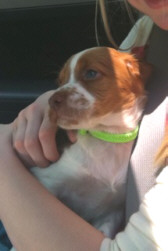 Banjo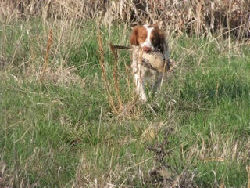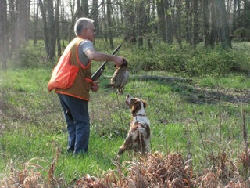 Sadie is a Silky Girl
Sadie at 18 month's doing what comes natural. (Besides eating everything)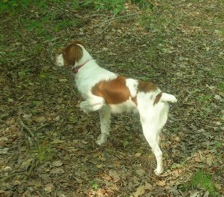 Taffy & Lilly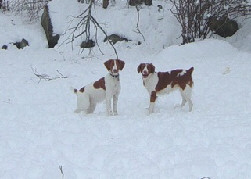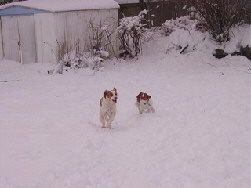 Crosscreeks Lincoln's Lucky Penny
Dear Barbara! We are totally in LOVE with our Brittany that we named Copper (AKC registered Crosscreeks Lincoln's Lucky Penny). We purchased him August 14, 2010 and we can't believe it's been 7 months with our pup! Sorry it's taken me so long to send pictures, but we wanted to let you know how happy we are with our dog and how happy he is living with us. He's such a good dog! Lovable, gentle kind, playful, and oh so easy to teach! Thank you so much for such a wonderful dog, he is truly a great addition to our family!!! Diane & Dave & Zachary & Shelby Smith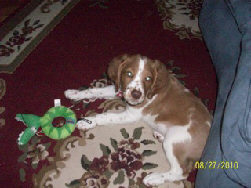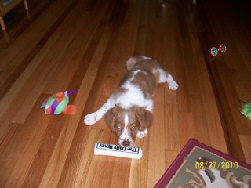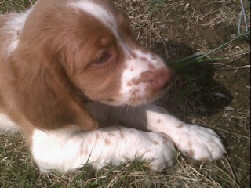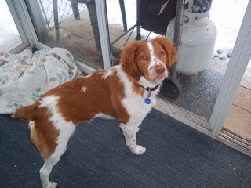 Archie Brannan
This is our lover boy & his best buddy Morgan having a heart-to-heart. Archie is a pup of Ricky & Copper. We love him dearly! Andy & Lecie Brannan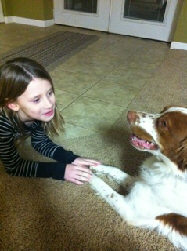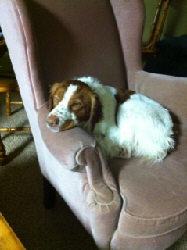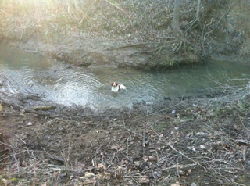 Belle - Ginger x Phantom puppy
Here is our Ms. Liberty "Belle" previously known as Ginger #4. She is a great addition to our family. She is so well behaved and absolutely loves the outdoors. She was potty trained in less than 2 weeks and has done great. She is full of personality and loved dearly. Thank you for the addition to our family. We will be watching the site in the fall for another adoption.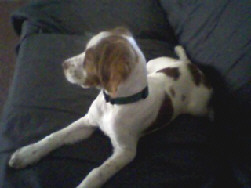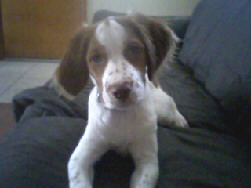 Argus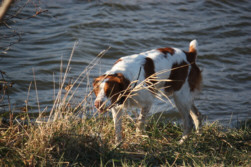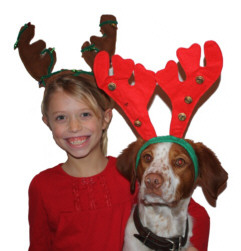 Daisy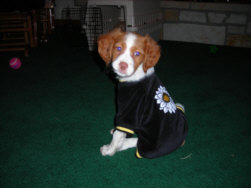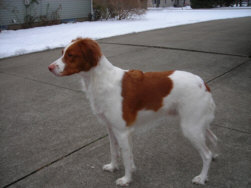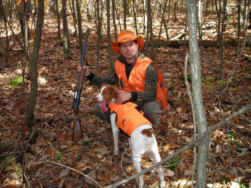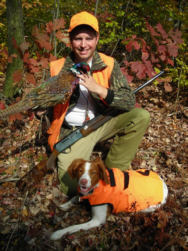 "Willy" Crosscreek Sanbar Smitys Willy B Bad
Crosscreek Sanbar Smitys Willy B Bad went to the Springfield Illinois Show Sunday October 24 and came home with a Breed win!
Parents: Ch. Hopes Ranger Rick and Ch Sanbar Crosscreek Early Call BD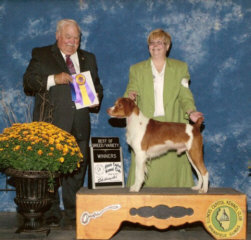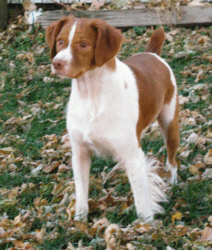 Derby
Dear Dr. Pepin, I want you to meet Derby. She is an Andy/Ginger puppy born May 2nd 2009...Kentucky Derby Day! She is spoiled, mischievous, stubborn, and absolutely electric, and we cannot imagine life without her. Derby has brought so much love, humor, and fulfillment into our lives. She gets along with anyone and anything, travels beautifully, and is the consummate companion. Thank you so much for such a kind, bright, well-dispositioned dog. Derby is our first brittany, but she won't be our last! We will know where to go when we look to add to the family. Attached are some pictures of our little Derby! With warmest thanks, Robert and Maddy Mavrogordato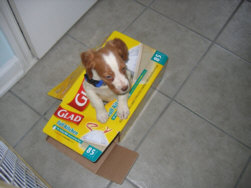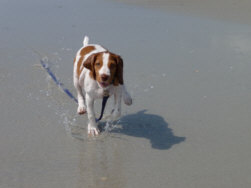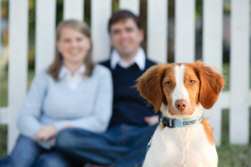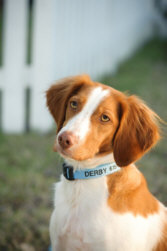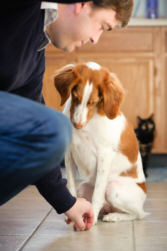 Boomer
Barbara I just returned from South Dakota. Boomer and Daisy could not have done better for this stage in development. I am starting to see those stylish point with a front paw up from Boomer. Daisy is getting consistent with her retrieves. Both did a great job quartering within range. Boomer is better at nine months than I could have hoped for. They compliment each other well. Thought you would like to know. Jim
Barbara, I had Boomer out today for his first solo hunt. He did great, Hid the cover well and is starting to show some nice points. We were on a hunt club so it wasn't like wild birds. He and Daisy will be heading to South Dakota in about ten days for an annual hunt and later to southern Illinois in December for quail. I kept Daisy back today because of Boomer's tendency to want to follow her. Both are doing very well. Daisy is now 2 years and 5 months and 30 lbs. Boomer is a big boy at 9 months he is about 45 lbs. They are quite a contrast in body structure. I hope all is well with you, family and clinic. I periodically get on your website to check out the dogs and pups. Jim Hasken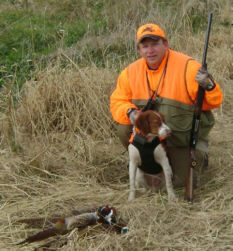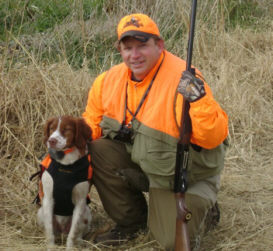 Oyra - Cinders and Ricky Girl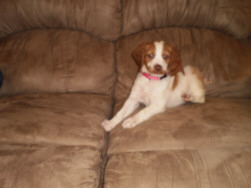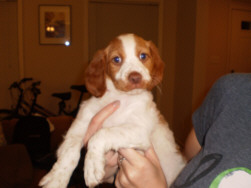 Taffy
Taffy when she got best of breed in RI this summer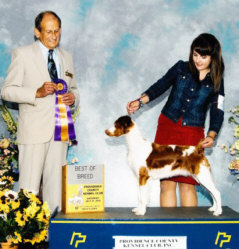 Micky - Crystal Boy 4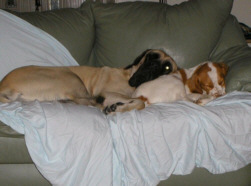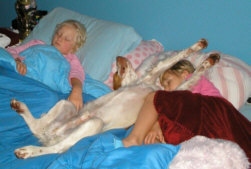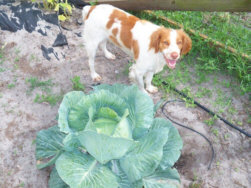 Banjo Hunting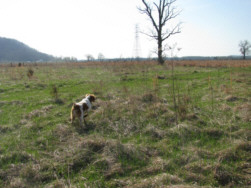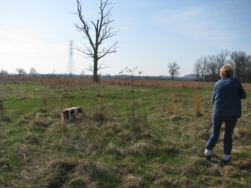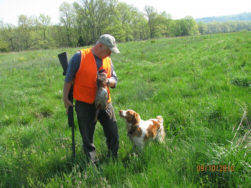 Kora
Dear Barbara, These are new pictures of Kora's at almost 16 weeks. She is doing great. She got her 16 weeks vaccination was a little drowsy that day but next day back to her energetic self. She is able now to follow several commands and walk on the leash (some times a little off).She definitely lets us know when she needs to go outside to relief herself only occasionally she still may pee in her space (but not in the crate that she still sleeps thru the night). Kora loves to play with different toyes and gets so exited when she gets a new one. We went lately to dogs competition "flying ball" that 2 of my nurses (their dogs) competed and Kora was so well behaved (would greet nicely people) , she was slightly overwhelmed by noise that all dogs generated but she would not back off she just made sure she stayed close to us or (better on our lap while watching). People were asking about the breeder who created such great line of Brittany so we were telling about Cross creek and you. Thank you again for great dog and I will keep you updated with Kora's development.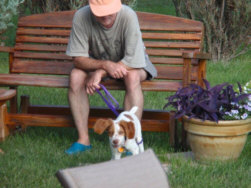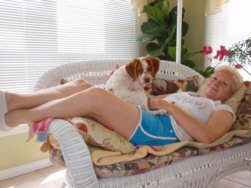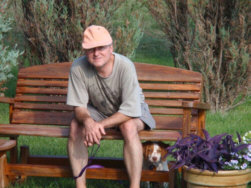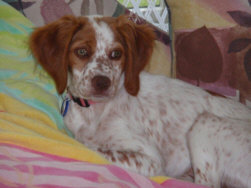 Sadie
She is a Silky x Ricki baby. She looks just like her mother.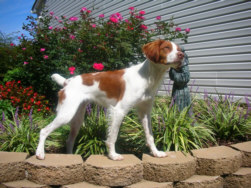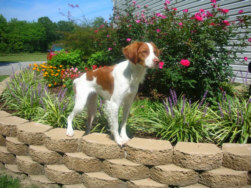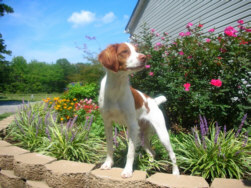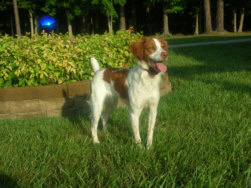 Tiger
Just an update on the pup we got from you. He's a great dog! Loves playing with the kids and swimming. He loves going for boat rides. He stays near the house without any kind of fence and sleeps in his bed at the foot of mine. A fantastic pet! Thanks!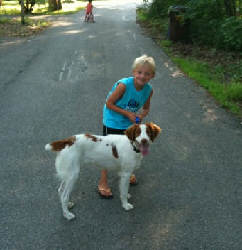 Riley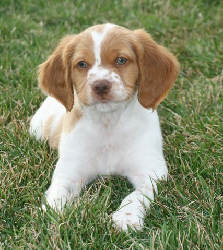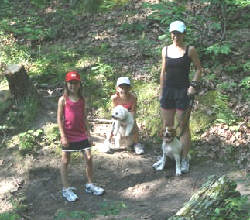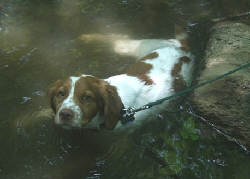 Hunter - Katie's Boy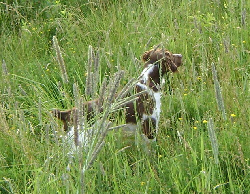 Kora - Katie Girl
Hi Dr Peppin Kora (Katie's girl 4 from April 9th litter) she is doing great. She is now at 13wks 13 lb playful and continue to be happy. We are trying to have some socialization with people and Kora was very friendly to everyone at some point became "hyper" so she went to cool off to her crate. She now is able to obey few commands: live it, sit, go to crate, come here... I got some books: dr Ian Dunbar "after I got puppy" and read and apply recommendation. Kora is a fast leaner and next month we going to start obedience classes. Thank You for such great dog there are few attached pictures of Kora she now has some many beautiful freckles Maria and Klaudiusz, Peoria, Il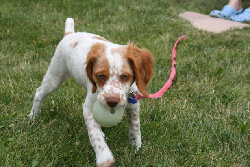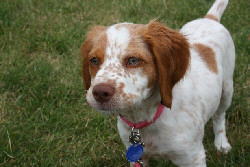 Cooper - Ginger Boy 2
Hi Dr. Pepin, It's been almost 4 weeks since I picked up my puppy (Ginger Boy #2) and I just wanted to give you an update on how he's doing. I decided to name him "Cooper," although there was no real reason other than I liked that name. Cooper traveled back to Pennsylvania (11 hour drive) surprisingly well. He slept most of the way with the occasional whimpering. The first few nights were a little rough because he missed his littermates, but after that he started sleeping 5-6 hours through the night. He has adjusted well and continues to grow like a weed. He currently weighs 10.5 lbs and enjoys playing with my mother's 2-year old black lab. I've been socializing him and am starting a puppy class next week with him. Cooper is a quick study and already knows the commands "sit," "down," " stay," "shake,", and "come." My focus now is to get him walking on a leash. It's been a pleasure working with you and Cooper is everything I was hoping for. I'm attaching some pictures so you can see him……I love his markings. Have a nice weekend! Sincerely, Ben Miller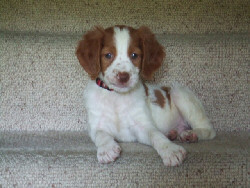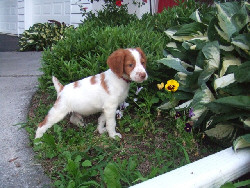 Hannah - Dram Girl
Hey Dr. Pepin! This is Kaleb from Illinois who bought Dram Girl 1. Just wanting to give you an update on her! Her name is Hannah and she is best friends with our lab Bailey. They love to go to the park together, so we took some pictures for you today so you could see how much she has grown. Hannah loves truck rides and has really taken to the crate really well. She is very smart and potty training is going well! She starts to whine when she needs to go outside so that works out great. Feel free to attach these to your website or post them wherever. Sincerely, Kaleb Kraft

Boomer is a Gatling x Ricki baby
Barbara Boomer is now 3 months old. He is at 17.2 lbs at his vet visit this week. I have had him working with quail wings which he has started pointing. He and Daisy are doing very well together. I have attached some pictures. I hope all is well with everybody at your place.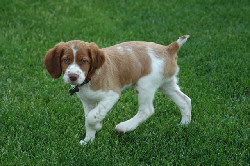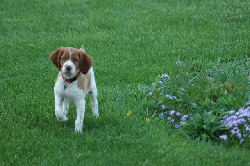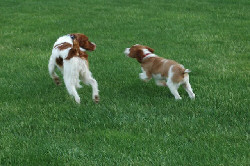 Indy
Hi Barbara: Indy is doing great! He is so smart and a really sweet dog. Here is a picture from the weekend we got him and then one from just the other day (about 4 mos.). He is 14 pounds and just completed his shots for the year. He goes in for his surgery to be fixed on Monday. The kids are in heaven and we're enjoying him too (except for the early morning wake up calls!)… Thank you again for everything! I hope that you are doing well. Best, Jessica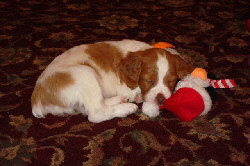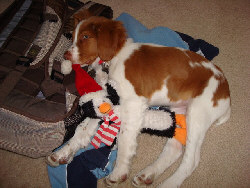 Argus - Annie Boy
Dr., I just wanted to drop you a note, Argus is doing great. He has slipped right into place in our home just fine. He accepts the collar and lead, likes his new crate at night and hardly makes a mess on the floor. If he does, it is because we are to slow in getting him out side quick enough. Because of the many hours I spend with him in the truck, he has learned his name, and possibly understands "stay". Most definitely, he understands, "NO" when trying to nip at dangle clothing, ie pant cuffs, zipper pull tabs, and my daughters long hair. Earlier today on our walk, he became very birdy, he set up on a shrub row, and as I closed in 5 or 6 morning doves flew up, It was the greatest to see. I can't wait to see how he'll do with formal training later on. He has been registered with AKC as "Crosscreek Argus' Early Christmas" and pet-link. Thank you for a great dog. Donovan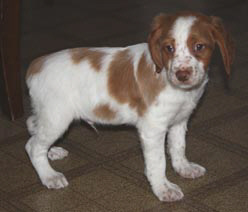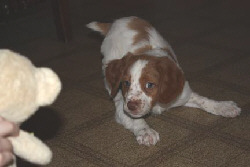 Cinder x Readi puppy
Pup is doing very well, see photo. The beagle is 12 lbs, 3 months, and we are careful their play doesn't get out of hand, but they are adjusting. We will keep you in touch with how he develops, he is a charmer. Tony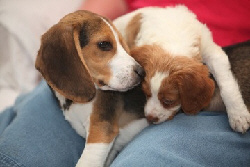 Abby
Abby has been a joy. Some pics to enjoy. Thanks Frank and Sally.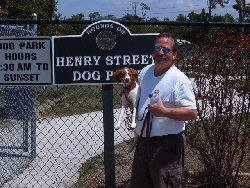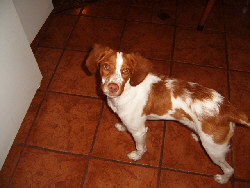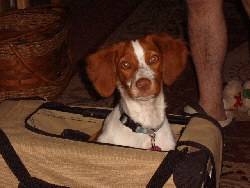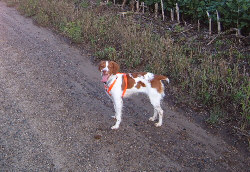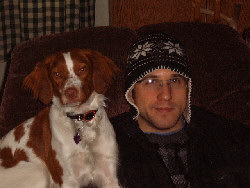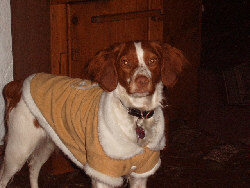 Otis - Copper x Ricki puppy
I thought I would send you an Update on the pup I bought from you a year ago. Otis (copper's pup) is the apple in my eye and the beat in my heart. He has started hunting this month and he is a born natural. I have included pictures of him. Feel free to use them on your web site. Thank you, Otis' Dad, Howard Lavalette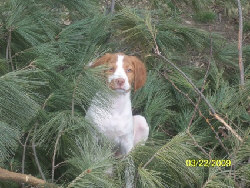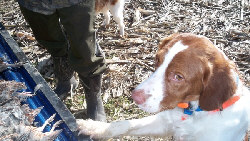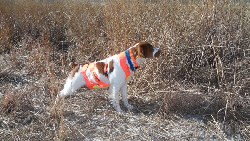 Sadie - Silky Girl 3
Barbara Sadie (Silky Girl 3) is doing great. Her house training is good. Has a accident once in awhile, but farther apart every day. Went to puppy kindergarten last week. That was interesting.6 dogs total. Was good for her to be involved with other dogs and people. This Saturday we go to a Upland Bird competition in Keysville,VA. Will be her first time around that sort of thing. See if you can open the pics. Thanks Mike Roe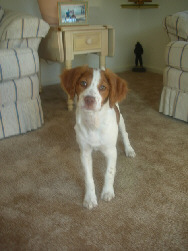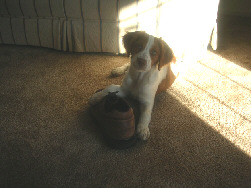 Magnum
Here are some pics of "Magnum" and our son Aadon. Hope you enjoy them!!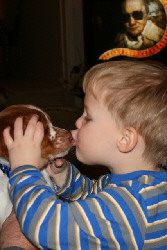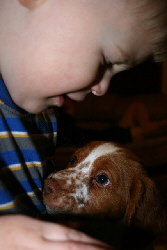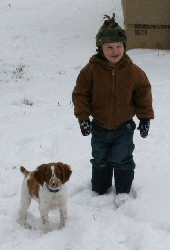 Gunner
"Gunner" is doing great. The kids (Maggie and Will) are really enjoying their new friend. Thank you. Bill Tibbitt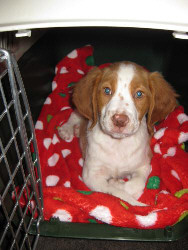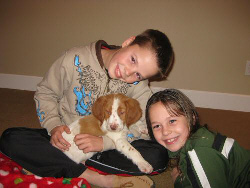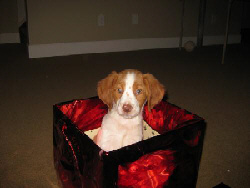 Greta
There is always something to look at out our back window. Today, Greta got a bonanza - squirrels, birds AND turkeys!! Polly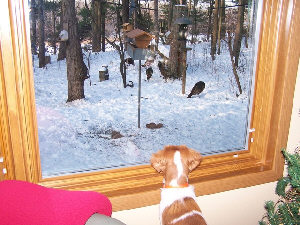 Denver is Ch. Peyton x DC Hope's Bouree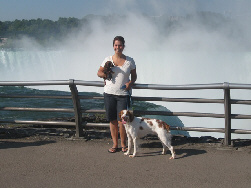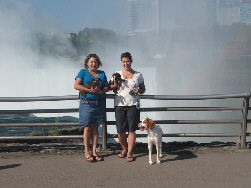 "Rusty" Halle 3
Happy Thanksgiving Dr Pepin! We are having fun with "Rusty" Halle 3. Thanks for such a wonderful pup. The Collins Family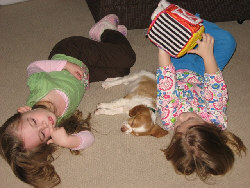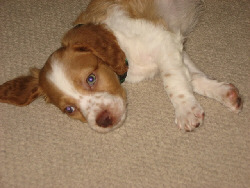 Sadie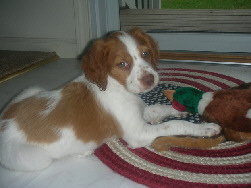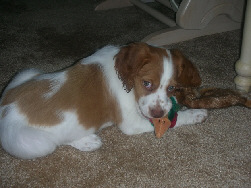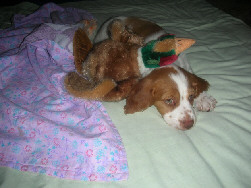 The picture is of "Sadie" (copper's female puppy) and our 2 1/2 ear old daughter..............already working with a pheasant wing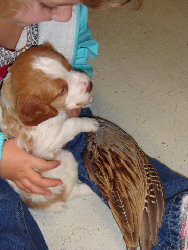 Amber
Dr. Pepin, We have one of your Brittany's from 4 years ago. She is the sweetest thing ever. I believe her mother was Cross Creek Gatling Gun Girl. We would like to add another Brittany to our family. Our desire would be to get a liver and white puppy if possible. Whatever the time line will be. I will be sending you a deposit. The Leineberg family P.S. I attached a picture of the kids with "Amber".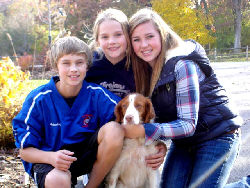 Dakota's First Hunt
Barb, Thought you may enjoy a couple pics of Ruby & Ricks pup from their Feb. 14th's 2009 litter. This was his first time in the field and what a fine job he did.He is a true joy !! John & Deb Wise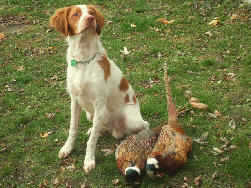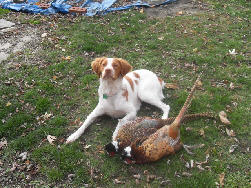 Ginger II
Monday will be the sixth and final week of puppy training program at local Petco. Monday is graduation day. Ginger doing very well with all the training but she sure fooled us because she is very playful and aggressive with the other puppies. Sure not like we thought she would be. Lots of energy. Ginger and my older dog Lucky have become fast chums. Thank goodness for Lucky as she wears Ginger out or maybe its the other way around. She is asleep in my office in the chair by my desk as I type this. Just like my Ginger I. She already follows me everywhere and of course is in to everything. One of the lessons in puppy training was to "leave it" followed by a treat. Boy can she do that well. But now its a game and I think she does some things just so I will say leave it to get her treat. Pretty smart. I am attaching some pictures and I hope they come out. My wife and I sure do love her.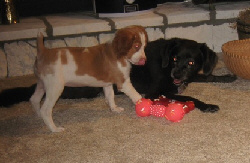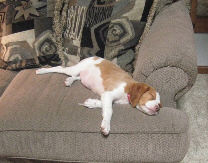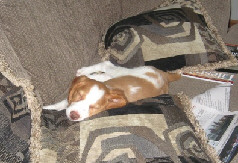 Augie
Augie Jessie and Boomer baby and is registered with the AKC as "Cross Creek Auggie's Redbird Feathers"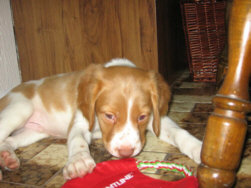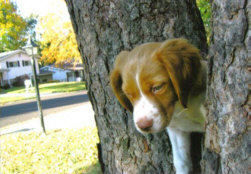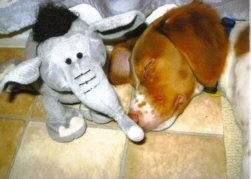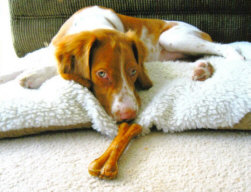 Rudy - Calendar is a boy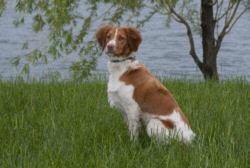 Rebel - Annie Boy
Hi Dr. Pepin, Here are some pictures of Annie Boy 1 when he first came home and more recently. His name is now Rebel, it fits him well. After watching some old Andy Griffith shows Johns wishes we would have named him Opie because of the red hair and freckles.(maybe the next one) Rebel is doing well and is very loved. He and our cat get along wonderfully, they play together all the time. It can be very entertaining to watch although I think he gets frustrated because Spot runs up to the back of the couches and Rebel isn't allowed to do that. We sent Rebel to Bark Tudor Obedience School for four weeks. He went everyday made friends and learned a lot! He does sit and down on verbal command or hand signal, waits at the door, goes to his place does leave it and comes when called. I can even place a treat on his paw and tell him to leave and he will! He has also visited that bark park and made friends there, he likes to run with Ollie the Italian Greyhound. Thank you for bringing this guy into our family! Kristy Sebring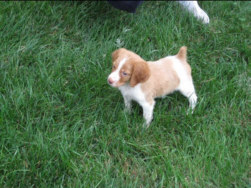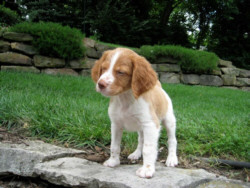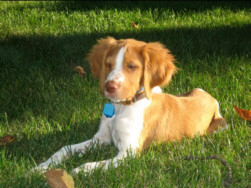 Frenchie - Ginger and Andy Puppy
Attached are two recent pictures of our Ginger and Andy little boy, now named Frenchie. He is growing like a weed. We took him to a puppy kindergarten class and he did very well. He loves to meet new people and enjoyed learning the puppy agility course they had. He's doing well in potty training but is still nipping a little. He's a little charmer. Thank you so much for sharing your puppy with us.

Jackson
Hi Barbara - all I can say is wow! We tried the restraint training tonight and it made a huge difference! I also talked to the family about the biting and have everyone on board with not tolerating any biting at all. Between the two things, Jackson is a different pup. I'm completely amazed. I think maybe we needed "permission" to be firm with him. He is such a joy! He's so much fun and we all love him so much! We are now working on getting him to stop eating mulch out of our gardens. I have left the leash on him so that we can get him more easily when he's in the yard, but it's a big yard and sometimes hard to get to him when he's eating everything. I know these are typical puppy things and we will work it out. I'm attaching another picture of him with his big sister...Winnie is adjusting as well, but she is so tolerant! Thanks again! We will keep in touch as he gets bigger and bigger! Best, Claudia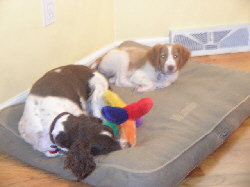 Max
Greetings, Had some pics of my Brit, Max. He may have been the last of the litter to go, but he is very loved! -William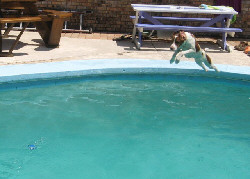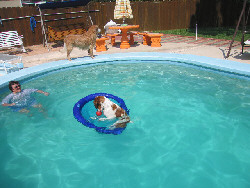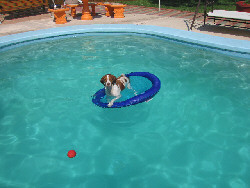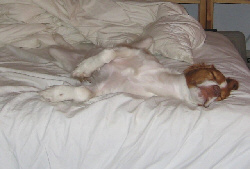 Remy
Barb, I thought you might enjoy these photos of Remy (Remington) jumping into our pool to retrieve his ball. He likes to swim laps in the pool to cool himself off when it gets hot. He has been a great dog (not without typically puppy headaches) and did really well in the field last winter. Thanks, Todd Henneike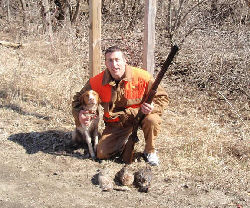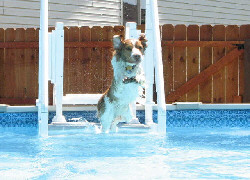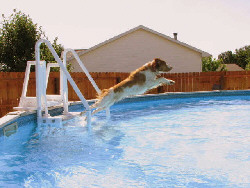 Greta and Shandy
Dr Pepin - Thought you would enjoy a few pictures - the one of the two girls together was taken just a few days after we got them home. We had Shandy (Hilly) here for three days before our son took her home. They are both doing well. Greta missed her sister the first day, but since then has bonded very nicely to Jim and I. We reunited them over the weekend and we are all sure that they had no trouble remembering each other. They had a great time fighting!! The second & third pictures are of Greta and were taken just today. As you can see, she has grown considerably in the two weeks we have had her. She is being a great pup. Crate training is going very well. Thanks to good weather and very few mosquitoes, we can spend lots of time outside with her which she just loves. Greta has already stolen our hearts and I know that Shandy is very dear to Mike. It is amazing how much such a little creature can add to one's life. Polly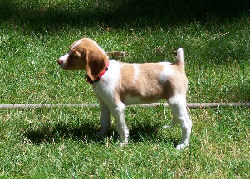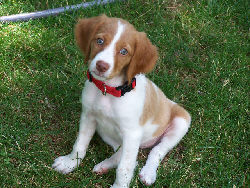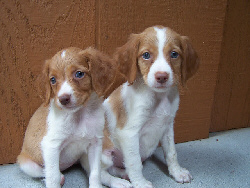 Dakota - Ruby's Boy
Barb, We thought you might enjoy some photos of "Crosscreeks Cupids Revenge" (Dakota). He is a true joy to have. It is obvious, even at this young age, that he is from excellent breeding stock. Thank you for our little "revenge" !!
Deb & John Wise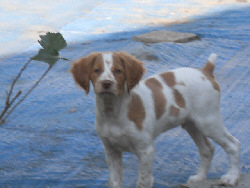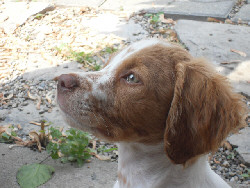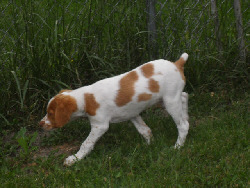 Koda - Ginger & Andy pup
Hi Dr. Pepin, We have been meaning to send you a picture of "Koda" for a long time. Koda is a Ginger/Andy pup from the August 25th 2008 litter. We love him a lot. This is a picture of him enjoying a recent spring snow storm. Koda will start his bird training this coming August. The trainer took one look at him and said "you've got a bird dog here". Can't wait to see him in action. Thanks for a great dog! The Crowther Family, Barrington Illinois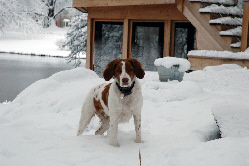 Vanmeter Puppy
DEAR: BARBARA, JUST A QUICK NOTE TO UPDATE YOU ON OUR PUP, SHE IS NOW 6 MONTHS OLD AND QUITE A HAND FULL, BUT WE ARE ENJOYING HER EVERY DAY. SHE NOW IS 25 POUNDS AND STANDS 14 INCHES AT THE SHOULDER. ATTACHED ARE A FEW PICTURES. HAVE A NICE EVENING, SCOTT VANMETER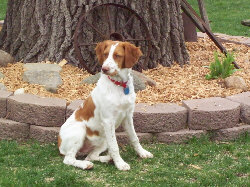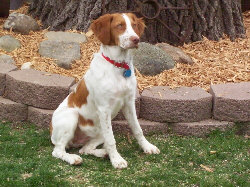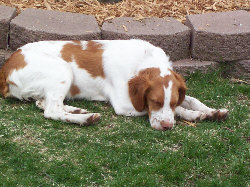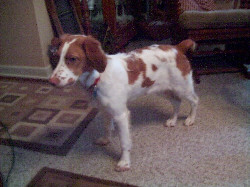 Cross Creek Yankee Doodle Daisy
hi all!!...it took me forever to find the pictures and insert into mail!!... much better than an attachment!!...this little lady is spoiled rotten....who's fault is that?... hmmmm?...but she is a sweetie pie!!...anyone interested in taking her for pottie training?.... hmmmm?....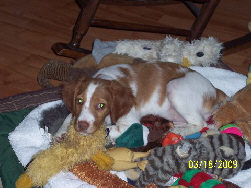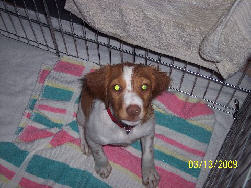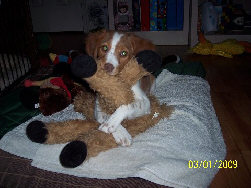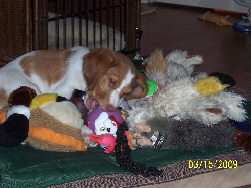 Hunter is a Readi x Katie Boy
Dear Dr. Pepin,
Greetings from Grand Rapids! Just wanted to give you a quick update on Hunter (my Katie-x-Readi pup), and send along a new photo. He turned seven months old on Monday, and he looks to be all grown up. That "cute" puppy stage has passed way too quickly and he's turned into one beautiful dog! I have him pretty well trained on heel, come, sit, stay, etc., but we're still working on not jumping up on people and nosing around on the countertops. He's incredibly smart. I walk him on a retractable leash, so I can keep him at heel during our walk, but release him to run in the field or play with his little buddy "Mojo". It has a short strap near the clip, then attaches to a chord. He's figured out that if he holds that strap in his mouth, it gets pulled out of his mouth when he reaches the end of the chord, and he stops running before it yanks on his neck. How many puppies figure that out before the age of 6 months? Now I may be a bit biased, but I think that's real close to human reasoning! And his nose is as sharp as his brain! He's always got it up in the air to catch the slightest scent. We don't have many pheasants in Michigan, but there is a small flock of wild turkeys that live in a woodlot that borders the field behind my subdivision. He's sniffed out and flushed a turkey during our field work on each of the last two mornings. I can't wait to start his formal bird dog training in August! I'll keep you posted on how that goes. Until then, hope you enjoy the photograph.
Hunter's Dad, Barry Brown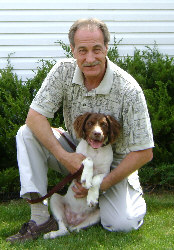 Dear Dr. Pepin,
As you can see, Hunter - my Katie/Redi pup - is doing GREAT! This is his first point on a pheasant tail (with added scent), and also finding his retrieving dummy after I hit it with pheasant scent and hid it in the field. These are at 4-1/2 months old.
Also, let me know if you'll be attending the field trials at the Ionia, MI State Recreation Area this year. I'd love to see you there.
Cordially, Hunter's Dad
Barry Brown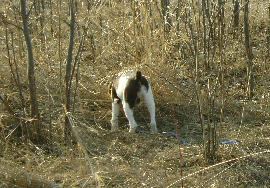 Dear Dr. Pepin,
Greetings from Grand Rapids! After much consideration, I have selected the name for my Katie Male #7, formerly known as "Oliver". Since he's been neutered, he won't be competing in the show ring, nor will he be carrying on the family lineage. Making "Call" part of his name doesn't seem to me to be as important as honoring your kennel and his sire. Therefore, the registered name I've chosen is "Cross Creek Readi to Hunt". "Hunter" had his vet check-up on the Thursday after I picked him up from you. As expected, he got a clean bill of health. His last round of puppy shots are scheduled for march 12, and I gave him his first Heartworm pill on March 1.
You were right about him being incredibly smart! I keep a towel by the back door to wipe him off when he comes in with wet feet. I used it the very first time I took him out, and ever since, he sits by the door when we come inside and waits for his feet to be wiped. (Of course, he also like to wrestle with the towel.) He has learned his name, to sit before getting food or treats, and to shake hands. He's doing very well on house breaking, come and loves to fetch. Heel . . . not so much! He absolutely loves running and digging in the snow, and (as you can see in the attached pictures) especially running in the field behind my complex. We try to get in two runs a day. He shows real hunting instincts - particularly fir finding bunny poop! Birds will come now that the weather is improving.
Also, as you predicted, everyone who meets him comments on what a good looking pup he is. But that "good looking pup" is quickly turning into a GREAT looking dog! I swear he's doubled in length & height in the 3-1/2 weeks I've had him. I don't have a scale, so I can't check his weight until our vet appointment, but I'm sure it's nearly doubled, as well. You really do bree INCREDIBLE DOGS! Thank you for the opportunity to own one of them!
Must close now, but will write again soon. Hope you enjoy the pictures.
Hunter's Dad,
Barry Brown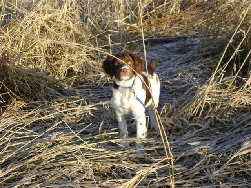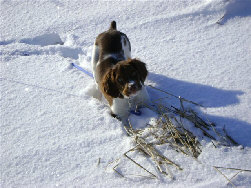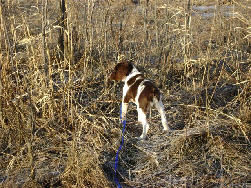 Benelli is a Kati x Redi puppy
Well, Since you've asked...I'm sending you pics :)... Ron loves him. In fact, the puppy gets more attention/affection than I get. Ron could outrun him for the first week but ever since then the puppy is faster. We named him Benelli (after the shotgun). So, he's doing very well. We haven't taken pics recently and he's grown like a weed. He and Ripley are getting along well. We try to keep him away from the chickens and ducks b/c Ron doesn't want him to get frustrated by pointing all of the birds in the yard that Ron is not allowed to shoot :). We'll send more pics when we take them. Karri
ps he is quite handsome...Ron says he is the cutest puppy ever... I tell him he is in the top 5 :)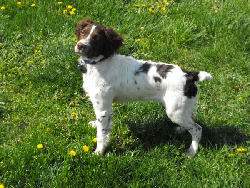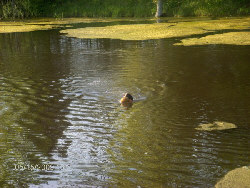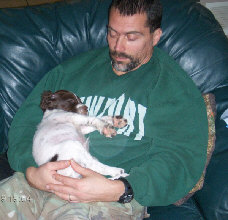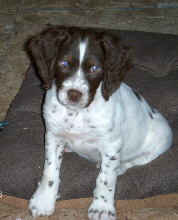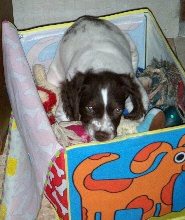 Elvis is a Yankee Puppy
Ch. Crosscreek Southern Gentleman "Elvis". Elvis finished his show championship Sept. 2009.
He is now being campaigned in the field.
Barb , Here is a pic of Elvis the puppy we have. Tobi has shown him some, our plans are to send him with Tom Tracy this summer to finish his field work. He has done well in the field thus far and we believe he is going to make a great gun dog. Thanks for good work you do with this wonderful breed . Jim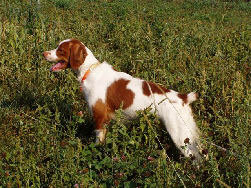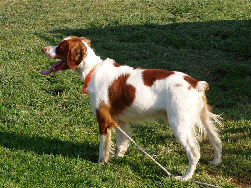 Maia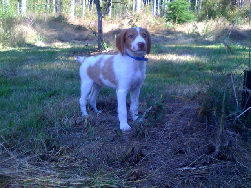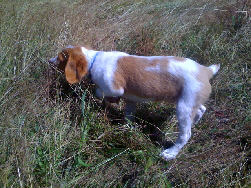 Daisy is a Copper puppy
Barbara, Daisy (Copper Girl 3) was in to her vet today. She is a great dog and very healthy. She went to South Dakota with me and did well in the times we hunted with her. Attached is a picture from that trip. They both can point a sandwich really well. Jim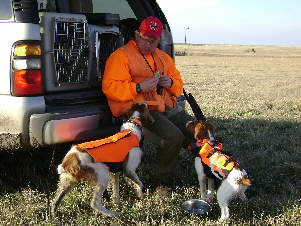 Penelope is a Sparkle x Pete puppy
Hi Barbara, I just wanted to thank you once again for bringing Penelope (previosly sparkle puppy#5) into my life. I can't begin to explain how much she means to me and how much fun we have together. The picture below was taken some time ago but it's one of my favorites. Cheers, Ramon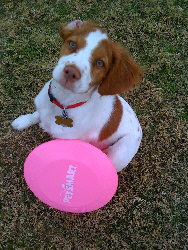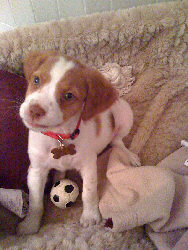 Matty is a Ch. Sparkle x Ch. Pete Puppy
Barbra, I was just sitting down to send you a message. She is doing great!! She has her own "poopy place" at the edge of the yard. She does well in letting us know when she has to go. We have been taking her everywhere with us, getting her as much exposure to the world as possible. She seems very bold with new places. Un afraid to explore but always coming back to sit between your feet for protection. Beamer ( our lab) seems so glad to have someone to play with. He lets her bite his lower lip. He told her to stay away from his dish and I think that she got the picture. They play tug of war with the chew toys, under close supervision of course. The whole family is having a bunch of fun with her. My daughter has named her "Matty". We will figure out a way to tie it into the election when we give her the full registered name. Once again I want to tell you how impressed I was with your whole operation. You were very informative and listened to all of my questions and had through answers. I just wish that we lived closer( especially today 18 degrees outside). I know you would have some great training techniques. Thank you for the great addition to our family. The Souths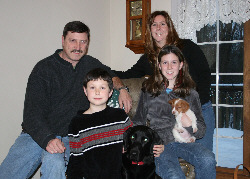 Toby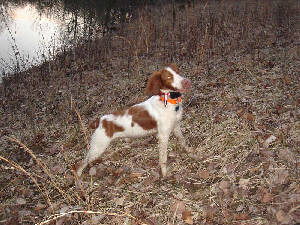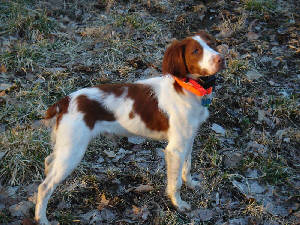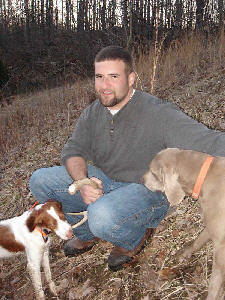 Reggie
Rudy
5/09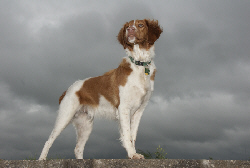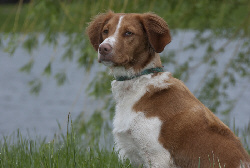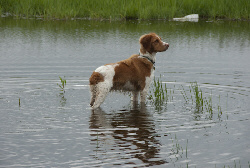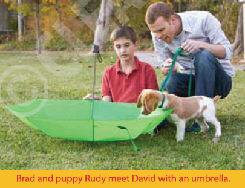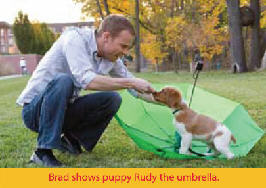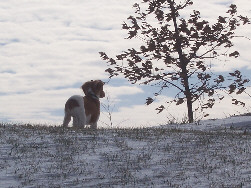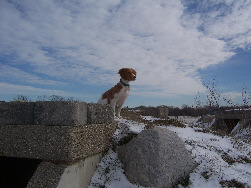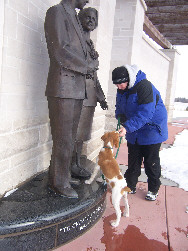 Here are a couple of pictures of Rudy (male #1 from August 25 litter) taken today. You may not remember, but I have a friend writing a book about puppy socialization, so we were at a local park today taking pictures with him. As you can see, it was snowy and about 20 degrees out when we took the pictures. Feel free to post them to the web site if you wish. Our vet loves his bone structure and says his heart is very strong. :) Good news!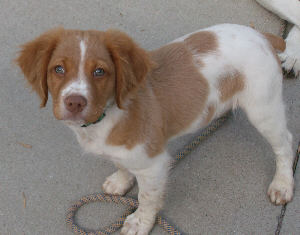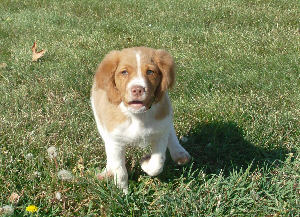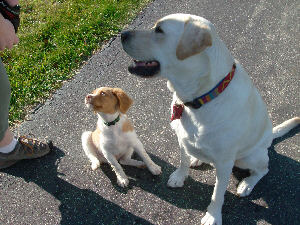 Henry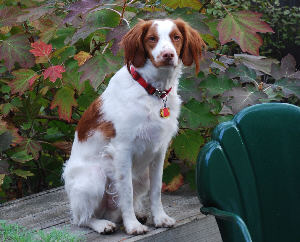 Boy in Training
You guys do breed some beautiful dogs.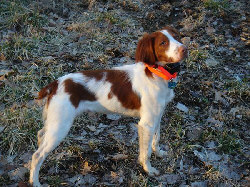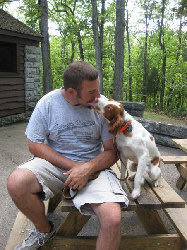 Daisy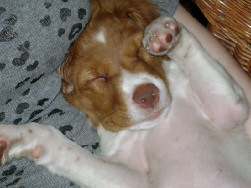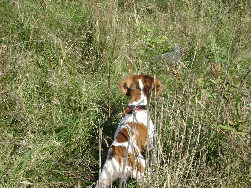 Honey and Gracie
This young female is a Copper x Boomer puppy.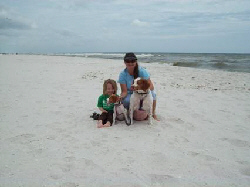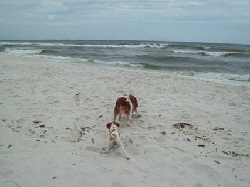 Honey
Honey loves everyone. She is eating well. Loves to play, hunt lizards, swim, eat and sleep. Cried for about ten seconds last night when we put her in her new kennel then promptly crashed. Snuggles with Gracie, and Gracie is being very sweet to her and teaching her the ropes. Honey is especially fond of of daughter Elz and they are inseparable. Elz is very gentle with her and loves her very much.

Murphy
Hi Dr. Pepin, I just wanted to send you some new pictures of Murphy. He's beautiful and we love him. He figured out right away he's a bird dog and spends hours in the back yard watching. He's become one of the family. Hope all is well. Andrea Huntley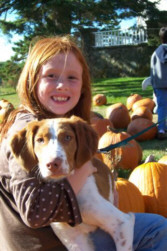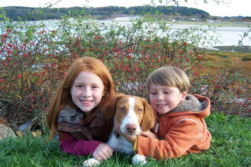 Charlie and Sophie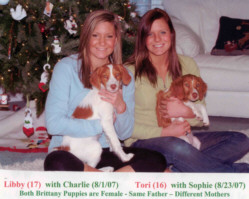 Sara is a Copper girl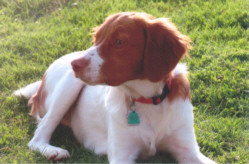 Jake is a natural. He is a Boomer & Sparkle puppy.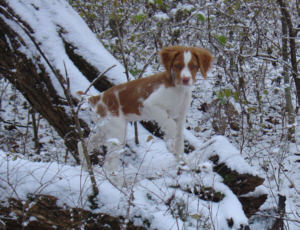 Thank you for our spectacular dog!! He is a real hunter. We love him. Thought you might enjoy the pictures:
This was his first bird. He is a natural hunter.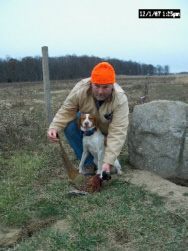 He loves to be on top of things!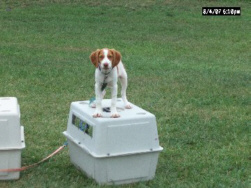 Murphy Huntley
Dr. Pepin,
Just a quick picture. Promise to send more. I sent this to my husbands phone at the Red Sox game. He is thrilled.
Thank You, Andrea
Boston, MA
Radar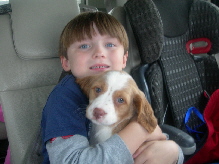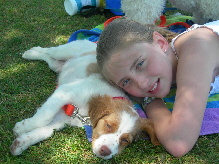 Cody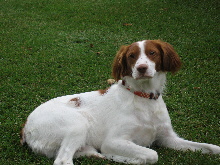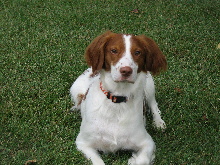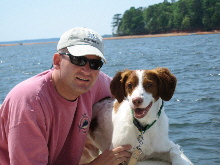 This is Taffy. She is a Sparkle x Andy baby.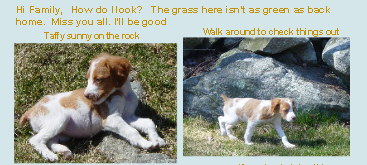 This is a Jesse x Miles baby that is Cross Creek Last Call Katie owned and loved by Betty King.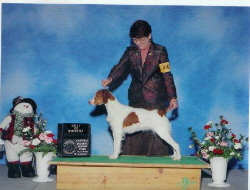 Trixie and Tally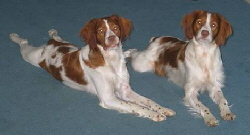 Bailey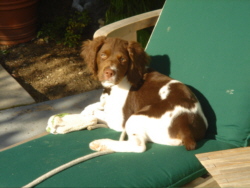 Lexus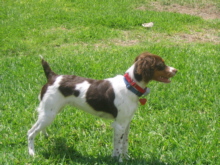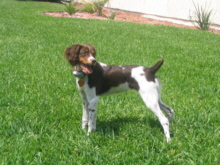 Trixie and Tally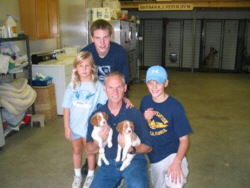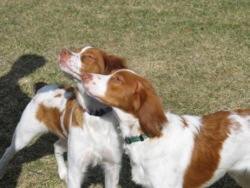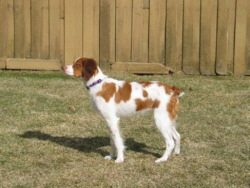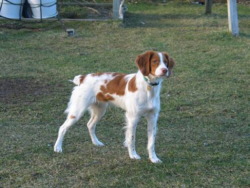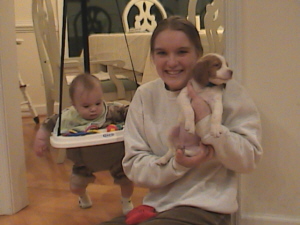 This is Jesse's Male #2 puppy. His new name will be Quincy.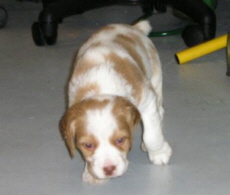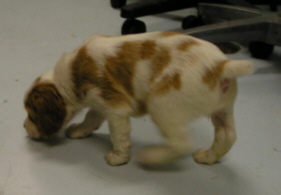 Scout is a Jesse & Miles puppy.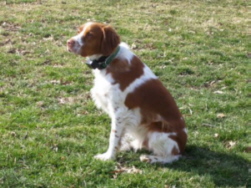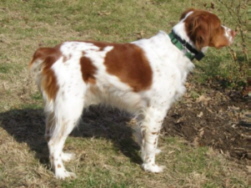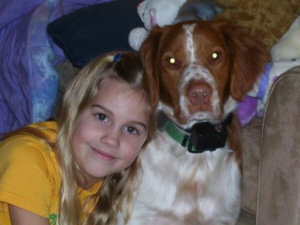 Mason is a Jesse and Miles puppy. Juliana is buying a Copper puppy.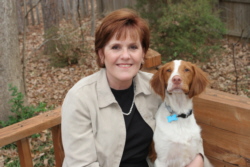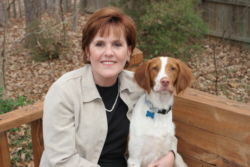 "Simon" He is Amber's puppy.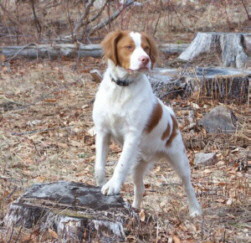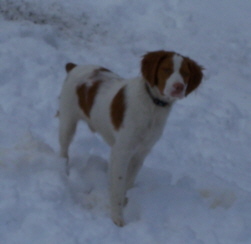 "Andy Christmas 2004" He is a Jesse and Miles puppy.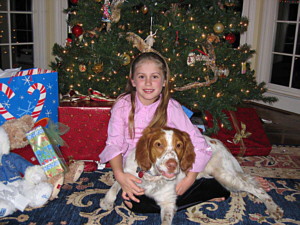 Stone a.k.a. Hank and his new family






IF YOU HAVE PURCHASED A PUPPY FROM US AND ARE INTERESTED IN HAVING YOUR PICTURE ON THIS PAGE, PLEASE NOTIFY US AT crosscreekbrittanys@gmail.com
If an owner has edits for this page, contact Web Developer Eva at eva.long@ymail.com
You can email me at crosscreekbrittanys@gmail.com
Phone: (812) 941-1716